Senior Spotlight: Jamya McKnight
This week's senior spotlight shines brightly on the one of a kind Jamya McKnight. From the day Jamya walked into RMA in the sixth grade, it was crystal clear that she was a force to be reckoned with and a huge asset to this year's senior class. All those who know Jamya on a personal level can agree she has self-confidence like no other, will do anything for the ones she loves, and has the most contagious laugh around campus. Not only is Jamya a great friend, but she is also a great sister, athlete, student, and dancer.  All aspects of Jamya's personality bring so much joy and laughter to everyone at RMA.
The things that stand out the most about Jamya are her dedication, positive attitude, and funny sense of humor. Megan Walden, Jamya's best friend since sixth grade stated that Jamya makes everything so much better!  Megan said, "Whenever I come to school in a bad mood, Jamya cheers me up before A block is even over." Jamya's humor and spice is noticed by all her peers, as well as her teachers and coaches. 
As far as athletics goes, Jamya plays a huge role on the Varsity Girls Basketball team. Jamya has played basketball since 7th grade. To her team, Jamya lends her basketball skills along with her leadership skills. RMA's Varsity Girls Basketball coach, Katherine Johnston, said, "Every time Jamya steps on the basketball court she brings her leadership, energy, passion, and hustle along with her, making her a great teammate and a lot of fun to coach." Jamya's passion and energy is not just evident at her own basketball games, but also at her little brother's games. When Jamya is not cheering for her own team, she is always cheering for her little brother Marti!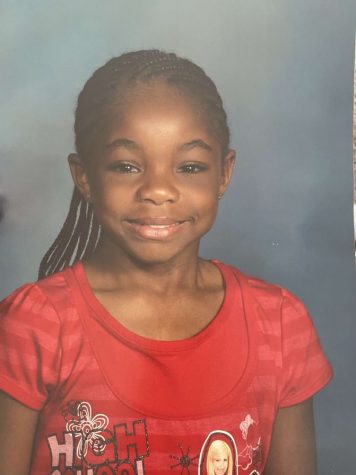 In relation to school, Jamya has taken many rigorous classes. This year, the classes she takes consist of AP Psychology, AP Biology, Honors Pre-Calculus, Advanced English, Sports Medicine, and American Cultures. Jamya's hard work and dedication in school have allowed her to receive academic awards throughout high school including Honors and High Honors. When she is not in school, Jamya works at Chick-fil-A on afternoons and weekends. Most of the time, you can catch her working the drive through where she greets customers and friends with a big smile and her contagious laugh. During Jamya's downtime, she likes to draw and listen to music, but most importantly, Jamya loves to shop online for a new pair of Jordans. 
Sadly, Jamya will be leaving the Rocky Mount Academy family behind next year to attend college. Jamya has applied to a variety of schools: North Carolina Central University, North Carolina A&T, Winston-Salem State University, the University of North Carolina at Pembroke, the University of North Carolina at Charlotte, Meredith, East Carolina University, and NC Wesleyan. Once she commits to the college that fits her best, Jamya hopes to pursue a career in nursing, marketing, or interior design. Just because Jamya is leaving Rocky Mount Academy next year does not mean she will be forgotten. Jamya is an unforgettable girl that Rocky Mount Academy will cherish forever. We will miss you Jamya! Go do big things!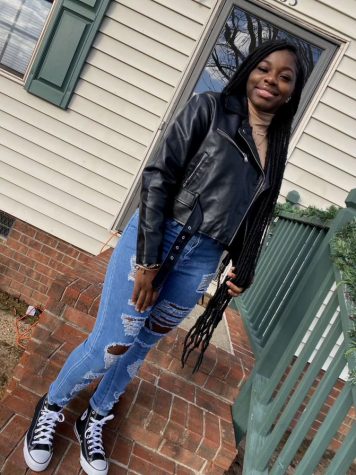 Keep reading to learn more about Jamya!
What you will miss about RMA?

The Faith games.  

What is your favorite memory at RMA?

The times I used to get in trouble in Dr. K's class for laughing. 

What is your favorite class?

American Cultures. 

What is your favorite movie?

Cheaper By the Dozen

(1&2). 

What would you bring if you were trapped on a deserted island?

If I was trapped on a deserted island, I would bring a Swiss army knife, water, a boat (one of the expensive ones), and SNACKS. 

If you could make three wishes come true, what would you wish for?

To be successful, to become Mr. Stone's favorite student at RMA, and to pass Pre-Cal with an A (I'm struggling). 

What is your favorite quote?

B.A.E. Black And Educated.