Senior Spotlight: Polly Medlin
This week's senior spotlight will be shining on the always lovable and forever upbeat Polly Medlin! An integral member of the RMA family for 7 years, Polly is no stranger to the graduating class of 2021. Polly attended RMA from first through fifth grade, only to rejoin us during her junior year. Always quick with a joke or a compliment, Polly is an overwhelmingly positive force. Her laugh is infectious; she can truly brighten up a room simply by entering it. When asked about Polly, good friend Elizabeth Winstead says, "Polly is like a ray of sunshine. She puts everyone around her in a good mood and spreads positivity wherever she goes. She's so spontaneous and fun, and I love to spend time with her."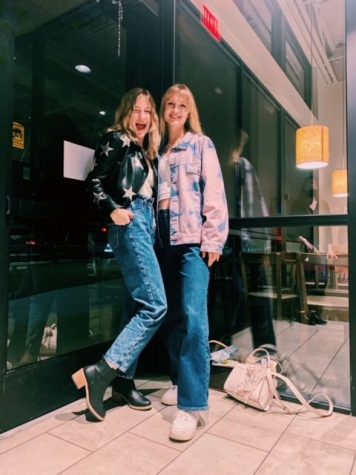 Polly has certainly chosen to challenge herself this year by taking such courses as AP Biology, AP English Literature, AP Statistics, AP Psych, AP Environmental Science, and Yearbook! On top of all of that, Polly participates in such clubs as Drama Club and Science Olympiad—not to mention her time as a part of Rocky Mount High School's Key Club and International Club. Polly is also an avid tennis player and is sure to beat anyone in a friendly match. Outside of the classroom, however, Polly can be found indulging in any number of hobbies, including wakeboarding, wake surfing, or really any kind of water sport activity. She also loves to play the piano or watch Netflix on a more relaxing day. Polly is starring in this year's production of Footloose as well, playing Rusty! Tasked with many lines, dance numbers, and songs, Polly plays an integral role in the production. Every day after school, Polly can be found in the cafeteria rehearsing and perfecting her performance.
Unfortunately, Polly will be leaving her RMA family behind for college! She has applied to lots of colleges, including UNC, ECU, Furman, Sewanee, Rhodes College, Christopher Newport University, American University, George Washington University, Tulane University, Northeastern University, Boston University, and Gettysburg College. Once she has committed to a college, Polly plans on majoring in political science. She plans on going on the pre-law track as well! Polly hopes to one day become a lawyer and work for the government in some capacity in Washington, D.C. Polly is an unstoppable person with unique passion, drive, and care. The senior class is confident in her ability to thrive at college!
Read on to learn more about Polly!
What is your favorite movie?

Right now it is

Tenet

!
If you could bring three things with you to an island, what would they be?

My phone, food, and a boat.
What is a quote you try to live by?

"It is what it is." 
What kind of music do you listen to? Favorite artists?

I listen to all types of music but my favorite artists right now are the Arctic Monkeys, Tyler Childers, ABBA, and the Eagles (I like pop and alt/indie).
What will you miss most about RMA?

Dr. Wells and Mrs. Whitehurst.
Where do you see yourself in ten years?

Working my butt off in Washington D.C.
Who would your dream dinner guest be and why?

George Washington, because he is an absolute legend. Who wouldn't want to talk to the first president of our country?
What's one RMA moment you think of as unforgettable?

When my skirt fell down in the 3rd grade during gym class in front of everybody!