Senior Spotlight: Emory Pittman
Center stage, a single spotlight, and a marquee that reads "Emory Pittman!" Mark that name down and get an autograph while you still can, because this week's senior is going to go on and do big things with her life. Emory came to RMA in kindergarten, but briefly left in the 3rd grade because her family moved to Colorado. While she is known for her show-stopping voice and incredible academic achievements, Emory's personality is one to talk about: loyal, empathetic, and passionate. All of us in the senior class are blessed to have such a great friend in our lives. When I asked two of Emory's closest friends for quotes on why they love her so much, here's what they said: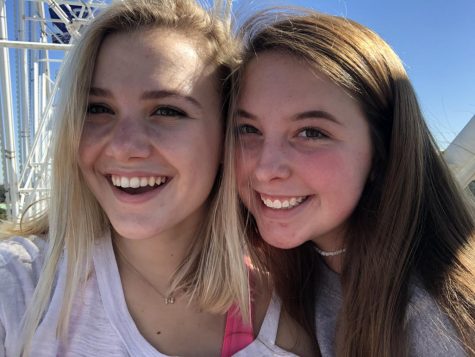 "Emory's someone I hope is in my life forever. She has the best style, best smile, and is honestly the best friend around. I can talk to her about anything and never feel like she would judge me for it." -Elizabeth Winstead
"Emory is the person I can pull up to her house crying to, and she always makes me feel better. I can ride around with her at 10 at night listening to music and still have the best time." -Sarah Stancavish 
For her senior year, Emory is challenging herself by filling her class schedule with AP and Honors classes: Honors Spanish IV, AP Calculus, AP English, Media Office, AP Psychology, AP Environmental Science, and Drama. Throughout her high school career, she has always pushed herself by taking challenging classes and always coming out on top! She has won many awards that prove just how successful she really is. These awards include the Turner Battle Scholarship, A Honor Roll (9th to 11th), Senior Academic Marshal, Highest Academic Average in AP US Government and Politics, NATS Regional Qualifier, 3rd place in the Senior Beta Club Convention for Social Studies, and Academic Excellence in the following: English 9 Honors, Biology Honors, World Cultures Honors, Spanish I, Spanish II Honors, Spanish III Honors, Algebra II Honors, and AP Biology.
Not only is Emory an excellent student in the classroom, but she is also a stellar student athlete. How does she manage all of that? She played basketball in 9th and 10th grade, but decided to not finish off high school playing so she could focus on academics. Emory has also been a critical part of the RMA cheer team for all four years!
It seems that Emory has zero freetime as it is with her challenging class schedule and many practices to attend, but she still has time for many extracurricular activities. She is a member of many of RMA's clubs, those of which include Chorus, Drama Club, National Honors Society, Spanish National Honors Society, Senior Beta Club, Quiz Bowl, SGA, and she is a co-founder of the Fashion Club. Outside of school, Emory works at the local boutique, Clair de Lune. She LOVES fashion! She also takes voice lessons with Ms. Cameron. For the past 2 years, Emory has competed at North Carolina NATS for musical theatre. She spends the majority of her free time singing or acting, which proves just how dedicated she is to musical theatre.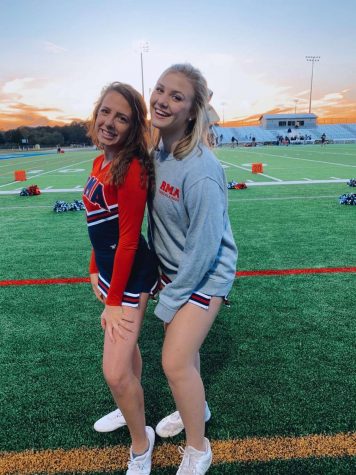 This senior spotlight would not be complete without mentioning her time in the RMA theatre department. During her time here, Emory has starred in and helped with about 10 school productions, most recently being her outstanding performance as Sharpay in High School Musical on Stage! Stay tuned to see Emory in this year's spring musical, Footloose, as the iconic lead girl, Ariel. Her time in the drama and music department has helped Emory make so many close friendships and connections, especially with Dawn Whitehurst, our fearless leader and outstanding director. When I asked Mrs. Whitehurst why she loves Emory so much and what makes her such a shining star, her response was as such: "Emory is a true theatre kid, and a true talent. She is so passionate, both in theatre and in her life. Her dedication and enthusiasm make my job so rewarding. I just love Emory."
In a few more months, Emory, along with the rest of the senior class, will walk across the stage and finally bid adieu to the RMA halls. While it saddens each of the seniors to think about leaving this place, RMA has prepared every one of their students for the "real world." Emory, your RMA family is going to miss you so bad, but we all know you are going to do great things. We love you!
To get to know more about Emory, read the interview below!
What colleges are you applying to? Major choice?

I applied to South Carolina, UNC Chapel Hill, and Wake Forest. I hope that I can go to Carolina and major in either business or advertising and PR.

What is your dream role in any musical/play?

My dream role has always been Glinda from Wicked.

Where was your favorite place you traveled to?

Italy! I went over the New Year in 2018/2019, and I especially loved Tuscany and Florence.

Who's your favorite artist and favorite song at the moment?

My favorite artist is probably Lorde, but right now I'm obsessed with Taylor Swift. My current favorites are "Cruel Summer" and "All Too Well."

What has been your favorite play you have been in and why?

The Addams Family. We had such a talented cast, and I had a role that really challenged me and made me a better actor/singer/performer. I learned to take more risks and be less afraid of looking ridiculous, all while spending time with some of my favorite people.

Where do you see yourself in 10 years?

Hopefully having my dream job and beginning to start a family sometime soon.

What advice would you give to underclassmen?

Don't be in a hurry to grow up. I remember being a freshman and wanting nothing more than to graduate and go to college. Now, I'm terrified of going out into the "real world." Take your time and enjoy what you have now, because you'll never have it again.

What is your favorite RMA memory?

Senior night and getting to come back to school this year with my best friends 🙂