Senior Spotlight: Skyler Proctor
This week's Senior Spotlight is on the always reliable Skyler Proctor. Ever since joining the RMA family in his third grade year, Skyler has become a key part of the senior class. Skyler's light-hearted attitude is present whenever he walks into any room. 
Skyler's list of classes this year contain courses that are challenging, pushing Skyler to be the best student that he can be. This year, he is taking English 12, Weightlifting, Sports Medicine, Advanced Functions and Models, Ecology, and Ceramics. His success in these challenging classes is a testament to his strength as a student and his dedication to being the best student that he can be. 
Skyler excels not only in, but outside of the classroom as well. Skyler is a part of the Varsity Football and Varsity Baseball teams. Being on the baseball team with Skyler for the past couple of years, I can personally say that his desire to win and succeed is unmatched, making him a leader on and off the field. 
Outside of school, Skyler is an active member in his community. He is a member of the Red Oak Volunteer Fire Department and works at Rusty's Backhoe Services. He is also a member of 2 Nash County 4-H Clubs.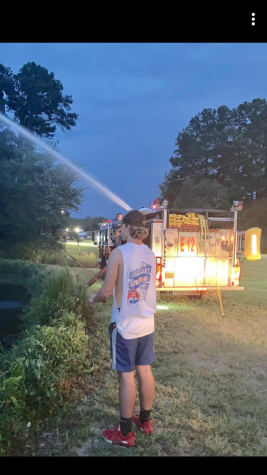 Sadly, Skyler will be leaving the RMA family after this year, moving on to attend Nash Community College, where he will be in the Fire Academy. Although we will miss Skyler, we all wish him the best of luck in college and hope to see him around next year!
Get to know Skyler below!
Where do you see yourself in 10 years?

I see myself working as a full time firefighter with a caffeine addiction.
What was your favorite class at RMA?

My favorite class at RMA has been any class I've had with Shawn Leonard.
If you could have lunch with any celebrity, who would you choose?

If I could have lunch with a celebrity, it would be with George Strait because I feel like we could have a good conversation.
What is your favorite memory of your time at RMA?

My favorite memory at RMA was getting in one of the boy's trucks to go to LONG LUNCH!
What is your biggest pet peeve?

My biggest pet peeve is people that don't know how to drive.
Who is your favorite musician?

My favorite musician is Chandler James, because I like his version of "Purple Rain" better than I do Prince's.