Senior Spotlight: Sarah Stancavish
This week, our Senior Spotlight is on the extremely lovable Sarah Stancavish. A friend to all, Sarah is known throughout RMA for her contagious smile and ever present laughter. Having been a member of the class of 2021 since Pre K, Sarah has made a positive impact on the many people she has come across as a lifer. Sarah's drama teacher, Dawn Whitehurst, says: "I love Sarah. She is just one of those humble, genuine, hilarious people that you want to be around. She makes everything fun." As one of my best friends, I can say that Sarah has always been my biggest cheerleader. She describes herself as caring, a term I'm sure anyone would attest to given her constant concern for others.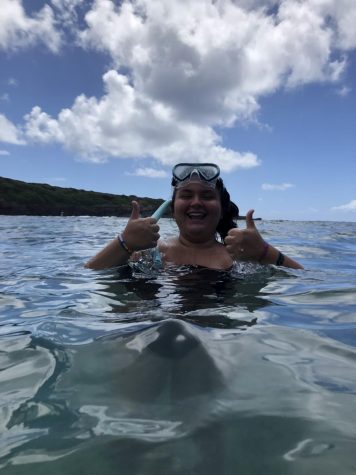 Academically, Sarah challenges herself. This year, she is taking Ceramics, Advanced Functions and Models, AP Environmental Science, AP English, AP Psychology, and Drama. She has worked hard throughout high school to put forth her best work, even earning Most Improved in Advanced English 9 and an art award at the Senior Beta Club convention last year. Outside of the classroom, Sarah spends her time at RMA participating in Beta Club, Youth and Government, Key Club, and Global Studies. When she isn't on campus, Sarah can be found playing many instruments: guitar, drums, piano, ukulele, and bass. She is extremely talented in music, even writing a few of her own songs on occasion. Her musical talents also lend themselves to RMA's plays, as she has been in every show possible under Dawn Whitehurst's direction. Sarah also says that her hobbies are hanging out with her friends and sleeping (same, girl). In athletics, Sarah has played basketball consistently throughout high school, being an integral part of the team, playing down low and being the best morale booster ever. Cheerleading is also blessed to have her on its roster, being a strong base to our flyers and always giving her all.
Clearly, Sarah has made her mark at Rocky Mount Academy. I don't know a single person in the senior class that wouldn't tell you that they love Sarah Stancavish. None of us will ever forget the positivity and good spirits she left with anyone and everyone she talked to. I think that wherever she decides to go next year will be extremely lucky to have her. Sarah is applying to App State, UNC Wilmington, UNC Greensboro, UNC Charlotte, and East Carolina. She hopes to major in sociology and continue her love of helping others. No matter what, Sarah will certainly succeed, and RMA will not be the same without her.
To learn more about Sarah, read below!
What would you say is your greatest talent?

I can make a mean grilled ham and cheese.
If you could only listen to one artist for the rest of your life, who would it be and why?

100% the Beatles, their songs are classics.
What's your favorite movie?

Tangled

,

The Wolf of Wall Street

, or

Rocky IV

.
If a genie granted you three wishes, what would you ask for?

8 million dollars, Les Paul guitar, Tesla.
What's a food you could eat for breakfast, lunch, and dinner?

A Moe's burrito.
What is your favorite hobby?

Either playing guitar or acting.
If you could give some advice to underclassmen, what would you say?

Don't put off studying.
Best long lunch location before COVID?

Tokyo Express.
What will you miss the least about RMA?

Ms. Baker's lit terms tests.
What's the best memory you have of RMA?

The day before we get out for Christmas break every year.
What's been your favorite class?

Ceramics with the queen Victoria Hunter.