Senior Spotlight: Gracie Tharin
This week's senior spotlight is on the always-dependable Gracie Byrd Tharin! Ever since joining the RMA family in sixth grade, Gracie has proven to be one of its most valuable members. Gracie is one of the most caring people the class of 2021 has to offer. Her friends describe her as hard-working, dedicated, and kind, and I couldn't agree more. Being both good-spirited and understanding, Gracie has the rare ability to listen and uplift when someone needs her most. On top of all of this, she is one of the funniest people I know, making her friends laugh on a daily basis. 
Known for being very well-rounded, Gracie's senior year is jam packed with courses and extracurricular activities. This year, she is challenging herself with Calculus and Statistics courses as well as AP Psychology, AP Biology, and AP Lit; she is also hard at work on creating this year's yearbook. In years past, Gracie has said that AP Government with Mr. Stone and French with Ms. O'Brien were her favorite courses. Gracie, being the best French student I know by a long shot, enjoyed learning about Parisian culture these past four years. In Government and Politics, she enjoyed debating in class and watching The West Wing.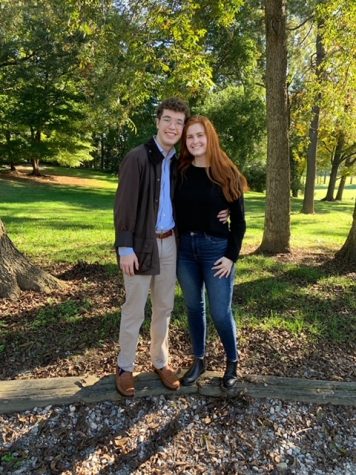 After school, Gracie can be found practicing for the school musicals! An invaluable member of the drama department for many years, Gracie has participated in RMA's productions of Grease, The Addams Family, and High School Musical, where she played the quick witted teacher Ms. Darbus. Gracie's participation in these plays is among her favorite memories made at RMA, saying, "I am very close with Mrs. Whitehurst, and being in musicals brings everyone even closer than you can imagine. I cannot wait to do Footloose!" When not running lines or learning dance moves, Gracie can be found participating in the myriad of clubs she belongs to, including National Honors Society (where she served as Secretary) and Senior Beta Club, of which she once served as President. 
Even after listing all of these accomplishments, the thing that impresses me the most about Gracie is how genuine of a person she is. Always there when you need her, Gracie has proven herself to be the most trustworthy and kindest member of the class of 2021, and whoever is lucky enough to cross paths with her in the future is sure to agree. 
Learn more about Gracie below!
What's a quote you live by?

"[I]t's not what you take, it's what you leave" –Jennifer Niven,

All the Bright Places

.
After a long day, what artist do you listen to?

Music is literally my favorite thing–I can't choose just one artist! I love listening to Harry Styles, Frank Ocean, Conan Gray, Hozier, Lorde, and LANY. Their music is extremely relaxing and well-written; you can't go wrong with any of their songs! Fleetwood Mac is also a great band to jam to if you need to ~destress~.
What do you hope to be doing in the future?

I hope to be out of college and either starting some type of career or internship. If I'm not entering the career field or a research program, then I see myself pursuing some type of higher degree/education in a graduate program or medical school. Eek!
What will you miss most about RMA/Rocky Mount?

I will definitely miss the close knit nature of everyone at RMA and the hidden gems of small towns. I am super close with all of my friends, and I am going to miss our trips to the Larema and Tarboro Coffee Houses so much! Assuming colleges permit students to attend classes on campus, I will also be missing my family and my dog, Barley.
What is your favorite movie/TV show?

Killing Eve

is definitely one of my favorite TV shows alongside

Criminal Minds

, but I also love all of John Mulaney's comedy sketches. 
What is your top pick for college and what would you like to study?

Right now, I really see myself at NC State, the University of Virginia, or UNC Chapel Hill, but I am also applying to Clemson and the Honors College at ECU. No matter where I go, I am looking to study the sciences, and will most likely be majoring in Biology or Psychology. I am extremely passionate about helping others and am fascinated by the human body and brain functions!