Senior Spotlight: Megan Walden
A fellow lifer here at RMA, Megan Walden's compassionate, dedicated, and lovable attitude is an asset to the class of 2021. Rocky Mount Academy has helped Megan and her fellow classmates be ready for their years in college, but the RMA halls will not be the same without the graduating class. I have been able to be around Megan's contagious laughter and shining smile ever since Pre-K, and that is when I first met my best friend. She is so strong and will always be there for her friends. Megan is a role model for younger students, and the RMA community thanks her for being such a great friend! We all know she is going to flourish in college and we all are excited to see her accomplishments in the future.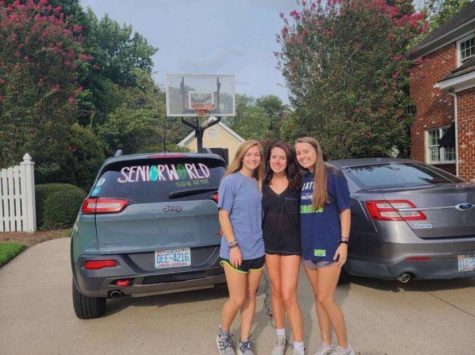 For her senior year, she is taking Honors French 4, Ceramics, Advanced English 12, AFM, AP Psych, and AP Bio. She is also a member of RMA's Key Club and FCA. Overall, she has received many academic rewards for Honor Roll and Academic Excellence in all of her math courses for high school. Regarding her years after high school, Megan is applying to UNCW, ECU, and Meredith, and she wants to either do social work or be an occupational therapist.
Not only does Megan thrive in her classes, but she also thrives on the athletic fields. During middle school, Megan was a star player on the JV soccer teams, but during high school, she switched her focus from soccer to cheerleading. After school nowadays, Megan is usually found babysitting or hanging out with friends since cheerleading practice was put on a hold. 
Get to know Megan Walden in the interview below!
What is your favorite movie and/or tv show?

Either Footloose or Bridesmaids for my favorite movie and Grey's Anatomy for my favorite TV show.

Who is your role model?

My mom.

What is your dream vacation?

Australia!

What is one thing some people do not know about you?

I love donkeys!!!

Where do you see yourself in 10 years?

Hopefully with a successful job and married hehe, maybe a kid.

What is one thing you will miss most about RMA?

My teachers & the close bonds I have with my friends 🙁

What is your favorite RMA memory?

FIELD DAY OMG.