Senior Spotlight: Elizabeth Winstead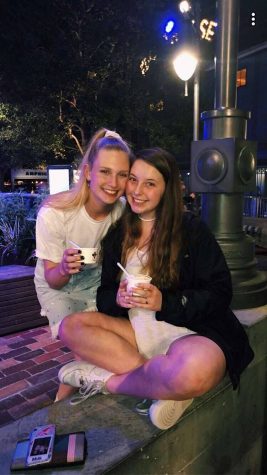 Our very first Senior Spotlight of the new school year is on the unforgettable Elizabeth Winstead. A member of the class of 2021 since ninth grade, she has surely impacted everyone she has come across in her four years at RMA. When asked to describe herself, she used the adjectives hardworking, analytical, and supportive. As a close friend of hers, I can personally vouch for how supportive she truly is. Always there when you need her, Elizabeth is very loyal to her friends and easily gives the best advice of anyone I know, being both sympathetic and logical. Elizabeth is also extremely funny and knows how to make anyone laugh with her sarcastic sense of humor. She is truly one of a kind.
Known for being a strong student, Elizabeth has continued to challenge herself in her senior year. Currently, she is taking Honors Spanish IV, AP Calculus, AP English, AP Biology, AP Psych, and AP Environmental Science. Furthermore, Elizabeth won the Ann Weaver Scholarship in ninth grade, attended the Hugh O'Brian Youth Leadership conference, and also won an award in Science for Beta Club. Outside of the classroom, she continues to contribute to the RMA community through her involvement in National Honor Society (where she serves as President), Spanish NHS, Senior Beta Club, Key Club, and Global Studies Honors. Outside of RMA's regular school day, Elizabeth can be found tutoring, giving hitting lessons for softball, or playing travel ball. She's been playing travel softball since she was ten, and just finished her seventh season of playing with her team. Through this, she has gotten to visit places like Kansas City, Chattanooga, Atlanta, Orlando, Richmond, and even California! Elizabeth says softball has been one of her favorite things to do and describes it as "the biggest part of [her] life." Currently, Elizabeth is verbally committed to play at UNCW.
Although Elizabeth shines in the classroom and outside of school, she still manages to lend her talents to RMA's athletic teams. She plays volleyball in the fall and softball in the spring. As a testament to her skill, Elizabeth won All-State both her freshman and sophomore years for softball, a title she likely would have won again had it not been for the cancellation of spring sports last year. Thanks to her talent as leadoff, the softball team made it to the State Championship Tournament during her sophomore year.
Due to her academic and athletic ability, Elizabeth has proven to be a well rounded addition to RMA and we will miss her so much next year when she leaves us for college. She is applying to UNC Chapel Hill, NC State, Wake Forest, Clemson, Duke, and UNCW, with the intention to major in psychology. I am sure she will find so much success wherever she goes, and I hope that she continues to show everyone around her how special she is and how lucky they are to have her!
Keep reading to learn more about Elizabeth:
If you could only watch one movie for the rest of your life, what would it be?

Probably

Mean Girls

because it never fails to make me laugh and I watch it ALL THE TIME.
What's a quote you try to live by?

 "If you're happy doing what you're doing no one can tell you you're not successful." -Harry Styles
What is your favorite decade in fashion?

The 70s!!!!!! 
Who/What is your favorite artist/song right now?

"

Say You Love Me" by Fleetwood Mac also literally anything by Harry Styles or Taylor Swift 
What three wishes would you ask a genie to grant you?

The ability to learn something once and remember it forever, always feel well rested despite how much sleep I get, arrive safely wherever I travel.
Who is your role model?

Definitely my dad. He always keeps a level head and is a great people person. I really admire how hardworking he is, his problem-solving skills, and how he deals with high stress people and situations on a daily basis. 
What's your favorite memory from RMA?

The last day before winter break with the all school singalong and karaoke in Mrs.Whitehurst's room and Just Dance in Mrs. Lehnes'.
Do you have any advice for underclassmen?

Don't stress too much about the future. Live in the moment and enjoy your time in high school because before you know it you'll be the one answering questions for your Senior Spotlight instead of just reading them.
What's been your favorite class in high school?

AP Government with Mr. Stone. We always had great discussions, and we got to watch

The West Wing

.

What teacher has influenced you the most?

Se

ñ

or

a Forero has shown me how to not be afraid of making mistakes while also immersing me in a new language and culture. I'm so thankful for how she's influenced me the past few years and am so excited for Spanish IV.