Senior Spotlight: Eric Xue
This week's senior spotlight is on the one and only Eric Xue. Since Eric transferred to RMA his sophomore year, he has always been seen walking the halls with a big smile. Eric is one of the most beloved members of RMA's 2020 class with his distinct laugh and sense of humor.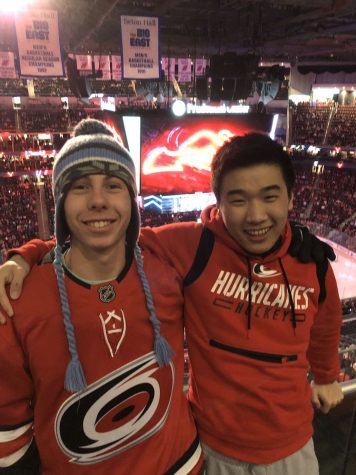 In the classroom, Eric has taken a challenging array of classes including AP Stats (independent study), AP Psych, AP Bio, AP Chem, Media Office (independent study), Music Performance, and French 3. His work has not gone unnoticed, as he received many academic awards: the Scholastic Silver Key, many honorable mentions (11), academic Chief Marshal, Morehead-Cain school nominee, Academic Excellence in AP Physics (10), Highest Average in AP Calculus AB (10), Highest Academic Average in Advanced English 10, Academic Excellence in French 1,  Straight A Honor in both 10th and 11th grade, AP Scholar with Distinction, Highest Academic Average in Advanced English 11, Academic Excellence in AP Economics, and Honor Council Representative.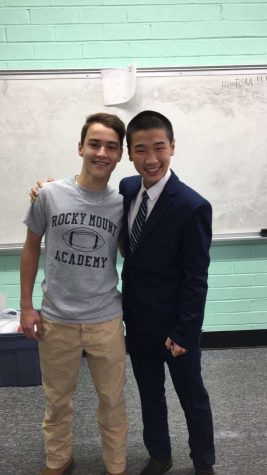 Outside of the classroom, Eric has taken part in sports including cross country (9-11), tennis (9, 11-12),  and track (10). His club schedule includes Photo Club, Key Club, National Honor Society, and Math Counts. In his spare time, Eric likes to game, do photography for fun, run his photography business, study, talk to his friends and parents online, watch movies, and play with his computers.
At the end of summer, Eric will be leaving us for the Oxford College of Emory University with a major in something related to math or finance. He hopes to go to graduate school for business management, big data, or actuarial science.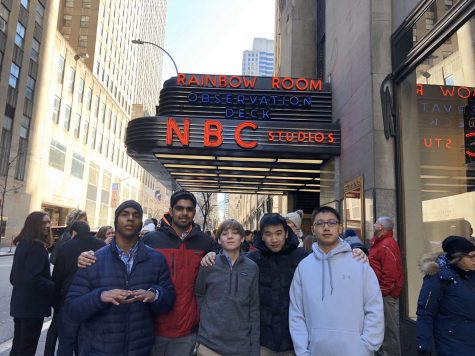 To learn more about Eric, read below!
What is something nobody knows about you?

 I don't think there is much. My life is pretty simple and very much occupied by working. People don't hear too many things about me because I really don't do many things. I don't like to get in any drama and I don't have strong opinions about what others do. I believe if something you do makes you happy, go ahead and do it and as your friend, I will be happy for you and supportive.
Who is your role model?

 My mom for sure. I inherit the value of perseverance and hard work from her. 
What is your favorite TV show, and why? 

The Good Doctor

. All the doctors in the TV show try to be objective, but their decisions are always shaped by their background. They all have good intentions, and on issues that don't really have a clear boundary between right and wrong, they make their decision based on how their background influences them. It also shows that tension between rationality and sentimentality. Doctors need to follow the protocols of the hospital, so they are not playing God's role. But they are all humans and they can be emotional sometimes, showing their empathy. When people are willing to sacrifice their own benefits to help others, that's when they become a hero in my definition. Dr. Murphy is a surgeon with autism. The journey he has to overcome people's prejudice and the lessons he has in the hospital to raise his emotional intelligence really fascinate me as well.
Describe your dream vacation. 

Now my dream vacation is to just stay where I am and don't work at all for about two weeks. Only two weeks, if it's too long I get bored. I'm so tired of doing school work and think the summer vacation between senior year and freshman year of college will be a good time to calm down and clear my brain. I can play video games, go out with my friends, and meditate. Maybe develop a new hobby. Then I want to travel to some cities in China other than Beijing. I'm from China, but my perspective of China is narrow. Two other foreign countries I want to go to are Japan and Korea. To me, traveling can humble myself and make me less naïve. Eventually, I can have a better grasp of the world.
What is your biggest pet peeve? 

Maybe when people get into other people's business? If people do certain things that make them happy, even if it is not something that is very popular, I'm happy for them. I think the meaning of friend is to be supportive instead of judgmental.
Where do you see yourself in ten years? 

I honestly don't know, and I also have no clue what to predict. I'm going to a college in America and pretty sure I will get my graduate degree in America too. But about where I work and where I live, it is so hard to predict. I need to see where the opportunity is and where I can find a job. My parents are factors in this too.
What is your favorite RMA memory?

Probably all the details and experience when I run Photo Club. It is non-profit and school helps with me a lot. But it is a very precious opportunity to me to improve myself, to let me see the challenges of conducting a business. I think the experience of running Photo Club will be very helpful when I start my career. It is my first business in my life and I'm very grateful that RMA provides me the platform to run it. In addition, I would like to use this opportunity to thank all the students and parents who have purchased pictures from Photo Club. Thank you for valuing my work and letting my first business live.