Health and Fitness Tips During Quarantine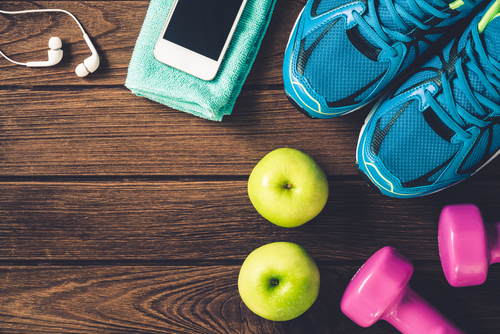 During this pandemic, fitness is probably the last thing to be on people's minds. However, it is extremely important to incorporate exercise into your new routine, especially if you are no longer able to play your spring sport. Personally, this lack of movement and self-isolation is getting to me, so I have been avidly working out. 
For all of us social distancing right now, I am happy to report at the page that there have never been more options for free at-home workouts. So if you are wondering how you are going to exercise for free, the answer is: in your own home. Clothing brands, apps, and trainers are all offering workouts for free on various digital platforms.
Instagram:
The cult favorite workout apparel brand Bandier hosts live classes on their Instagram Live every weekday at 4:00 pm EST. The class line-up is revealed on their feed every Monday and includes dance, strength, and boxing classes. There is no possible way you will get bored with their workout routines.
The maker of my favorite pair of workout pants (I could not do life without you Lululemon <3) is launching Instagram Live yoga classes and self-care tips every day. They release their schedule at the beginning of each week.
Four-time Olympic gold medalist for tennis, Venus Williams, will be taking to the stage of Instagram Live for daily five-minute workout demos. Each day, Williams will pick a new workout move and show how to properly execute it. Along with the workouts, she will also discuss how she is going to remain physically and mentally healthy at home.
Other Options:
Centre App, a fitness app created by the one and only Chris Hemsworth, was designed to help you stay healthy and motivated in every aspect of life. With curated meal plans, fitness classes, and guided mediation sessions, this app is a good place to start if you are aspiring for a healthy lifestyle.
If you have seen any Gymshark athlete, you know that they

know

what they are doing. The Gymshark app allows you to customize your own routines, so you can focus on the areas that you want to.
Reebok knows that with all the gyms closed due to the pandemic, there needs to be an option for at-home workouts. Reebok has a weekly schedule filled with HIIT (high intensity interval training) yoga, abs, and fitness training, all accessible on their YouTube channel. The virtual classes are led by Reebok CrossFit ONE trainers and will take place daily at 6:30 AM, 9:00 AM, 12:00 PM, and 4:30 PM.
STRONG by Zumba is another option for HIIT workouts that combines body weight, muscle conditioning, cardio, and plyometric training (jump training). You can select from a variety of workout videos on the STRONG by Zumba YouTube channel. The videos range from brief one minute videos to 30 minute HIIT workouts.
If you are missing your in-studio classes:
Orange Theory now has 30 minute HIIT workouts available on their website for free. If you are looking for a workout to make you sweat, then definitely check their website out.
CrossFit is also providing at-home workouts on their website. Now, you can finally learn how to properly do those deadlifts, burpees, and toe taps. CrossFit is also a hard workout, so if you are in search of a full body workout that will leave you sore the next day, go check out their workouts.
You can now tune into The Bar Method's Facebook page every weekday morning at 8:30 PST/10:30 CST/11:30 EST for a free 30 minute barre workout that will leave your glutes burning and your forearms wishing you had done more pushups in your lifetime. Each day will focus on toning a different muscle group and will end with restorative stretching.