Senior Spotlight: Megan Seale
Encouraging, confident, and determined are just three of the many words you could use to describe Megan Seale. She joined the RMA family when she was going into the 8th grade, and ever since then, she has met so many great friends, made so many memories, and made an impression on each and every person she has come across. As for me, I first met Megan at youth group at church. We both knew the old youth group leader and pastor at FPC, Mary Kathleen Duncan. I asked Mary Kathleen what she loves about Megan, and her answer was: "I have loved Megan since I met her the summer before she started 4th grade. She is truly hilarious and a bit goofy, while also being fierce (hello, love of hunting) and stunning (hi, fashion sense). She is unapologetically herself in every situation and I know she'll do great things at HPU." This proves how much of an impression she makes on every person and how genuine Megan is. 
I also had the chance to get to know Megan more because of cheerleading. Since her sophomore year, she has been on the sidelines cheering on the RMA football team during the fall and on the bleachers cheering on the RMA basketball teams during the winter. Not only was she just a cheerleader, but Megan was also one of the captains for the squad her junior year along with Abigail Newcomb, and captain her senior year along with Abigail and Peyton Hutson. In addition to being a great cheerleader, Megan has been a star player on the RMA soccer team since her arrival in 8th grade.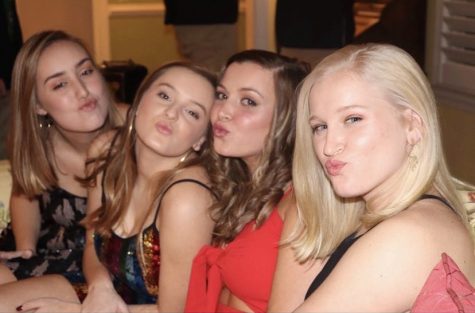 Not only does Megan shine on any athletic field, but she also shines in the classroom. Her senior year class schedule consists of AP Psychology, AP Stats, Ceramics 5, Honors English 12, and American Cultures. She pushes herself to do her best in each class, which contributes to all of the impressive academic awards she has won in her high school career. She has won a Ceramics Award in 9th, 10th and 11th grade; Honors French Awards in 9th, 10th and 11th grade; a scholarship from the Junior Scholars Program for High Point University (11th grade); the Presidential Fellowship Scholarship from High Point University (12th grade); A Honor Roll in 9th, 10th, and 11th grade; and Senior Academic Marshal. She also fills her free time outside of school with working at Clair de Lune, cooking/baking, hunting with her dad, exercising with her mom, and watching Tik Tok and YouTube. However, in school, she is a member of the following clubs: FCA, Key Club, Vice President of Anatomy Club, National Honors Society, Global Studies, and she is the Secretary and Co-President of the Honor Council.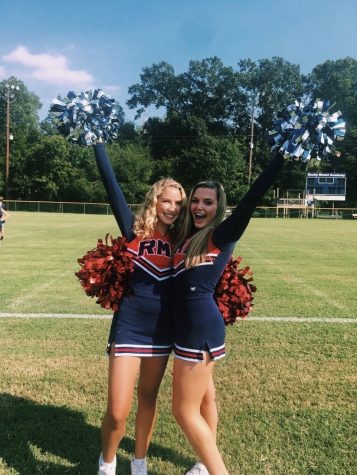 In May, Megan and the rest of the class of 2020 are going to move on to the next chapter of their lives. RMA will deeply miss each of them and the way they make RMA feel each day. The RMA family wishes all of the class the best of luck, and hope they come back when they have the chance!
To get to know this week's senior, read the interview down below:
What college(s) did you apply to? Major choice?
Early decision to High Point University and I also applied to NC State, UNC, ECU, and UNCW. I plan on majoring in Psychology.
What is your favorite TV show?
One Tree Hill, The Office, Bates Motel, and Shameless.
If you could only eat one thing for the rest of your life, what would it be?
Bojangles 4-piece chicken supreme with fries, honey mustard, and sweet tea.
What is one thing most people do not know about you?
When I was 11 years old, I had the #1 NWTF (National Wild Turkey Federation) ranked turkey in North Carolina harvested with a crossbow and #2 NWTF ranked turkey in the nation.
What is your biggest pet peeve?
People who walk slowly or stop walking right in front of me in the hallway.
If you were trapped on a deserted island, what three things would you bring with you?
A 54-foot Cabin Cruiser, a pet pig, and an unlimited Grubhub account.
How do you deal with "senioritis"?
I try to focus on all the things I will miss rather than only focusing on leaving.
If you could go through high school again, would you choose to do anything different?
I would have definitely taken more art classes.
If the senior class decided to make a Spotify playlist, what song would you add?
"Memories Are Made Of" by Luke Combs.
What is your favorite quote?
"The two most important days in your life are the day you were born and the day you find out why." – Mark Twain
What is your favorite memory from RMA?
The RMA France trip with my best friends junior year.
What will you miss most about RMA?
My class and all the friends I have made since 8th grade, and of course Mrs. Hunter, Ms. Keel, and Mr. Stone.