TV Review: Cheer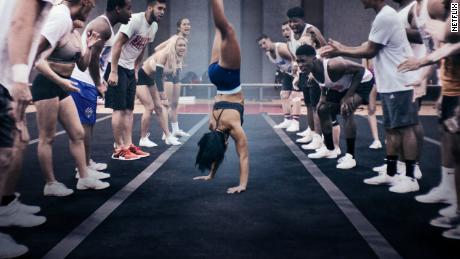 If anyone knows me, they should know I am a part of the RMA cheer squad, and honestly, I just love cheerleading. I have seen my fair share of cheer movies, so as soon as I heard about Netflix's docuseries Cheer, I immediately added it to my queue. But, before I could even watch the trailer, everyone had already watched the series in its entirety. I also do not handle FOMO (fear of missing out) well at all, so one Saturday, I sat down and binge watched all of the show to figure out what all of this "mat talk" was about.
Even though no one asked, here is my review of the series:
Before we jump in, here is the synopsis that Netflix gives for Cheer: "This gripping docuseries follows the ups and downs of Navarro College's competitive cheer squad as they work to win a coveted national title."
Off the bat, I could tell this was not going to be a candy-coated view of cheerleading and in the campy tone of Bring It On, but rather showed cheerleading as being a sport — yes, a sport — that people deem to be pretty glamorous. Morgan Simianer, a cheerleader on the Navarro team, said in the first episode, "People think that we just do, like, cheers like, 'Go Team!' Stuff like that. But we actually put our bodies in a lot of… pain." That quote sums up the whole series, because throughout it, you see people get injured from basket tosses or failed attempts at the pyramid. 
Even in just the first episode, I could tell that the Navarro cheer coach Monica Aldama was going to be my idol, and I was right. She built this program from the ground up in 1995 and expected she would only hold the position for a short-term. Her time there has brought Navarro College fourteen National Championships and five Grand National Championships. "I am so competitive and I wanted the best of the best," Aldama said. "Once I got here, I fell in love with it, and I can't see myself ever giving it up." Morgan Simianer also said that Aldama is not just a coach to her, but a second mother and a role model. The show focuses mainly on the personal lives of the athletes and the role Monica has played in shaping them.
Navarro Cheer is more than just cheerleading. Jerry Harriss, a member of the team that is famous for his uplifting "mat talk" said, "You have to have a good attitude. That goes for everyone on the team. I just want to see everyone succeed, sometimes more than myself, so I put my teammates before me."
The series shows the team training twice a day, three times a week leading up to the NCA Daytona Nationals, where just half the team will "make mat," which means 20 of the 40 members will be able to compete. The others will be used as alternates.
While the rings, banners, trophies, and titles are what the athletes work so hard for all year long, it is the family that is created during that time that makes them true champions. That is why I love this docuseries, besides the fact that it proves cheerleading is a sport. Cheerleading, whether you are talking about high school sideline cheer or collegiate competitive cheer, brings people together and creates a bond between each of them that is so strong. Honestly, cheerleading creates a second family, and the series Cheer shows non-cheerleaders how much cheerleading means to those who are on a team.
Assistant Coach Kapena sums up the series in one sentence: "This isn't Bring It On. As much as we love the movies, it's not."