Senior Spotlight: Eliza Myers
This week, our senior spotlight focuses on one of the RMA Media Office's own: Eliza Myers. Our beloved photographer describes herself as private, stubborn, and confused, but I would describe her in a much better light: passionate, creative, and sure of herself. Mr. Stancavish also sings her praises, saying, "Eliza has always been amazingly mature. Even as a freshman, I could tell by the way she acted that she was a very 'grown-up' 14-year old." From her first year at RMA in ninth grade to now, Eliza has left a profound impact on everyone she has come across, inspiring them to be just as confident and driven as she is.
Academically, Eliza proves herself to be a scholastically inclined. This year, she is taking AP Psych, Calculus, English Honors, Art, Ceramics, and, of course, Media Office. In her high school career, she's taken many AP classes including AP Biology, AP US History, AP European History, and AP Government. Her accomplishments have earned her a spot in National Honor Society. Her favorite class, however, has been Ceramics, proving she also enjoys creative activities, not just academics. Outside of RMA's classrooms, Eliza is heavily involved with our Youth and Government program. This year, she acts as the club's President and Senior Delegation Leader. She will lead many other high school students to their convention on February 13. Her club's advisor, Mr. Stancavish, has been very thankful for Eliza's leadership: "This year I have counted on Eliza to be my second set of eyes and ears and brain as the Senior Delegation Leader to the Youth and Government conference. She hasn't disappointed me yet and I don't think she will when we are in Raleigh. She has stayed on top of all the preparation work that goes into YAG."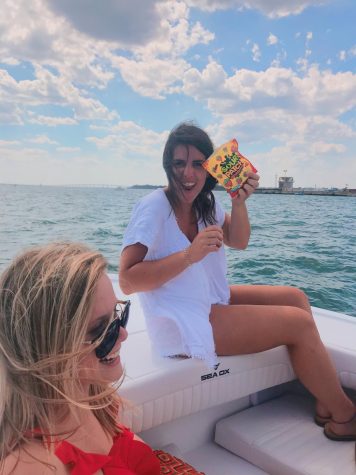 In athletics, Eliza lends her talents to the Eagles in many areas. In the fall, she plays varsity tennis as the fifth seed. While she played in her junior year, they won the state championship. This year, the team made it to the semifinals with her help. When spring rolls around, you can find Eliza on the soccer field. She has been a starter defensive player on the varsity team since her freshman year, and she says soccer is her favorite sport. She also says her teammates make the sport that much better for her. She earned All-Conference last year for her efforts. Outside of RMA, Eliza also plays soccer on a travel team, proving her true athleticism.
When she isn't at school, Eliza has a variety of hobbies. She babysits, paints, listens to music, reads, hangs out with her friends, and watches TV during most of her free time. One of her favorite places to spend time is NABS, the coffee shop and deli downtown, because of the people there. Eliza also makes video montages when she's free, a talent we've gotten to see her utilize on Media Office. She really is talented with a camera. Eliza has proven to be very well-rounded, as evidenced by her favorite activities. She's smart, athletic, artsy, and still has time to care for others.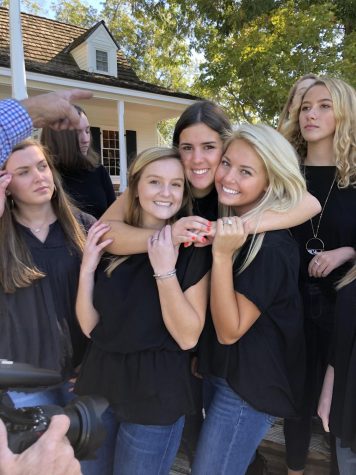 Sadly, RMA will be losing Eliza Myers this spring. She hopes to attend either the University of South Carolina, UNC Chapel Hill, Wofford, or NC State for a major in Fashion and Textiles. It's very obvious to me that her classmates will miss her terribly, but her friend Deborah Kitchin can speak better words than I can of Eliza's character: "Eliza is my best friend. She is the best person to be around and is always there for me or anyone who needs it. She is a true friend and knows how to make me laugh. She is one of the most caring people I have ever met and I love her and our friendship." Although we'll miss her infectious spirit, we have to say goodbye to Eliza as she continues to share her fiery nature wherever she goes. We wish her the best!
Keep reading to learn more about Eliza:
What's your favorite movie of all time?

Either

Butch Cassidy and the Sundance Kid

or

The Grinch

(2018).

What was the best decade for music, in your opinion?

This is a difficult question for me because I love pretty much any and all music, but I'd have to say the 70s because of Elton John, the Rolling Stones, CCR, etc.

If a genie offered you three wishes, what would you ask for?

An endless supply of beautiful clothes, to fix climate change/global warming and all that so that I could live long enough to enjoy said clothes, and I'd wish to travel wherever I wanted whenever I wanted (this includes time travel).

What's your favorite meal from the cafeteria?

Tater tots and an egg and cheese biscuit, hands down. 

Who is your fashion icon?

Iris Apfel, Holly Golightly, and Mick Jagger.

What is a quote you try to live by?

All of "If" by Rudyard Kipling and "You can't live a full life on an empty stomach."

Describe your dream vacation.

I want to see absolutely everything that I can, especially Europe. Then I'd end the trip in London or out in Montana and just never leave.

Do you have any advice for underclassmen?

Don't let the argument be more important than the relationship. Do yourself a favor and take an art class all four years of high school if you can. 

What will you miss most about RMA?

As a senior in the second half of the school year, it's easy to get overly sentimental and say that I'll miss absolutely everything so I think I'll go with my soccer team. I'm going to miss playing soccer.