Senior Spotlight: Peyton Hutson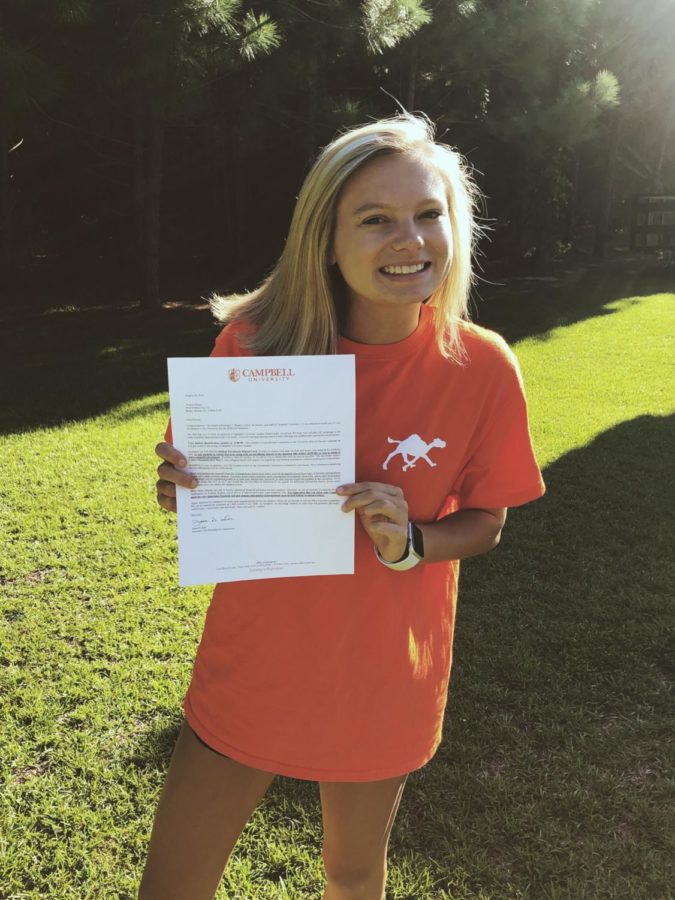 After coming to Rocky Mount Academy five years ago, Peyton Hutson has made an impression on every person she's met. She is inclusive, outgoing, and kind, which makes her both a great friend and classmate. The senior class would definitely not be the same without Peyton Hutson.
Peyton thrives both in the classroom and at athletics. In the classroom, she continuously pushes herself to do her best. This year she is taking Ecology, Yearbook, Advanced English, AP Statistics, AP Psychology, and Sports Medicine. She has won awards in both English and French, as well as received the Junior Service Award.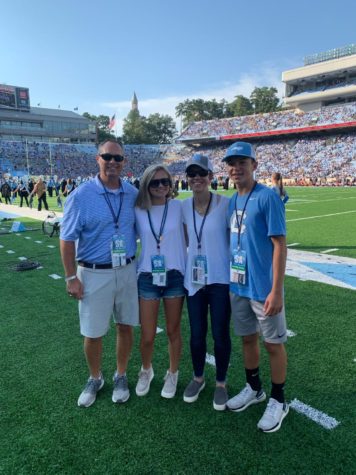 After school you can usually find her working in the courtyard with the ASE kids or at sports practice. When I asked Ashley Barry, Peyton's cheer coach and employer for ASE, what she loves most about Peyton, her response was, "Peyton is one of the most reliable and caring people I know. Whether she is with her cheer girls or with her babies in ASE or summer camp, she is always taking care of others. To say Mrs. Barry is going to miss her next year would be an understatement." Peyton is a beloved worker at ASE, both among the people she works with and the kids. I also asked some children in Pre-K and Kindergarten why they love Peyton, and here are their answers:
"I love her hugs." – Lea Jones (Pre-K)
"She has a beautiful face." – Jack Robertson (Pre-K)
"Because she lets us do fun things." – Lake Tobias (K)
"She's just really nice and I just love her." – Ethan Tolson (K)
"She reads us books and gives us hugs." – Ditty Moore (K)
Peyton, along with working at ASE and excelling in her academics, is a key member of the cheer squad and soccer team. She has received the Coach's Award for soccer twice.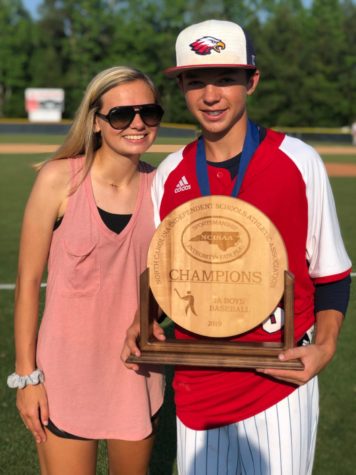 Peyton Hutson has left a mark on RMA with her academic and athletic success. Each day, Peyton makes the most and cherishes every moment of her senior year. With her determination for success in college, Peyton is going to leave RMA and do amazing things with her life! Rocky Mount Academy will not be the same without Peyton and the rest of the class of 2020!
Question/Answer with Peyton!
What college(s) are you applying to? Major choice?

I have gotten accepted into Campbell University and that is where I will be attending. I plan to major in Sports Management.
What clubs are you in? Key Club and FCA.
What are a few extracurricular activities you do? Playing soccer, going to concerts, going to UNC games, hunting, and throwing a baseball with my brother.
If you were trapped on a deserted island, what three things would you have? Chick-fil-A, ketchup, and sweet tea.
What is something most people do not know about you? I do not like chocolate.
If the senior class decided to make a Spotify playlist, what song would you add and why? "Rumor" by Lee Brice because it is my favorite song.
Who is your role model? My mom.
If you could only watch one movie for the rest of your life, what would it be and why? I don't watch many movies, but my favorite TV show is Grey's Anatomy.
What is your biggest pet peeve? When people walk slow down the hallway, especially when I am trying to go to long lunch.
Do you have any advice for under class-men? Do not wait till the last minute to do anything, because it will not get you anywhere.
What is your favorite place to go to for long lunch? Chick-fil-A or Cookout.
What is your favorite memory from RMA? Meeting some of my best friends.
What is one thing you will miss most about RMA? Coach Berry's Sports Medicine class.