Honoring Our Veterans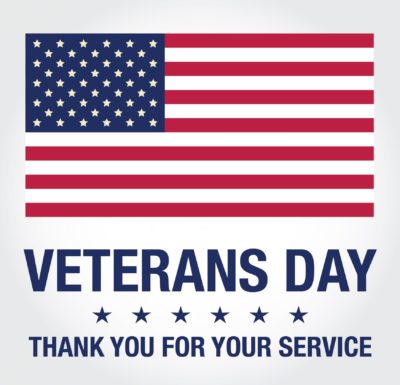 After the mountains of candy from Halloween are either eaten up or stashed away, many of us turn our attention to Thanksgiving or Christmas. However, many of us overlook Veterans Day, a very important day that has much more impact on our lives than we ever notice. 
Veterans Day started as a day to reflect upon the heroism of those who died in our country's service, and it was originally called Armistice Day. It fell on November 11 because that is the anniversary of the signing of the Armistice that ended World War I. However, the holiday was changed to "Veterans Day" in order to account for all veterans in all wars. We celebrate and honor America's veterans for their patriotism, love of country, and willingness to serve and sacrifice for the common good.
On Veterans Day, we honor those who honored our country. Those who once wore a military uniform, whether it was Navy, Marines, Air Force, Army, or Coast Guard, deserves our thanks and utmost respect for what they put on the line for our freedom. The sacrifices that these veterans and their families made at home, on the battlefield, and at outposts around the world deserve nothing less than our extreme gratitude. Because of what they have done, we can forge unity on our common American beliefs of freedom and peace. They were the ones that fought to sustain that unity that makes this country what it is today. 
So wherever you may be on Veterans Day, just remember and be thankful. Even if it may not be Veterans Day when you read this article, being grateful for what others have done for you has no date. So even on Thanksgiving or Christmas, you can thank both active-duty members and veterans for their service.