A Marathon of a Weekend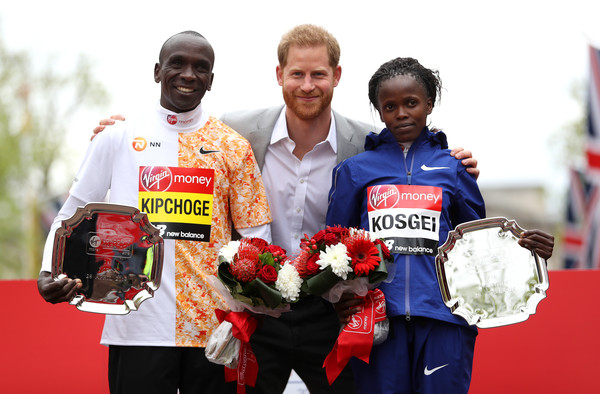 Last weekend, two long-standing marathon records for both men and women were shattered. These records were broken by Eliud Kipchoge and Brigid Kosgei in Vienna and Chicago, respectively. One of these marathons is filled with controversy while the other is being praised, but nonetheless both are incredible athletic performances that show the dominance of Kenya in long distance running.
Kipchoge's historic sub two hour marathon took place on October 12th in Vienna, Austria. This achievement was perceived as impossible by some, but others believed it was only a matter of time. Kipchoge ran the marathon is 1:59:40, compared to his equally planned event with Nike last year in Italy, in which he ran the marathon in 2:00:25. It is only fitting that in the first race Kipchoge's family watched, he made history.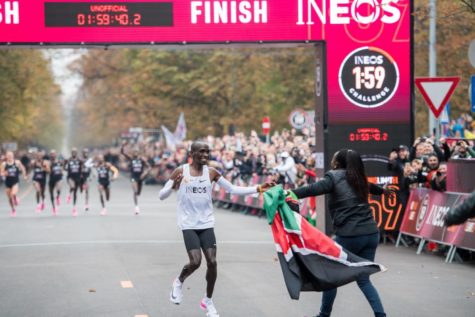 Although this athletic feat is unparalleled, it is highly disputed, as it did not take place in an official marathon. Many aspects of his run caused controversy and it is not being considered for an official world record. The first of these reasons includes a constantly cycling group of pacemakers in an aerodynamic open V-shape of world renowned long distance runners around Kipchoge. Although pacemakers are allowed in official marathons, they must start the race with the runner and must not be substituted periodically throughout the course. Another controversial piece of his run was he was given a carb rich super beverage by a bicyclist throughout the race. This is not allowed and contrasts the typical water table stands of a traditional marathon. The last and most questionable part of his historic run was the shoes he was wearing. He wore an unreleased variant of the Nike Next% that some have likened to "technological doping." The shoe is speculated to contain up to 3 carbon fibre plates, creating a springlike sensation and a foam midsole for maximum energy return for the runner, increasing their efficiency greatly. Although all of these advantages remove his run from world record contention, his run was still an extraordinary athletic achievement.
Brigid Kosgei also had an exceptional weekend and unlike Kipchoge, she officially broke the world record time for the women's marathon in the Chicago Marathon. She slashed the women's time by 81 seconds with a time of 2:14:04. This time destroyed Paula Radcliffe's long-standing time from the 2003 London Marathon. Kosgei, inspired by Kipchoge's run just one day before, decided to run in the same shoe as him as opposed to an older Vaporfly model. Kosgei's marathon was an incredible achievement that will be greatly revered until it is broken again, likely by Kosgei herself at only 25 years old with a long career ahead of her.