Senior Spotlight: Caleb Chesis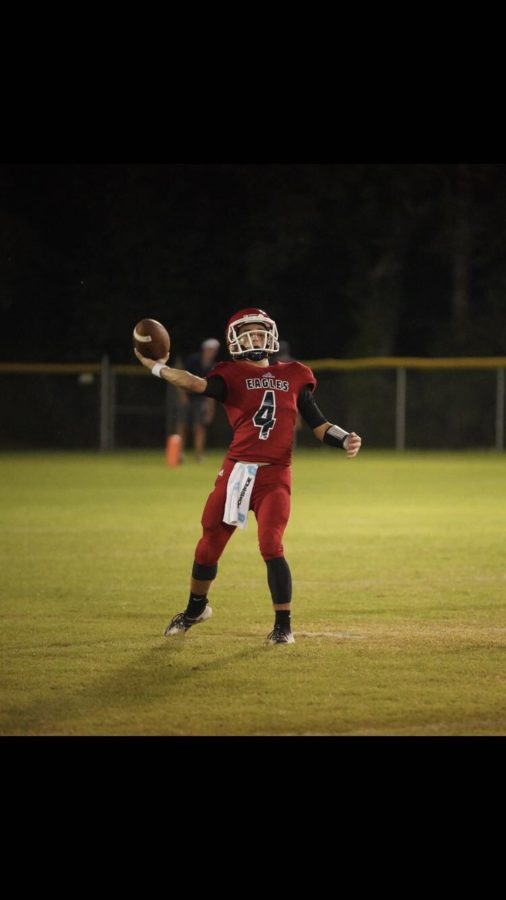 There is no one in the world quite like RMA "lifer," Caleb Chesis. To have Caleb as a friend is to have someone who will always be on your side and who will pick you up when you're down. Whenever Caleb is there, there is always someone laughing, even though most of the time it's just him laughing at his own joke. If you know him well, you know that beneath loud humor and a joking personality is a conscientious and driven student and person. Greatly influenced by his role model and grandfather Papa Duke Caleb's life goal is to follow in Papa Duke's footsteps by attending the Naval Academy and becoming a Marine pilot. It is very rare to find a seventeen-year-old as sure and focused on their future as Caleb. He is completely supported by both his family at home and the family of friends he has here at RMA.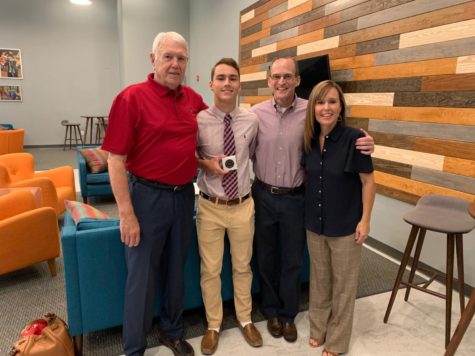 Caleb is both a great athlete and student, balancing an impressive class schedule and workload with being the quarterback on the varsity football team. Throughout high school, Caleb has striven to take difficult classes that he has always done well in, including an impressive total of six AP classes. He is a very responsible student who always asks questions, has his homework done, and turns assignments in on time. He has played varsity football for all four years of high school and was a part of the state championship-winning team his sophomore year. As well as football, Caleb played varsity baseball his sophomore year, varsity tennis his junior year, and is planning to play varsity tennis again in the spring.
Caleb Chesis is the kind of person that you want to be around, which is attributed to something he and I have dubbed the "Chesis Charm." He makes everyone feel included, appreciated, and at ease no matter where he goes. He is also never afraid to stand up for himself and his friends or call it like it is, voicing his opinion, no matter how controversial. He is a man of many talents and many memorable quotes which the senior class will continue to laugh at even after we have graduated while Caleb is off fulfilling his immense potential. A couple of years back I asked Caleb how he'd describe himself, and he simply said "I'm handsome, I drive a manual mustang, and I'm financially stable at the age of 16," and that just about sums it up. 
Caleb has many hobbies and interests to ensure that there's never a dull moment outside of school and sports. His greatest passion deals with anything involving the Marines or the US Armed Forces. He loves to spend time with his Papa Duke looking through old pictures and uniforms and hearing about his time at the Naval Academy. Papa Duke was a full colonel and a Marine aviator for thirty-two years, and Caleb grew up hearing stories of his time serving his country. As a little kid, Caleb was fascinated by the idea of fighter planes in action and by anything having to do with the Marine Corps. Now that he's older, however, he better understands how the military works past the idyllic view of action and adventure he imagined when he was younger; he's even more inspired to experience it for himself and follow in Papa Duke's footsteps. When his friends voice their concern for his safety in the future as a part of the military, Caleb says. "I understand your concern, but when you love something like I do, you'll understand that the risks are worth it."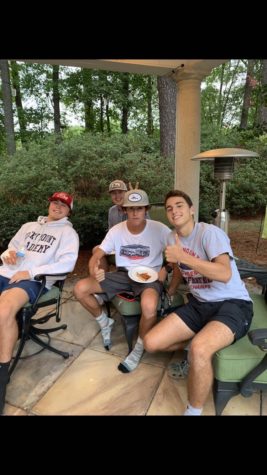 Caleb loves his family and friends more than anything, and he is incredibly close with his parents. He even has a Snapchat streak with his mom that's 850 days long! His best friend, Finley Bissett, had a lot to say when asked about Caleb: "Caleb's a stand-up dude and he's been my best friend since we chatted it up over some Thomas the Train in Pre-K. We've been kickin' it ever since. Whether it's getting driven by our parents, walking through Spring Hope, biking to Harris Teeter, or driving in the ruby red manual Mustang, I know he can hang whenever. Throughout the years, we've bonded over superhero comics, WWE, trampoline stunts, LnL food runs, late-night bike rides through the neighborhood, cars, and various philanthropic deeds. I know it's hard for him, being the second funniest guy in the group, but he pulls his weight to the best of his ability. I'm blessed to have met him and I'm hype to get to call a future Marine my best bro. #splikyerrrr #kenshamrock #highschool."
Without Caleb Chesis, the class of 2020 would not be the family that it is. We would be incomplete without his unmistakable laugh and ruby red manual Mustang. Caleb is a natural leader and the glue holding the senior class together. Never wanting to leave anyone out, he greets everyone here with the same sense of humor and treats everyone like his best friend. Though he dreams big, he is completely capable of achieving his goals and is undoubtedly headed for great success. He will leave RMA fully equipped to handle the real world and he will carry with him the love, support, and admiration his family here at Rocky Mount Academy has for him. Rocky Mount Academy will no doubt miss Caleb Chesis dearly when he graduates at the end of the year, but we are all so excited to see what his life after high school holds for him. We are all so proud of everything that Caleb has shown he is capable of and has achieved and we know there is no limit on what he can do. I asked his grandfather Papa Duke about Caleb and he had this to say: "As far as I'm concerned he's the toughest grandkid I've ever had. Caleb makes a Red Bull drink look like a glass of water." Caleb is such a unique person and an incredible friend, and we will be sad to see him leave us this spring. Though leaving good friends like Caleb is difficult, we know that he is bound for greatness. In his own famous words, "This is high school," and like always, he's right. 
Where do you see yourself in 20 years? Soaring over the Pacific in an F-35 lightning jet.

What is the characteristic that you value most in a person? Honesty, for sure.

If you could have any car other than the ruby red manual Mustang, what would you have? I wouldn't have a car.

What is your biggest pet peeve? When someone doesn't tell the truth. 

What are you most thankful for? Family and the Marine Corps.

What advice do you have for your freshman self? Study more, but have fun.

What is your favorite high school memory? Meeting Finley and Oliver at the train table the first day of Pre-K.

What's your favorite thing to do in your free time? Practice saying "Oorah" for five hours a day to prepare for my Marine future.

What will you miss most about RMA? Being in the presence of Dr. Wells and talking about the military with him.

What's your favorite movie? Paul.