Senior Spotlight: Will Stewart
Hang on for a minute...we're trying to find some more stories you might like.
This week's senior spotlight features a star baseball player, an artistic student, and a great friend all in one. Will has all kinds of different sides to him, but once you really get to know him, you realize that aside from all the noise, he has a huge heart. He's lovable, fun to laugh with (and laugh at), and most importantly, he always keeps you wondering what he'll do next. From silly stringing everyone in the senior room to taking a paddle boat out during our senior pictures at Rose Hill to constantly getting his hats taken, Will likes to keep us all amused. He is the type of person that everyone looks to for a good time because after all, we all know that whatever he does, it's never something boring.
As a driven student, Will strives to do well at everything he does, including his studies. This year, he takes a variety of class including Ceramics, Zoology, Ecology, Advanced English, Music Performance, AP Statistics, and Weightlifting. His skill in ceramics is constantly improving, mirroring his creativity. Mrs. Hunter commented on Will's work: "Deepak Chopra said, 'Instead of thinking outside the box, get rid of the box'. Will has definitely proved that in the Art Class. He produced work that was not only out of the box but done with extraordinary skill and outstanding craftsmanship. From his favorite movie Forrest Gump, 'Always be able to look back and say, I didn't lead no humdrum life' and no you didn't Will…no you didn't."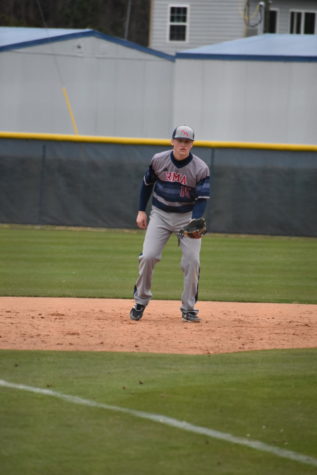 Will is known for his lively personality, adding laughter in the classroom and getting many teachers off topic, but he is also recognized for his sincere determination to be the best that he can be. He is an active member of FCA, meeting with other members to listen to important speakers who give advice and encouragement to our RMA athletes to be proud of their faith and radiate the love of God. He has a naturally outgoing spirit which makes the people around him feel comfortable and welcomed.
Outside of the classroom, you can find Will on the baseball field, driving really fast, at church, in the woods, or hanging out with his sisters. His baseball career is only just getting started, but he is more than excited to play for UNC-Chapel Hill this fall. In his sophomore year, he earned the Coaches Award and All-Conference Award for Varsity Baseball. The following year, he received MVP, All-Conference, All-State, and CIC Conference Player of the Year! Will explained, "I was blessed this past summer to get offers from 10 D1 college baseball programs to play for them. The top choices I visited and considered were UNCW, Wake Forest, UNC, Liberty, and Clemson." Also this past summer, Will was invited to play at East Coast Pro, an invite-only showcase of the top 150 baseball athletes on the east coast lead by MLB scouts. His love for baseball has only grown stronger year after year. RMA will surely miss him next year as he takes his fun self up to Chapel Hill, but we are more than excited to see what he will do throughout his journey!
"Although he can be very easily distracted, or run a stop sign on the way into school, my friend Will is one of the more generous people I know. He is always willing to help with anything you ask him to. He would give the shirt off of his back to help anyone in need. When I came to RMA, Will was one of the first people to strike a conversation with me. From then we have become best friends, and his friendship is one that WILL not be forgotten." – Tanner Jernigan
"From rolling trucks to killing ducks, Will is always up for fun. He's been like a brother to me over the past few years, and I couldn't have asked for a better friend." – Jack Boucher
To learn more about Will, read the short interview below!
What has been your favorite class at RMA so far, and why?

Ceramics because I enjoy making things with my hands.

Can you explain a little about your hunting?

When I'm not playing baseball I'm hunting, and I will never turn down any invitation to hunt.

What is something not many people know about you?

I have gotten the privilege to spend 6 of my last 8 bdays, starting with my 10th birthday, in the Dominican Republic on a SCORE International baseball mission trip.

What do you enjoy doing outside of school?

Hunting, fishing, and playing baseball

Currently, what is your favorite song? "

God's Country" – Blake Shelton

What will you miss the most about RMA?

The thing I will miss the most is getting to have my favorite little sister Heidi, get to ride with me to school each morning and getting to spend that time with her.

If you had to pick one food to eat for the rest of your life, what would it be?

If I can say MOES DEFINITELY MOES

What drives your love for ceramics?

I guess my creativity and my ADHD lol because I always have to be doing something with my hands

Who is your role model?

My Dad and Grandad, they have both taught me the true meaning of hard work and how much hard work pays off in the long run.