Senior Spotlight: Isabel Smith
Hang on for a minute...we're trying to find some more stories you might like.
Isabel Smith has been a key component in the class of 2019 for six years. Though she only arrived in middle school, the impact and close friendships she has made make it feel as if she has been here right from the start. In seventh grade, Isabel graced RMA with her presence for the first time. In true Isabel fashion, she missed a few days of the beginning of the school year due to cellulitis in her eye (her first of many peculiar maladies), but she still managed to make strong friendships that will last a lifetime. Her ease at making friendships due to her humor, hints of sass, and fun personality is made very evident by her friendships at RMA, her friendships at Rocky Mount High School, and her close relationship with her family. Knowing Isabel is knowing laughter even in the hard times, knowing kindness when you need to be uplifted, and knowing someone will always be in your corner.
Isabel is not only a kind spirit, but she is also a great student. She takes a wide variety of classes that show her interests in several aspects of life. Her skills shine through from Ceramics to English to Fitness. She has thrived in ceramics with Mrs. Hunter; she makes beautiful works of pottery and even won third place in the art show last year for one of her pieces! Isabel loves taking science classes with Mrs. Lehnes, as they often share similar senses of humor. Mr. Stancavish's history classes have also been among her favorites. Isabel's work in the classroom is respectable and in several different fields!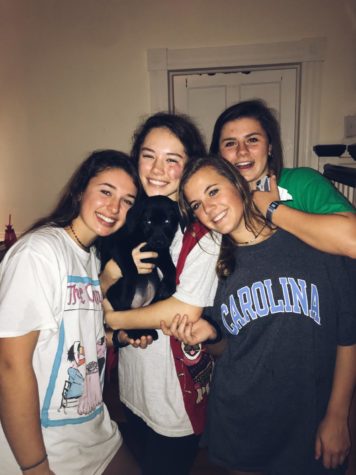 Isabel is a friend to everyone at RMA, but on the field or court, she is a foe against other teams! Isabel has had an impressive athletic career at RMA. You have probably heard her name countless numbers of times over the intercom discussing her accolades on the basketball court or soccer field. Her family has supported her the whole way. Her dad helps coach both boys and girls soccer and paints the fields, and her mom takes care of the teams as team mom! On the basketball court, Isabel is a powerful shooting guard that still manages to have some of the best handles in the conference. Her basketball skills have allowed her to win Coach's Award, MVP, and CIC All-Tournament Team for 2019. Soccer is Isabel's main focus, as she has been playing travel soccer since a young age. She helps the team greatly at her important position of center forward. Her years of practice have given her great technique, footwork, and a passion for the game. Isabel has won the MVP Award and made the All-Conference Teams in the past. She is one athletic Eagle!
Isabel will be missed in the halls, classrooms, and athletics of RMA. Her personality is one that is easy to love and hard to forget. Fellow senior Tiffany Chandley says "I have known Isabel since Kindergarten when we took dance together. I didn't know her name, so I would refer to her as 'The girl with the birthmark on her face'." Tiffany had no idea she would meet Isabel later in life and become great friends, as "Isabel is the most unique and charismatic person I know, and I will miss our "talks" together." Isabel has applied to East Carolina University, Appalachian State University, University of North Carolina- Charlotte, and North Carolina State University. Wherever her Eagle wings take her, Isabel is sure to succeed with her kindness, humor, and determination.
To learn more about Isabel, read the interview below!
 What is your favorite dessert?
My favorite dessert would have to be fried ice cream or Anne's Donuts
If you could have lunch with any RMA faculty member, who would it be?
Mrs. Whitehurst, she is for sure one of the coolest teachers I know!
Who is your role model?  
My role model is Mrs. Lehnes because owning a Chick -Fil- A would be super cool.
What is your favorite meal?
My favorite meal is definitely steak with bacon cheese fries and ranch.
What is your favorite show on Netflix?
My favorite show on Netflix is definitely Gossip Girl; I've watched it like 7 times.
Where is your dream vacation?
I would love to go to Greece or Aruba.
What is an interesting fact about yourself that few people know?
I'm a hypochondriac, but I hate the doctor.
 What is your favorite memory from RMA?
Beating faith 72-47 or being undefeated on JV basketball!!!!
 What will you miss most from RMA?
I'll miss knowing where everything is and all of my friends that are juniors.