Top Ten Things to Look Forward to This Spring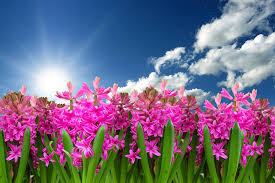 Ann Sumner Thorp, Editor-in-Chief
March 11, 2019
Top 10 Things to look forward to this spring:
      

Coming Soon to a Theater Near You…
With the approach of spring comes a plethora of new movies. The string of new releases was kicked off with the premiere of Captain Marvel in early March. It only goes uphill from here with the release of Dumbo, The Hustle, Avengers: Endgame, Aladdin, Men in Black International, Toy Story 4, Spider-Man: Far from Home, The Lion King, and so many more. Let's face it. Our movie theater is going to be just a little more crowded in the next few months, especially on Tuesday nights (Who doesn't like free popcorn?).
      

Here Comes the Sun
There's no better feeling than driving in the car with the sunroof down, listening to music, and feeling the sun on your face as you sing along to the radio. After a long winter of cold weather and dreary skies, the feeling of the sun is one of the best feelings in the world. It definitely serves to brighten your day. So break out that new pair of sunglasses and soak up the sun!
      

Everyone's Favorite: Spring Cleaning
It's time to leave winter in the dust and get swept up in the excitement of spring cleaning. Now I admit spring cleaning might not be on the top of the priority list for most people, but it provides a fresh start to this new season. Plus, you have to admit, it's always a little exciting changing out your winter clothes for shorts, sandals, and Chaco's.  
      

Take Me Out to a Ballgame
After a couple weeks of practice, our spring sports are officially in full swing. Let's hear it for the Eagles as they compete in baseball, soccer, softball, golf, and track and field. One of the best parts of the warm weather is being able to go out and support our players and cheer them on to victory, so make sure to come encourage our teams this spring and enjoy a nice day out on the fields.
      

"The 'Earth' Without 'Art' Is Just 'Eh'" – Demetri Martin
For many, the Spring Arts Festival is a highlight of the season, especially for those performing in it. The music and art classes have been hard at work preparing for this showcase, and I personally can't wait to see all that they accomplish. From ukuleles to chorus clubs to ceramics and photographs, this is sure to be a night you won't want to miss.
      

"I Try Not to Limit My Madness to March"
It's that time of the year again. I hope everyone has done their brackets because March Madness is about to begin. With a total of 68 teams competing this year, I hope y'all are ready for an exciting season of rivalry beginning on March 19th. It's always fun supporting your favorite team to victory (Go Heels!), so remember to enjoy these exciting games in the next few weeks ahead.
      

Please DONUT say no…Prom?
Even though prom may only be for juniors and seniors, it still brings lots of excitement to the rest of the school. With promposals to do, dresses and tuxes to pick out, and decorations to plan, the next few weeks are going to be a little chaotic as we prepare for the dance. However, all that hard work pays off as we get to sit back and enjoy a fun night with friends. You know, I SHORE do SEA us together at Prom!
      

In a Tropical State of Mind
It's hard to come up with the highlights of spring without mentioning everyone's favorite—spring break. After working hard for two straight trimesters, spring break provides a much-needed break before the final push to the end of the year. As the saying goes, "Work Hard; Play Hard," so make sure to take this week to have fun with friends and family and most importantly, get rest too to help carry you through the end of the year. Just make sure not to get in spring break mode too early.  
      

Crank up the A.C.
What we have all been waiting for: warm weather. By far one of the best parts of spring is the nice warm temperatures that come with it. It's time to break out the shorts and Chaco's and enjoy the wonderful weather. At RMA, warm weather usually means having class outside and seeing many people out in the courtyard either playing, studying, or just hanging out. The first few weeks of warm weather always seem to brighten up the hallways and add a little extra sunshine to everyone's day.
  

Last, but certainly not least: Senior Prank Day
There have certainly been some epic pranks throughout the years, and every time this day rolls around, students, parents, and faculty have enjoyed seeing what the current senior class has come up with. From bouncy houses to petting zoos, this day is full of laughs for everyone involved. Keep on the lookout for this year's senior prank day; you're definitely in store for a treat.