The Addams Family Sneak Peek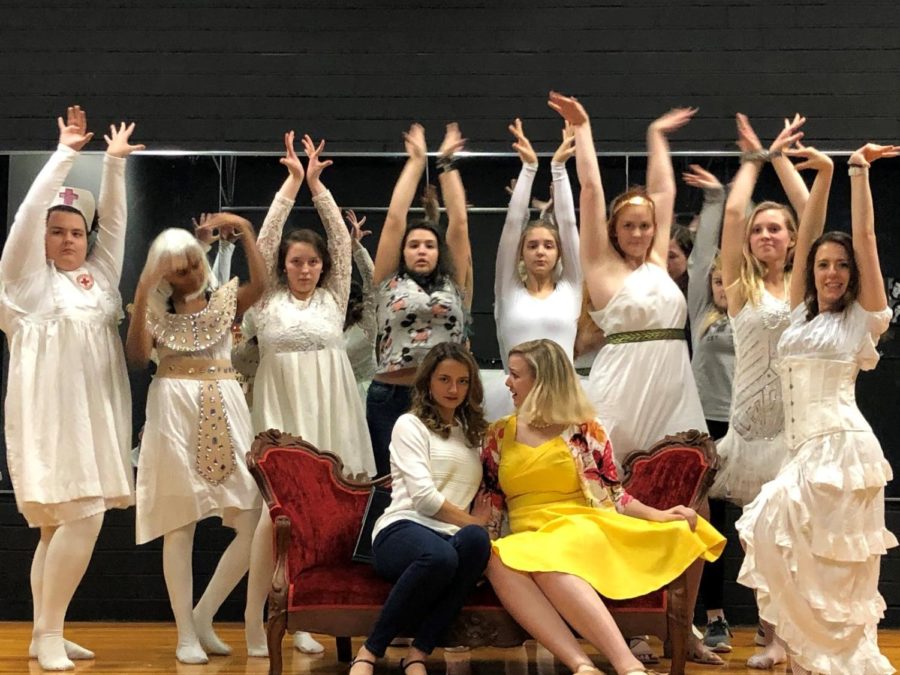 On March 12 and 13, the RMA theatre program will be performing The Addams Family! RMA's young actors and actresses have been hard at work since January, and they're so excited for everyone to see the finished product. Under Mrs. Whitehurst's direction, everyone's favorite creepy family has been brought to life in a funny and unique way. She says, "I was pleasantly surprised at how hilarious and well written this show is. It has such clever humor and terrific music. I think the audience is really going to enjoy it. The best part of directing this show has been how easily everyone embraced their characters and ran with it! This cast is remarkably talented; they picked up the choreography so quickly, and they got it when explained how I wanted their character to act. These guys really were a dream to work with." Mrs. Petruzziello's choreography keeps the audience entranced for every musical number, and Mr. Leonard and Ms. Cameron's musical talents helped every cast member sound amazing. Senior Juhi Salunke said, "It was really fun to be on a different side of the production than the tech crew and to learn the choreography for each of the songs!" As a member of the cast myself, I can safely say that anyone that comes to see this show will love it!
The story follows Wednesday Addams, now a young adult, and her fiance, Lucas Beineke. The catch is, the Addams and the Beinekes have never met and have no idea about Wednesday and Lucas' newfound engagement. The play begins with the Beinekes arriving at the Addams' mansion for a dinner party where they will meet for the first time. As expected, antics ensue, as the Beinekes are the polar opposites of the Addams: they're an obnoxiously happy, "normal" family from Ohio. With a strong ensemble of deceased Addams family ancestors, the show is supported by amazing dances and music. As Uncle Fester would say, "Secrets exposed. Marriages threatened. Delicious anarchy." You can expect to see all of those things in this fabulous show!
If you want to see The Addams Family, it will be performed at 7:00 on Tuesday and Wednesday, March 12 and 13, at the Dunn Center!
Here are some interviews with the cast to help you get more familiar with the show!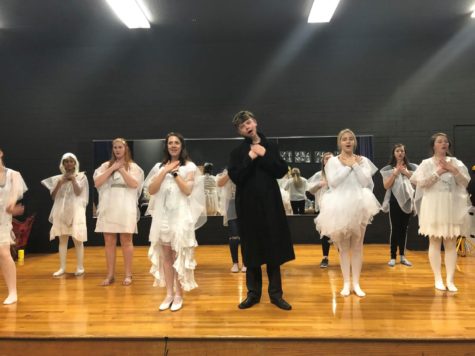 Ezra Moore, 8th (Uncle Fester): What is your favorite thing about your character, and why?
"I love how flamboyant he is. He's so crazy (or kooky, I guess I should say). It's so fun to play someone like him. He's the funniest role in the whole show. I also love getting to show off my falsetto."
Vivian Rogers, 11th (Morticia Addams): What is the biggest challenge about playing your character?
"Being a mom who's very dark and quick!"
Mary-Edith Cox, 10th (Ancestor/Dance Captain): What is your favorite dance number, and why?
"It's hard to choose just one, but probably 'Death is Just Around the Corner.' The dance is something we have never done before, so it was fun to learn it with all of the ensemble. Learning the dance was tricky at first, but once we all knew it and started practicing it during full rehearsals, I knew it was going to be my favorite dance!"
Seth Schenall, 9th (Gomez Addams): How are you and your character similar?
"Gomez and I are similar because we both kind of try to make things right but sometimes they don't really go the way we're planning for them to go."
Ayden Bilicki, 10th (Lucas Beineke): What is your favorite line from the play?
"Probably 'Oh Wednesday, I just wanna lock you up in a little white cottage with a picket fence and an apple tree' because it's my first line."
Ari Henderson, 9th (Ancestor/Zelda Fitzgerald): Who is your favorite character in the show, and why?
"My favorite is Morticia because she's sassy, fierce, and independent yet she cares for her children, and deep down is willing to change the way she thinks for their happiness."
Madison Davis, 11th (Ancestor/Marilyn Monroe): What is your favorite song, and why?
"My favorite song is definitely 'When You're an Addams!' Not only is it so much fun to sing and dance, but it opens the show with an entertaining introduction to the Addams family!"