Senior Spotlight: Averi Parker
Averi Parker is the subject of this week's senior spotlight! Gracing RMA's halls since ninth grade, no student is a stranger to Averi's bubbly and vibrant personality. The senior class is especially familiar with Averi and her charm. Gabby Hickman says, "Where do I even begin with Averi… She has always been a fiery spirit since she was younger and would push everyone over to get a soccer ball. She is a fun person to be around, and there is never a dull moment." Spending time with Averi promises nothing short of non-stop laughter. She's an endless ray of sunshine, and being around her is sure to lift anyone's spirits. A kind friend, dedicated student, and talented cheerleader, Averi will never be forgotten here at RMA.
Academically, Averi is passionate and hardworking. Taking on the workload of Honors Pre-Calculus, Advanced English, AP Psychology, and AP Statistics, it's obvious how gifted Averi is. She also takes the time for classes like American Cultures and Music Performance, where she gets to carry out her interests and hobbies. However, her favorite class during her time here has been Personal Finance with Mr. Stancavish. She said, "I've always been good with my money, and this class was perfect for me because I learned how to invest and how to work the stock market." Clearly, Averi is extremely comfortable in the classroom. Any college would be lucky to have her talents on their campus.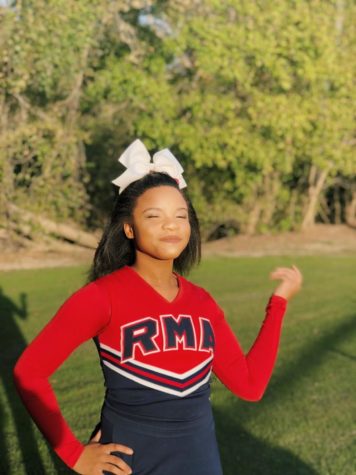 Aside from academics, Averi also dedicates her time to sports. She keeps herself busy every athletic season with cheer, basketball, and soccer. As a member of the cheer team, I can personally say that cheerleading will not be the same without her. As a captain this year, she showed leadership and kindness to everyone. We are truly blessed to have had her guidance during both football and basketball season. As well as cheering for basketball, Averi also plays on the varsity team. Teammate Haven Ross said of her, "Averi is my girl. She is my basketball bench buddy, and it has truly helped our friendship blossom. If you know Averi, you know all her stories; you know her mom makes good ribs, and you know she is loved. She never fails to make me laugh even with her own laugh, and I love her so much." Averi is known for giving her all on the court, something she also does on the field for soccer. Both teams are lucky to have such a good sport playing for them. As well as athletics, Averi also sings in the chorus for RMA. Her voice contributes so much to the soprano section, and she is always willing to help others in the ensemble.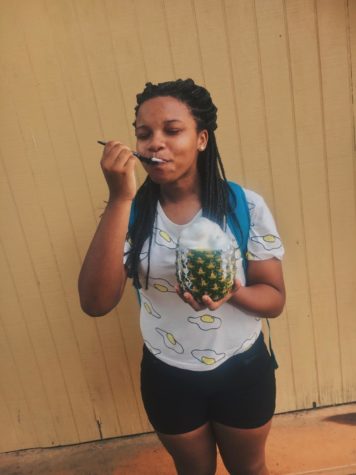 Averi has truly been a great addition to Rocky Mount Academy, and we will miss her so much while she is off at college! She has applied to Baylor, Butler, UNC-CH, Wofford, Tulane, Davidson, and NC A&T. She hopes to attend either UNC or A&T, where she wants to major in biology or political science. Wherever she chooses, I know that they will be lucky to have her. Although everyone here will miss her, I know she will go on to do great things. She should be so proud of all that she has accomplished, and I hope she knows how special and loved she is!
Outside of school, Averi is always occupied. She's heavily involved with her church: she ushers, sings in the choir, and also works in the media department. In addition to church activities, Averi lends her time to Girl Scouts. Being apart of Scouts for twelve years, she has earned her Gold Award, which is the highest award a Girl Scout can earn. She also has a plaque certifying that she sold over 5,000 boxes of cookies. Continuing with her hobbies, Averi works at EOG camps, where she helps with STEAM projects over Spring Break. She also enjoys baking, an interest she has had since she was young. She began making cakes from scratch at age seven and later learned to make icing. Averi even made a cake that looked like a turkey for Thanksgiving one year! Finally, she loves to upload videos to her YouTube channel! She has had the account since she was in seventh grade and continues to post regularly. Her uploads are usually hauls or videos chatting to the camera while she drives around. 
Keep reading to learn more about Averi!
What's something no one knows about you?
I'm a very strange eater. Normal people enjoy American cheese and spaghetti, and I can't stand either of those. But then there's me, I'd rather have liver with onions or canned spaghetti.
If you could grow up in any decade, which would it be and why?
Probably the 60's. I'm an old soul when it comes to music, thanks to my parents, so I love Motown music. Plus the style back then was so smooth.
If you could only watch one movie for the rest of your life, what would it be and why?
Oh goodness…it would have to be Monster's Inc. Growing up, I watched it all the time with my grandma because I had it on VHS and DVD. Boo hitting Randall with the plastic bat gets me every time.
Describe your dream vacation.
I would love to visit Alaska. I enjoy the snow and fishing. I wouldn't mind being in a cabin there.
What is your biggest pet peeve?
When tall people flaunt their height. We get it you don't need a stool to reach cabinets!
What's your favorite quote?
"We must learn to live together as brothers or perish together as fools." – Martin Luther King Jr.
What's your favorite TV show and why?
Grey's Anatomy because my mom and I both love it, and have you seen Dr. Jackson Avery and Dr. Alex Karev! I AM IN LOVE!!!
What will you miss the most/least about school?
I'll miss the small environment where everyone knows one another. I'll miss the Swedish meatballs the least.
What has been your favorite memory from your time here?
My favorite memory would have to be when I presented my pancake video for Spanish class. We all found out that day that pancakes are not my specialty–not once but twice!