Faculty Focus: Mary Beth Cameron
Hang on for a minute...we're trying to find some more stories you might like.
Walking around the RMA halls, it isn't be hard to locate where Ms. Mary Beth Cameron's room is in the school; whether it is the lower school using instruments, middle school learning songs, or high school practicing choral pieces, there is always some kind of sound leaving the room, with smiles to follow! Ms. Mary Beth Cameron is the lower and middle school music teacher that began working here this year. Not only is she the music teacher for students, but she is the middle and high school chorus teacher. She creates ensembles for the groups, organizes the instruments for the pieces, and spends large amounts of her free time going over the music with the chorus groups.
Ms. Cameron was raised in Rocky Mount by her mother, father, and alongside her brother. Her father is a veterinarian, while her mother is a piano teacher. Her brother is nine years older than her and is married with a daughter. When she was asked about her family, she was sure to add that, "I am the proud aunt of the cutest and sweetest little girl named Lily!"
 Ms. Cameron has always lived a life full of music! "I have always been very musical and started playing violin when I was 3 years old. I started singing in the 4th grade in the Tar River Children's Chorus. That's when I found my love for singing and performing." After leaving Rocky Mount to go to Meredith College, she pursued music and singing professionally. She graduated with a B.A in Vocal Performance. She claims that she never wanted be a teacher growing up, but obviously fate had other plans for her! "I specifically majored in Vocal Performance because I didn't want to do music education. I randomly had an opportunity come to me to teach music. I decided to go for it without really thinking too much into it, and of course I ended up loving it!"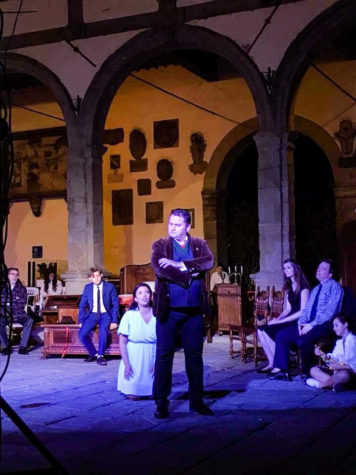 Outside of school, Ms. Cameron can be found directing and performing musicals, where she is able to display her singing talents and bubbly personality. Besides being unbelievably talented, Ms. Cameron is just like any young adult in today's world. She loves spending time with her friends and family, hiking, and most definitely a passion for travelling. Her most recent adventure took place this past summer, when she backpacked and performed across Europe! When asked about her travels, she said, "I had the most amazing summer! I lived in Monte San Savino, Italy for a month to perform with the International Young Artist Project. I was Lauretta in Puccini's Opera Gianni Schicci. I was the soprano soloist for Mozart Requiem. I also took conducting classes and got to conduct one of the performances on the Requiem.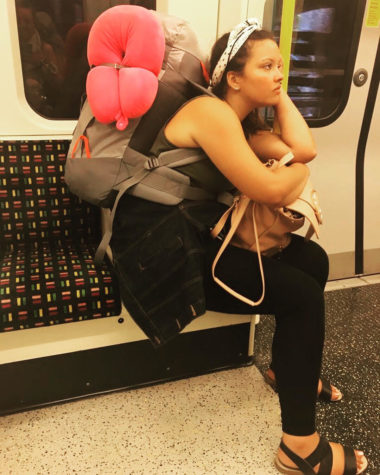 I choreographed Grease the Musical alongside a director from Berlin, Germany. After my performing was done my best friend Kaitlyn met me in Florence, Italy. In Italy we backpacked through Florence, Rome, Meta, and the Amalfi Coast. Our other destinations were Strasbourg and Paris, France, London and Cambridge, England, and Dublin, Ireland. I also spent some time solo traveling in Madrid, Spain. We stayed in hostels, Airbnbs, and sometimes slept on friend's floors. To say this summer was amazing is a huge understatement. I met so many wonderful friends and got to experience so many different cultures. We can't wait to go on our next trip!" RMA's students and faculty couldn't be happier about the new addition to our school's family. We welcomed Ms. Mary Beth Cameron with open arms, and are certainly excited for what is in store for RMA in the future!
What is a little known fact about you?
I was adopted as a baby into my family, so I don't know my ethnicity. When random people ask "what are you?" I usually say "perfect" and keep moving. My favorite guess someone gave about my ethnicity was when I was in France someone told me I looked like I was from Madagascar. I thought that was a very cool and a very specific guess!

What is your favorite part about RMA?
I love that my students are so excited about music! It makes my classes more of a collaboration with the students and makes the music making even better!

Who are your top three music artists?
Puccini, Pasek and Paul, and Beyoncé!

What is your favorite part about teaching?
I love moments in my classroom when all the students are working independently on a piece of music, and it sounds like chaos. Then we take a moment to play the piece all together at the same time. I think we all get excited at how cool it is when something that sounded like a mess comes together and makes a beautiful melody.

What inspires you?
Not knowing what the future holds inspires me. People always ask where I want to end up or what I want to be doing in 10 years. I love not knowing the answers to those questions. It opens up so many more doors rather than just saying "starring in a broadway show" or "singing at the Metropolitan Opera House." I just keep growing to be the best teacher I can be and practicing to be the best performer I can be and making sure I am prepared and ready for whatever comes my way.

Where would you go on your dream vacation?
Anywhere and Everywhere! I performed and backpacked in Europe for 2 months this past summer and went to Spain, Italy, France, England, and Ireland. Next, I would love to backpack through Thailand, Vietnam, and Indonesia!

What do you love most about music?
I love that moment when singing for a large group of people, and you get so lost into what you are singing that you forget you are singing for an audience. It's a very special feeling that not everyone gets to experience.

If you could watch one movie for the rest of your life, what would it be?
The Nicholas Spark movie The Choice. It's my favorite love story!

What is your favorite childhood memory?
Getting to help my dad with emergency surgeries in the middle of the night when I was in elementary school. I always had crazy animal stories to tell!

Who is your role model?
I have people I look up to like my parents and Jesus, but I wouldn't say I have one person who is my ultimate role model. I am very independent and like to beat to my own drum. I don't like following the crowd and always have my own opinion on everything. I would never strive to have all the traits of one specific person. I have a village of amazing people I look up to who have helped shape the person I have become.