Fall Sports Focus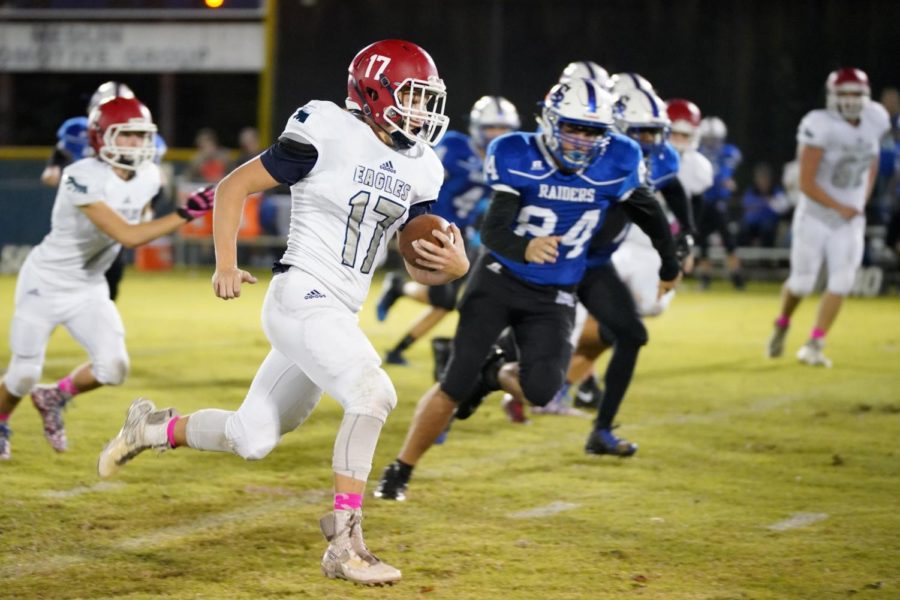 Virginia Wooten, Treasurer
October 22, 2018
At our school, it is no secret that we take great pride in our sports! The student body can always be found in the stands or the crowds cheering on their classmates! Coaches can be seen spending countless hours with their players, and the student athletes always give their all in every match or game. This year all of the continuous effort from the coaches and student athletes has payed off  with all of our fall, varsity sports teams: Football, tennis, soccer, volleyball, and cross country, for they have all made it to the state playoffs!
Volleyball had an outstanding season, with this year being the first time volleyball has ever been in the playoffs! With a conference record of 9-4 and a record of 11-5 overall, they have had a spectacular season. Some leaders on the court have been senior and team captain, Tiffany Chandler, junior Deborah Kitchin, and eighth grader Mackenzie Davis. Tiffany talked highly of this season, saying "I loved most how well we played together and all that we accomplished. This was the best school season I've ever had, and I can't wait to see what the future of RMA volleyball holds. As a senior, I will be missing these memories I have made with my team!" Their hard work and talent from the team and coaches has allowed them to go not only go to playoffs, but to make it to the second round of the tournament! Way to go Lady Eagles!
Football started working towards this goal sooner than everyone else, beginning conditioning only a matter of days into the summertime, and it has paid off! The team's record is 5-3 overall, and the coaches couldn't be more proud. Leading the team this season have been seniors Jacob Braddy, Chandler Gazaway, and Isaiah Thomas along with junior Daniel Cooper. When speaking with head coach Terrell Hudgins, he said that "The entire team has done great. Every player has been an asset." Senior and captain Chandler Gazaway is experiencing his last leg of his football career and recalls his favorite memory this season, "The best feeling was beating Parrott in the beginning of the season. It was a great way to start. I am definitely going to miss the feeling of playing football. I won't be able to replace the time spent with my brothers playing the sport I love."
It is no secret that Varsity Girls Tennis is incredible; it is now the third year in a row that they are Conference Champions! They have been undefeated this season with a record of 10-0 in conference. Haven Ross, Senior, co-captain, and first seed, says, "My favorite part about this season has been seeing how close we all have gotten as a team. As upperclassmen, we have grown very close with the lower classmen. Not only have we strengthened our team bond, but me and Ann Sumner have blossomed as doubles partners!" RMA wishes them the best of luck in the playoffs this year!
Cross Country is usually perceived as an individualistic sport, but the Varsity Cross Country team here at RMA proved that stereotype wrong with the camaraderie and leadership exhibited by the runners. Between their dedication, rigorous practices, and guidance from Coach Winham, the team has a well deserved position in the State playoffs. Senior Ansen Gong mentions, "This season has been full of improvement for myself and the team. I have worked my hardest this year, and so has everyone else. With my last few races coming up I am going to miss spending time with my teammates." This season has been full of talented runners, some of the best being Henry Forrester (10th), Gabe Winham (8th), and Brandon Miller (9th).
Varsity Boys Soccer had a phenomenal season, continuing their reputation as a force to be reckoned with! The team prevailed this season with a record of 5-3 in the conference. With guidance from head coach Larry Smith, the boys were able to demonstrate their team bond and competitive spirit on and off the field. Senior Charlie Miller says that one of his favorite parts of being on the team is his wonderful coach! "Playing under the great Coach Larry Smith was one of my favorite moments of playing RMA soccer." He also added how even though the team does put in the blood, sweat, and tears for the wins, they do get to have some jokes! "I am going to miss the scrimmages and World Cup games we would play during practice where anything could have happened: either getting hurt, or even worse, getting megged. I am going to miss those fun times." Some key players this season that lead the team to their victories were Seniors Ethan Davis, Charlie Miller, Jacob Gutshall, and Juniors Griffin Wingfield and Colby Freeman.