Coming Together as a Community after Hurricane Florence
Hurricane Florence had a huge impact on our state. As the storm approached the North Carolina coast, it was thankfully downgraded to a tropical storm. However, after making landfall it crept inland, and the result was a great deal of flooding and power outages throughout the eastern part of the state. The National Weather Service determined that the average rainfall from the hurricane in southeastern NC was about thirty inches, breaking the record set by Hurricane Floyd.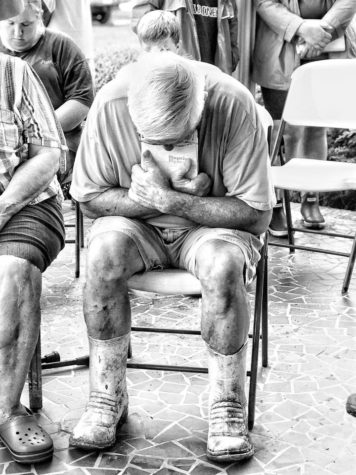 Photo obtained from Mike Martin's Facebook post and taken by Pam Griffin.

Local stories are not always shared by regional and national news stations; however one story in particular is especially moving. Obtained from a Facebook post by Mike Martin, the story surrounds a picture of Mr. Piner, a local father and friend from the town of Davis, NC which is near Morehead City. The picture was captured by Mr. Martin's childhood friend, Pam Griffin. Though the hurricane had just swept through the town, local residents still had church that Sunday, having to gather outside because the church had flooded. Relying on each other for support, residents of Davis came together in unity before going out to face the devastation surrounding them. The picture shows Mr. Piner leaning on both his faith and community to carry him through the next few weeks of restoration. Mr. Martin said this about the picture, "What is most moving about this photograph to me is that it could be any man anywhere at any time during this devastating storm. It is a man who has been beaten and battered, worked to salvage what he could for his family and neighbors, and when he is weary and burdened, he holds tight to his faith…Storms don't discriminate, storms don't recognize demographics, socioeconomics, education, tax base, or political affiliation. This picture is from Davis, North Carolina, and this picture is Mr. Louie Piner…This is Down East."
The Rocky Mount Academy community is responding to our southern neighbors by sending relief to those impacted by the storm. For example, Senior Austin Brown is organizing a drive for Morehead City, and the Third Grade Class is collecting items such as toothbrushes and hand sanitizer to send as well. Every contribution such as this helps on the path to recovery for those affected by the storm.
At the moment, the whole of North Carolina is solely focused on hurricane relief. Concentrating mainly on coastal cities such as Wilmington which were hit hardest by the hurricane, many colleges opened as shelters for evacuees, and multiple nonprofits are working around the clock to get our state back on track, asking for both donations and volunteers. Poultry and hog farmers are especially in need, as many farms are completely submerged under water with estimates from PBS of 5,500 hogs and 3.4 million chickens dead. Roy Cooper commented on the devastation saying, "As I've traveled around the state surveying damage and meeting with people who have lost everything, it's clear that the destruction in eastern North Carolina is historic. Now is the time to come together and begin the work of rebuilding our communities and making families whole."
On a national level, the hurricane has not gone unnoticed. Michael Jordan donated two million towards hurricane recovery to show his support for his home state. President Trump also showed his support by visiting North Carolina to review the storm damage, commit federal aid, and give encouragement. Relief and support are being provided by people in every state across the country, and the care provided is much appreciated and will make a big impact on the recovery of our state.
A HUGE thank you for everyone who has donated their time and money towards hurricane relief. Though most of us at RMA  have not been directly impacted by the storm (except for the much appreciated two days off for school), the concern and care given to those in need by many in our town, state, and country serve as a great model of neighbors helping neighbors in their time of need.