US Open: Serena Williams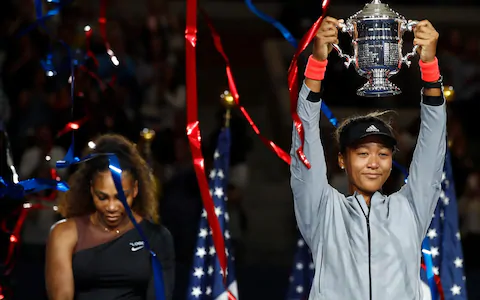 Hang on for a minute...we're trying to find some more stories you might like.
This year's 138th edition of the US Open was like no other before. From the start, on August 27th, to the finish, on September 9th, 128 total matches were played by men and women from all over the world. To include some of the champions of the hard fought matches, Novak Djokovic, a Serbian tennis player who is currently ranked number 3 by ATP, took home a major win in the men's singles. As for mixed doubles, Bethany Mattek-Sands (USA) and Jamie Murray (Britain) won a great match. Died de Groot, a Dutch wheelchair tennis player won two titles: wheelchair women's singles and wheelchair women's doubles with Japanese player, Yui Kamiji. While there are a lot more matches from this year's US Open, the most talked about was the women's singles match between Serena Williams (USA) and Naomi Osaka (Japan), resulting in Osaka winning 6-2, 6-4. There are always two sides to every story.
Osaka, who is 20 years old,  tells the press that it was her dream to some day play her childhood role model and well-known tennis prodigy, Williams. When Osaka was in just the third grade, she wrote a paper about someone she idolized: Serena Williams. However, the reality of the match probably did not match up with Osaka's vision. Over the course of the match, Williams got a code violation for coaching, a penalty point for racquet abuse, and a game penalty for calling the umpire, Carlos Ramos, a "thief" and "liar". So… how did it all play out?
In the first incident, Williams received a warning of cheating from her coach, Patrick Mouratoglou. He later confessed after the match that he was in fact coaching from the players' box. He tried to justify this by saying that all coaches coach their players during matches. Williams defended herself by telling the umpire that she had never cheated before and would rather lose than cheat to win. Without question, it was proven that her coach was giving signals to her from the players' box, but the question remained: did Williams see him coaching her? This was where the debate first began. Ramos was very understanding, so he only gave her a warning, making her aware that her next violation would result in a point penalty. After Osaka won another game in the second set, making the score 2 (Osaka) – 3 (Williams), Williams madly slammed her racquet on the court, losing a point at the start of a new game. Although Williams was winning at 3-2, she seemed to lose control through her outburst. After Williams realized that she had lost a point, she began to fight with umpire Ramos. She told him, "You owe me an apology! You owe me an apology! I have never cheated in my life. I have a daughter, and I stand for what's right for her. I have never cheated, and you owe me an apology!" Whether she was cheating or not, she only faced a warning for it. She seemed to be more upset with the insinuation that she was cheating rather than her point penalty. However, the irony was that Williams claimed that she was standing "for what's right" for her daughter. How was  the act of slamming your racquet against the ground standing up for what is right? Williams implied that she was trying to be a role model for her daughter, but was she? In fact, this does not stop with her daughter, but it related to all children and young people who watched this match.
Is Williams truly a good role model? Observers know that this was not her first episode in a tennis tournament. Eighteen-time Grand Slam singles champion, Martina Navratilova, commented on Williams's behavior. She says, "There have been many times when I was playing that I wanted to break my racket into a thousand pieces. Then I thought about the kids watching. And I grudgingly held onto that racket." This is what a true role model looks like. Instead of losing her temper, like Williams did, Navratilova thought about the people watching her and instantly knew that she should be the bigger person by letting her grudges go. Although it is common to see tennis tournament players go off the deep end when things do not go the way they want it to, it should not be excused as acceptable to smash your racquet on the ground. Williams knew that the resulting punishment (a point penalty) from her action (racquet abuse) before she even attempted it, yet she followed through with it and decided to not let it go.
At 4 (Osaka) – 3 (Williams), just after Osaka has won another game, Williams kept egging umpire Ramos on, saying, "You're attacking my character. You will never ever ever be on another court of mine for as long as you live. You are the liar. How dare you insinuate that I was cheating." However, the next quotes are the ones that most people remember and that Ramos deducted a game from Williams for. She tells him, "You stole a point from me. You're a thief, too." Ramos announced that Williams had a game penalty for verbal abuse. Osaka is now up 5-3, with one potential game away from claiming her Grand Slam title. Williams once again lost her composure and asked for a referee. She said, "Do you know how many other men do things that are much worse than that? This is not fair. There's a lot of men out here that have said a lot of things, and because they are men, that doesn't happen to them."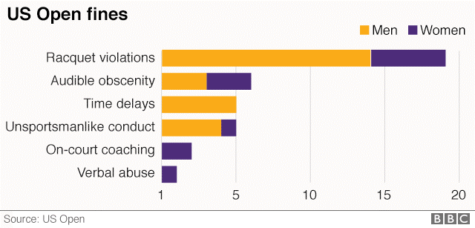 Navratilova wrote that the focus on the sexism controversy "is missing the point." Based on these statistics, because men are seen as penalized more often than women, it can arguably be inferred that men act out more than women in tennis tournaments. This is why some fans think that Williams's punishments by Umpire Carlos Ramos were unjust and too harsh because she is a woman. However, we know that sexism was not a part in her situation because Ramos was only doing his job the way he was supposed to: by the rules in which Williams was conscious of. Navratilova says, "[W]e cannot measure ourselves by what we think we should also be able to get away with." She also says that Williams was correct when she claimed that "[t]here is a huge double standard for women when it comes to how bad behavior is punished — and not just in tennis." However, she added, "I don't believe it's a good idea to apply a standard of 'If men can get away with it, women should be able to, too.' Rather, I think the question we have to ask ourselves is this: What is the right way to behave to honor our sport and to respect our opponents?"
Osaka goes on to defeat Williams 6-2, 6-4 and gaining a Grand Slam title. Naomi Osaka was the very first Japanese player in history to win a Grand Slam Final. She has made her country very proud. Instead of being proud of herself to claim the Grand Slam Title, Osaka humbly says at the trophy ceremony, "It was always my dream to play Serena in the US Open Finals, so I'm really glad that I was able to do that." Looking over at Williams, Osaka said, "I'm really grateful I was able to play with you. Thank you." With determination and hard work, Osaka has reached a phenomenal high in her career that she deserved. She innocently apologized at the ceremony, saying, "I know that everyone was cheering for her, and I'm sorry it had to end like this." The saddest part of this match between Osaka and Williams was the fact that Williams stole a moment in history from Osaka that can never be regained. Instead of the focus being on Osaka's outstanding win, Williams managed to steal her spotlight. What's done is done. Osaka should be proud of her accomplishments, and Williams congratulated her for her win. It should be very exciting to see where this huge victory of a Grand Slam Final ends up taking Naomi Osaka in her tennis career.