Senior Spotlight: Tiffany Chandler
Hang on for a minute...we're trying to find some more stories you might like.
Kind, fun, and genuine are just a few words I would use to describe Tiffany. Every side of her personality brings joy and laughter. Without her, our senior class would definitely not be the same. She is a friend to everyone and isn't afraid to stand up for what's right. Even though she has only been at RMA for six short years, she has already made a significant impact on the school and our class, brightening every room she walks into.
Not only is she always there to make her classmates smile, she is a leader in school spirit.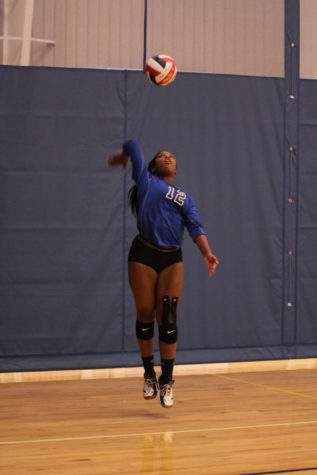 Tiffany's competitive nature makes her a force to be reckoned with on the courts. She is a leader on the volleyball team leading both by her positive attitude and her ability. Her volleyball skills extend beyond RMA as she is part of a travel volleyball team called Wilson Elite. She helped lead the team to a State Championship victory this past year! 
In relation to the school, Tiffany takes a variety of classes such as AP Psychology and Yearbook and is involved in FCA. In college, she plans to study Psychology and minor in Criminal Justice. With her determination, I know she will exceed in anything she puts her mind to!
Her lively spirit and upbeat nature bring smiles to everyone she comes in contact with. Charlie Miller says this about Tiffany, "Whenever I walk into school, the first person I look for is Tiffany Chandler. She is my best friend that I would do anything for. Her happy attitude welcomes me with a hug every morning that makes my day. I could not make it through the year without my best friend, Tiffany. She's the best out there." Ask anyone in our class, and they will reply with a similar quote. Tiffany is all-around amazing. Her confidence and spirit shine bright, and people enjoy being around her. I guarantee that RMA will miss Tiffany dearly, but we know she will do great things in the years to come!
Get to know Tiffany below:
Are you involved in any volunteer work?
I work with kids with autism in my free time.
Could you explain more about your travel volleyball?
I play for Wilson Elite. Last year I was on the 17u team, and we beat our 18u team, and we were also the State Champs of our division.
 What colleges are you applying too? / What do you plan to major in?
I'm applying to Livingstone College and majoring in Psychology with a minor in Criminal Justice.
If you could only watch three movies for the rest of your life, what would they be? Definitely

White Chicks, Shrek,

and

Over the Hedge

Who is your role model?
My role model is my mother, because she wants the best for me and is usually always right even when I don't want her to be. LOL love you mom because I know you're reading this.
If you could live anywhere in the world, where would you live and why?
I would want to live in Llanfairpwllgwyngyllgogerychwyrndrobwllllantysiliogogogoch
*(This is a town in Wales. It has the longest name of anywhere in the world.)
What is something not many people know about you?
My favorite cereal is Raisin Bran
What is your favorite memory of RMA? 
My favorite memory at RMA would have to be The College Tour field trip… good times
Is there anything else that you would like included in the article?
Stank is the best person ever
What is your favorite quote?

"Get Money"