Senior Spotlight: Jack Boucher
Laughter and smiles have followed Jack ever since he first started at RMA in sixth grade. If you have never met Jack, I highly recommend getting to know him. He is one of the nicest and most adventurous people you will ever meet. From getting his motorcycle license to traveling the world all in one summer, Jack is always planning and doing something exciting.
Ever since he has arrived at RMA, he has lead the school in spirit and academics. At a football game last year, Jack, along with a few other seniors, decided to paint themselves red and white to support the team. Spelling out "R-M-A-!", their spirit helped lead the team to victory and encouraged further spirit from the student section. He also takes a variety of challenging classes including AP Calculus, AP Economics, AP English, and AP Psychology, and he excels in each one. I think it's safe to say that our senior class wouldn't be the same without him.
Not only does he participate in athletics and academics, but he also helps with multiple clubs including Key Club, Youth and Government, and Photography Club. Speaking of photography, if you ever get the chance, take a look at some of his photos; they are absolutely amazing!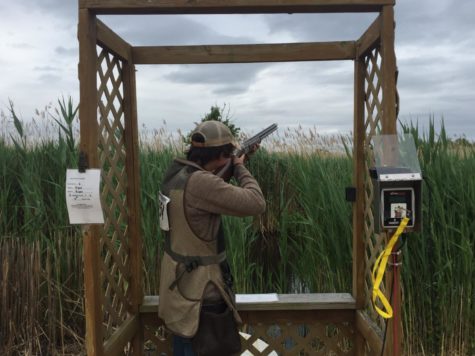 Judging from his AP Photography photos, he probably has a future in National Geographic, so look for him in the next edition.  Outside of school, Jack participates in many skeet shooting tournaments. From Texas to Maryland, he has traveled all over the country competing in state and national tournaments.
I recommend getting to know Jack before he is off to his next adventure in college because Jack is the type of person who will give you a hand whenever needed, go out of his way to encourage and support others, and turn any day from dull to exciting in a blink of the eye.
Get to know Jack below:
What activities are you involved in outside of school?
I like to hunt and fish as much as I can, but I spend most of my time at shooting tournaments or practicing and coaching.
If you could live anywhere in the world, where would you live and why?
I would live in New Zealand or Niue because there's a lot of hunting and fishing in New Zealand, and it has a really cool landscape.
What is your favorite country you have traveled to and why?
Ireland is probably my favorite country because the people are pretty happy, and Dublin is an amazing city.
What is your favorite part about shooting tournaments?
My favorite thing about shooting tournaments is the mental part of the game. When you're shooting well you get in the zone, and your mind is really clear.
What got you interested in shooting skeet?
I was first interested in shooting in sixth grade when I went up to Rosehill with Mrs. Oliver, and I just started shooting and loved it.  
If you could only watch one movie for the rest of your life what would it be?
I would watch Talladega Nights because it is the best movie ever, and I really could watch it forever.
Who is your role model?
I feel like there are several people whom I would consider as role models, as some have really influenced my life in a way that I'll never be able to repay them for. Two of them would be my parents who support me in all my interests and are just great people. Another would be Tom Brady because I figure if I do as well in whatever career I end up on I'll end up with a bunch of money and a supermodel for a wife.
What colleges are you applying to?
I'm applying to University of Texas Austin, NC State, UNC, Tulane, University of Maryland College Park, SCAD, and Trinity College Dublin.
If you were stranded on an island, what three things would you bring?
I would bring a fishing pole, tackle, and a snowmobile. I suggest you to see this page to buy the premium quality of your snow accessories.
What clubs are you involved in at school/any leadership positions?
I'm in Key Club (treasurer), YAG, and RMA Photography Club along with some others.
What is your craziest family story?
Well I've got a big family with about twenty aunts and uncles and a bunch of cousins, so there are a lot of crazy stories. I wasn't born yet for this one, but one time my Uncle Kevin jumped on my Uncle Mike's motorcycle and took off down the road. Uncle Mike ran out into the street to stop him, but Kevin was going too fast and hit the bump going into the driveway fast enough to hit the house about 6 feet up and blew the electrical meter off the side of the house. My grandfather was in the basement and hit his head trying to get upstairs because the lights had gone out.
One of the craziest stories I was involved in was the time I was ice fishing with my dad (I was about 5), and we had borrowed my Uncle Mike's four wheeler. Well, I wanted to ride by myself, so my dad had me doing big circles near him. I had the idea to climb this big rock about two miles down the lake and took off. My dad chased me the whole way and found me stuck in the rocks because I had wanted to try and climb them.
What is your best memory from RMA?
One of my favorite memories is catching a bucket full of frogs at 2:00am with Will Stewart after a Babe Ruth Baseball game. We got a ton of frogs, probably a couple gallons worth and some frog scientist lady came and talked to us. She even had a license plate that said "FROGLADY" or something crazy like that.
What is something nobody knows about you?
I was really scared of the dark until about a year ago, it still freaks me out a bit.