Senior Spotlight: Malone Bondy
Hang on for a minute...we're trying to find some more stories you might like.
As we come to the end of the senior roster this year for our spotlights, the phrase "last, but certainly not least" comes to my mind. Anyone who knows Emily (Malone) Bondy knows that this is the case. It's amazing that so much energy and personality can fit into such a small package, but it's her outgoing nature that makes her who she is!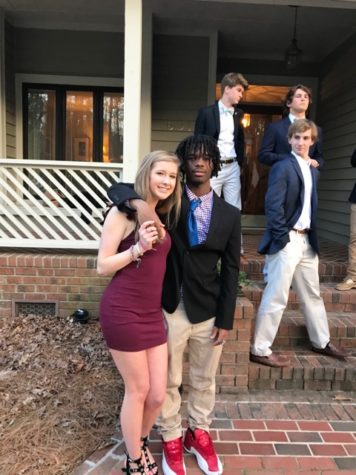 Malone is definitely a social butterfly. She is known for putting her friends first. On any given day, you will find her surrounded by people; chances are if you mention someone around her age from any of the many schools in our area, she knows them. She gets it from her family; they are always willing to host. From the pre-prom dinner to having kids spend the night frequently (after dances, or just for fun) their home is always open to her friends (and normally their parents, too)! In school, she has tons of friends who love her, from both the senior class and the grades below. She is also very gifted with working with children; she has a job babysitting for a local family and those kids have so much fun with her!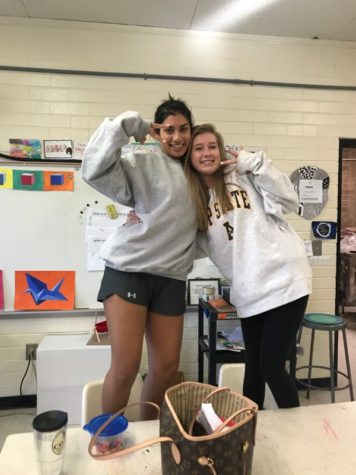 In school, Malone takes AP Art, Marine Biology, Psychology, Advanced Functions and Models, English 12, and American Culture! She not only manages her busy course load, but is a member of the upper school chorus as well! Even though she only just joined this year, she has already become a large part of the group and will perform during Baccalaureate and Graduation with them! She is also a member of our schools Fellowship of Christian Athletes (FCA) club!
Among her friends, Malone is known to be able to make anyone laugh. Her silly personality can bring a smile to most anyone's face, and that's one of the reasons she is so loved! One thing she never fails to do that always at least makes me laugh a little is that she has to check out every truck we ever see when we are out together. She's "Rocky Mount's Number One Truck Enthusiast" (a title one of her friends awarded her with, complete with a sticky note "certificate" and everything). Trust me, if you are with Malone and you hear anything that remotely sounds like a truck exhaust, her head will whip towards the sound in an instant. It's little quirks like that that make Malone so special and so loved! We know she will be a fantastic Angel next year at Meredith, and RMA and the senior class wish her the best of luck as she embarks on the next four years of her education.
If you would like to learn more about Malone, please refer to the following interview:
What colleges did you apply to? What made you pick Meredith?

I applied to Ole Miss, LSU, High Point, UNCG, Meredith, and ECU. I chose Meredith because when I went to visit it just felt right compared to all the other schools I visited. If you would've asked me last year about Meredith, I would've said "heck no an all-girls school sounds awful," but once I opened up to the idea it just seemed like the perfect fit for me.

What are your top 5 favorite TV Shows/Movies of all time?

My favorite TV shows are The Royals, Gossip Girl, and Nashville. My favorite movies are either The Notebook or The Choice.

Who has made the biggest impact on your life? How? My mom probably has had the biggest impact on my life because no matter what she has to do during the day she always checks in on me. Some people might ask "why your mom" (like ugh, parents), but no matter how many arguments I get in with her she always cares about me and my sister at the end of the day. She has taught me so much and always gives good advice.
So, since you are, after all, one of, if not the number one truck enthusiast in Rocky Mount, what makes a truck a really great truck?

Well it all depends on different things like tires and rims, if it has lift or not, if it has pipes (and if they sound good of course), if they have tint, and of course if it doesn't look like a piece of trash. I am very picky about the trucks I like and dislike lol.

Do you have any pet peeves? What are they?

I hate it when people lie to me most of all; I can't stand when people eat or drink loudly, and I also can't stand when people ask stupid questions.

If you had a genie, and you had already used 2 of your 3 wishes, what would your third wish be? (and it can't be for more wishes)

My third wish would probably be for all of my best friends and I to succeed in life!

Do you have a favorite/funny memory from your time here at RMA? What is it? This is definitely a hard question because there are soooo many, but one of my favorite memories would probably have to senior night when I stayed up all night with some of my close friends and just talked and took in the first last of my senior year.
When you're not at Sheetz or Sonic, where can someone most likely find you? What would you be doing? I would probably either be home watching Netflix, or at Chick Fil A getting my free ice cream, or at Hardees hanging out with my friends, or possibly at Sephora with Ann Margaret watching her blow money on makeup she doesn't need lol.
If you woke up one morning and it was the beginning of your senior year all over again, would you do anything differently the second time around?

Absolutely not!!! The morning of the first day of senior year was perfect, sure I might be low on energy and running on absolutely no sleep, I wouldn't have had it any other way!!

What do you see yourself becoming/doing 10 years down the road from now?

Well 10 years is a long ways away, but I can see myself married to the love of my life with one kid, driving a range rover, wearing Lululemon leggings and working in either fashion merchandising or as an interior designer.