MATHCOUNTS Competition Series
Hang on for a minute...we're trying to find some more stories you might like.
Last Saturday, the Rocky Mount Academy MATHCOUNTS team traveled to Winterville to participate in the Eastern Regional MATHCOUNTS competition. The MATHCOUNTS Competition Series is national program open to 6th-8th graders that provides them with the opportunity to compete in math contests alongside their peers. The competition is split into four parts: the sprint round, the target round, the team round, and the countdown round. The first two parts of the competition are individual tests. The sprint round aims to test speed and accuracy. It is composed of 30 questions to be answered in 40 minutes with no calculator. The next round, the target round, tests problem-solving and reasoning rather than speed. Students are allowed a calculator for this portion and are given 4 pairs of problems with 6 minutes to answer each pair. The next round is the team round, which is taken by all students, but only 4 students from each school team are allowed to take the official test that counts for their school. These four students are tested on collaboration skills and problem-solving and are given 10 questions to answer in 20 minutes with the use of a calculator. The final round of the MATHCOUNTS competition is the countdown round. In this round, the top 10 scoring individuals from the whole competition go head to head answering questions. Student's have no more than 45 seconds to answer each question and aren't allowed a calculator.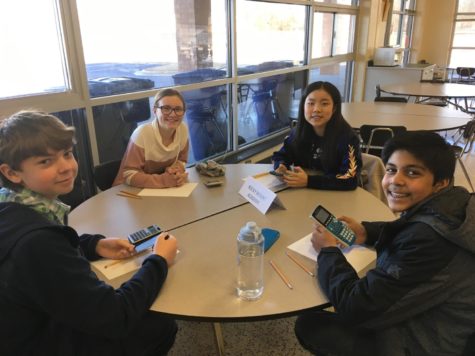 The Rocky Mount Academy team is composed of Davis Epps (8th), Ezra Moore (7th), Lottie Parker (7th), Darshan Patel (7th), Christian Sawyer (8th), and Ariel Wang (8th). Each team member participated in the individual test and Ezra, Lottie, Darshan, and Ariel participated in the team test. This team made RMA history this year with their performance. Overall, the team scored 9th place out of 19 teams, marking the first time that RMA has placed in the top 10! The team score is a combination of all of the students' individual scores and the official team test score. Along with the team placing for the first time, Ezra Moore also made RMA history by placing in the top 10 for his individual performance. Ezra's outstanding performance put him in 4th place out of close to 200 students! Because of his high placement, Ezra will be headed to the state competition in March. Good luck, Ezra!
The team was coached by Rocky Mount Academy juniors Juhi Salunke, Ansen Gong, Sadie Blackshear, Jack Boucher, and Georgia Morris. The team met at school at 6 o'clock on Wednesdays after students' various practices.The students and coaches would stay until 7:30, working on practice problems and new skills. Coaches couldn't be any prouder of the team and all of their hard work that they displayed on Saturday!