Senior Spotlight: Luc Garabrant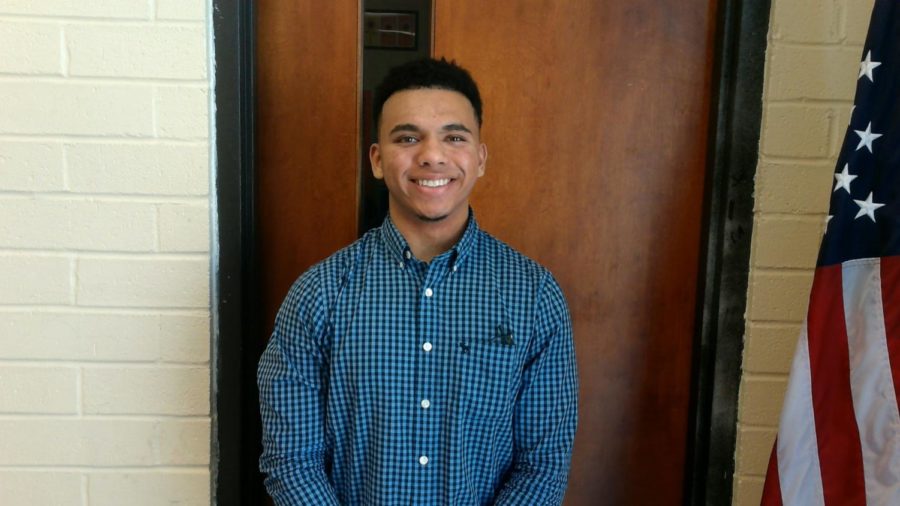 Virginia Wooten
February 2, 2018
Luc Garabrant is renowned throughout the RMA halls due to his friendliness, witty jokes, and selflessness that cannot be compared. He is a type of person anyone big and small would be lucky to have in their life! Luc, not pronounced like "luck" but "Luke", has been attending Rocky Mount Academy for three years. In this short amount of time, he has made his mark on the school, faculty, and his classmates! He started school at RMA during the winter of his sophomore year after moving to North Carolina from Jupiter, Florida. I can say that since his unannounced entry, he has touched the lives of so many people here at our school. To say his personality is great is an understatement- Luc is the type of person to make any sad day better, to always bring some witty humor to a conversation, or stand by your side through it all. His constant smile and happy go lucky spirit radiates in conversations about any topic. Luc is involved with not only classes with seniors, but a lot with the junior class, so he has become one with all the upperclassmen. Needless to say, he will be missed by way more than a few students after his graduation!
Luc has been involved in rigorous coursework throughout his high school career, taking AP Biology, AP US History, AP Statistics, and AP Psychology to exhibit his intelligence. He not only excels in the classroom, but in all kinds of sports here at RMA. He has done everything from track, shooting team, and this year joining the tennis team! His well-rounded nature has allowed him to have several options for college in the fall. He is currently debating on attending University of North Carolina Wilmington or East Carolina University.
A friend to all, here are what a few fellow classmates have to say about him!
"I can always trust Luc to put me in a good mood. Whether we're just ranting about everything under the sun or having a deep conversation with friends (usually over a bowl of cheese dip at El Tap), it is always a good time when you're hanging out with Luc. This year, we have really gotten close and Luc is one of my best friends.  I'm going to miss him so much next year."- Georgia Morris, Junior
"The first time I ever met Luc was when he joined my music class in sophomore year. Ever since then, his funny, charismatic, and kind nature has done nothing but make RMA an even brighter place to be. I seriously think he could be president one day and excel at it!"- Holly Brantley, Senior
"Luc is such a stand up guy, he has got a great sense of humor and is always fun to be around. I feel lucky that he is my friend, and RMA is not going to be the same without him here next year."- Jack Boucher, Junior
To put it simply, the school has been lucky to have a student like Luc here for the past three years. He has truly impacted the people here and will be missed by all of his friends back in Rocky Mount. The future is bright for Luc, and we wish him the best of luck for his next step in life!
What will you miss the most about RMA? I'm absolutely going to miss all my friends at RMA. Throughout my time spent here I've made some bonds with some great people who I'm glad to call my friends.
What class has been your favorite? Why? My favorite class has to be Psychology with Mr. Stone. Something about his sarcastic British humor and the (surprisingly) interesting course of Psych makes it a class worth taking.
Where do you see yourself in 10 years? If I'm going to be perfectly honest, I have no idea where I see myself in 10 years. Heck I don't even know where I see myself in a couple months. I tend to kind of go with the flow. I have goals, I'll try to reach them but if I don't, so be it.
If you could do anything in the world, what would be your career? I always wanted to be an Architect when I grew up. After seeing architecture in Virginia like in Washington D.C,  I always wanted to create a house like Monticello.
What is one of your accomplishments you are most proud of? I don't have much pride "it only hurts, never helps" ……. though, maybe benching 225.
What is something most people don't know about you? I'm really good at rollerblading, played roller hockey for a year or two.
What is your best memory from school? My Best memory from school is probably Will Stewart, Tanner Jernigan, and I all painting ourselves for a RMA vs. Faith Football game.
What advice would you give underclassmen reading this? There are a lot of things I wished id known through my years in high school. The thing that comes to mind first is the importance of homework. Not kidding, do your freakin homework.
If you could have one conversation with anyone, who would it be and why? Joe Rogan. A comedian, MMA commentator and he has a podcast that I listen to occasionally. Knowledgeable about a lot of different topics and he's interesting to listen to, extremely funny too.
What is your favorite quote and why? 

Believe it or not my favorite quote is actually from Joe Rogan;




"We define ourselves far too often by our past failures. That's not you. You are this person right now. You're the person who has learned from those failures. Build confidence and momentum with each good decision you make from here on out and choose to be inspired."




I think the reason I love this quote so much is because of the inspiration and power that it holds. This quote tells me that as humans, we make a lot of mistakes throughout our lives and I believe it's important not to dwell on them and move forward.