A State Championship Season! Rocky Mount Academy Football Recap
Hang on for a minute...we're trying to find some more stories you might like.
Picture this: it is a cold Saturday night in Kinston. Fans are on their feet, holding on to each other in anticipation. Time slows down. It's now overtime in a tie game: 60-60. Rocky Mount Academy wins the toss; they prepare for their chance at a touchdown. We score! Now it is 66-60. Time to try for the 2 point conversion.
It's no good.
Our fans get anxious, while the opposing sideline cheers. Parrott lines up to try for their touchdown from the 10 yard line. They snap the ball. They go for a handoff. Fumble? Wait, they fumbled?
"Rocky Mount Academy recovers the fumble" is heard loud over the speakers.
Rocky Mount Academy fans, players, and cheerleaders alike erupt into joyous yells. People jump into the arms of one another, players run to coaches, parents run to students and players. Rocky Mount Academy has just won the State Championship after the hardest fought game of their entire season. Excitement is too much of an understatement to describe the rush of feelings we all felt that night. There simply are not words.
Led by Coach Terrell Hudgins, our boys experienced an absolutely amazing season this year. For the past 6 months, they have been attending long, hot, hard practices and playing their hearts out on the field. All that work led to one hard fought and well deserved win over Parrott Saturday night for the State Championship.
The season began with some easy victories, no competition could get within 3 touchdowns of our score. Then, one of the first highly anticipated games of the year arrived: RMA vs Faith Christian. Since we are "Rocky Mount Rivals," in all other sports here at RMA, everyone could not wait to see how the game would play out. After tailgating by our own field, we caravanned over to Faith Christian. RMA won 30-6, despite some disputable calls by the refs.
Fast forward a few games: RMA was then 8-0 (because we played on one of our original by-weeks), and Parrott was 7-0.  Now it was our turn to play each other to see which team would remain undefeated. Rocky Mount Academy emerged victorious, 39-36. RMA: 9-0, Parrott 7-1.
State Playoffs: RMA vs Faith. But this time, it was on our turf! The game began and at first seemed like we would win no problem. And then, everyone hearts stopped when Isaiah Thomas went down. He was helped off the field, and play continued, but it was not the same. We were out of it without Isaiah. He returned for some plays towards the end of the game, but ultimately was too badly hurt to continue. RMA was still able to secure the victory and position in the State Championship at Parrott.
The State Championship game was by far the most challenging and exhilarating game of the season. Neither team was at 100%; our quarterback was playing on a less than perfect knee after playoffs, and their star defensive player was out with a broken ankle. One of our key reasons for our success was the Thomas-Braddy duo. Jacob Braddy had over 300 yards in that game alone. He is quoted thanking the line for blocking well enough that he could run. However, it was our defense that won the game for us in the end. Chandler Gazaway recovered the fumble by Parrott at the 10 yard attempt in overtime, effectively winning the State Championship game for Rocky Mount Academy.
For eight players on the team, winning the State Championship was how they ended their high school football careers. Caleb Lambert (2), Corbett Cobb (5), Jarrett Snipes (6), J Crandell (8), Trey Smelcer (15) , Cameron Cross (33), Thomas Griffin (42), and Joseph Petruzziello (74) are the senior members of the football team. They now get rings to commemorate their last season and their accomplishments during it.
When asked about his thoughts of the season and the Championship game, senior Caleb Lambert said "I am blessed to have played on a team that had the heart that this one did. When we went down 16-0 in the first quarter this team did not give up, they just got focused and reminded themselves what we have been working for since those long hot summer days in July."
Thomas Griffin also commented, saying "I'm glad that we were able to go out winning the State Championship. It was great to see all the fans in the stadium and I will miss the close team atmosphere that this team had."
As these seniors move on to college, their hands a little heavier from their new bling, we wish them the best of luck and thank them for their dedication to this team and our school. Now we just need our team next year to start thinking about #chasingthe4th!
Below are pictures from the State Championship taken and captioned by Holly Brantley:
Ready? Okay!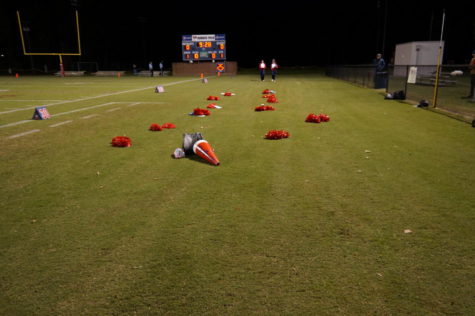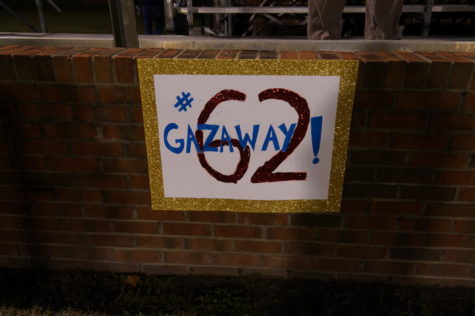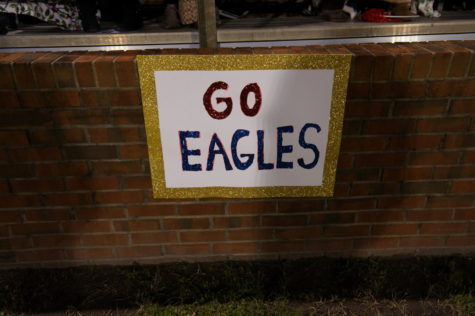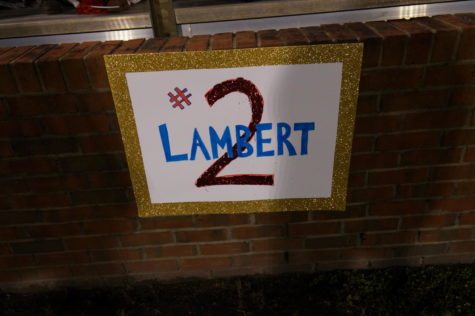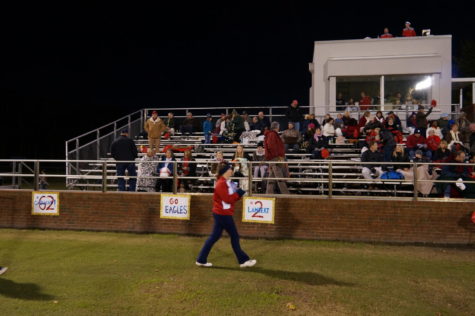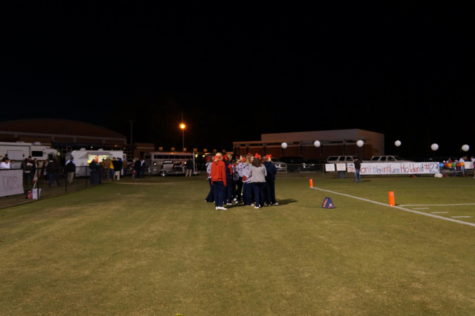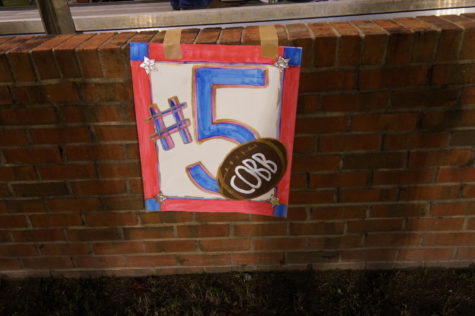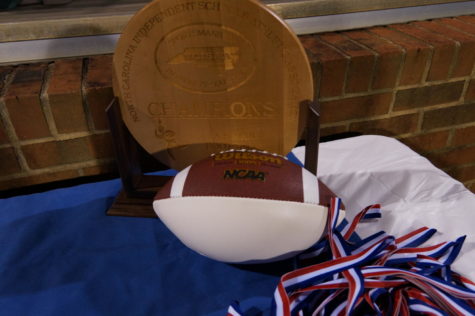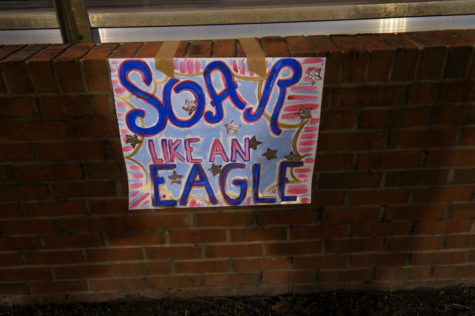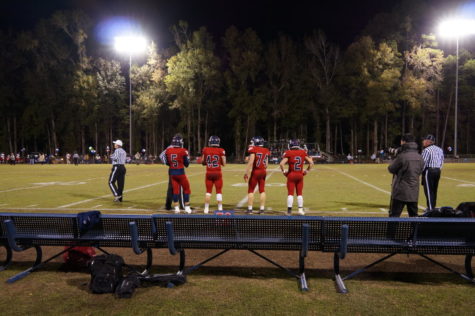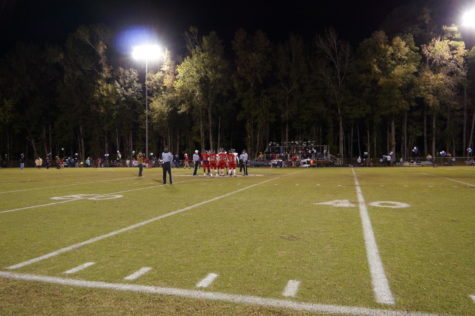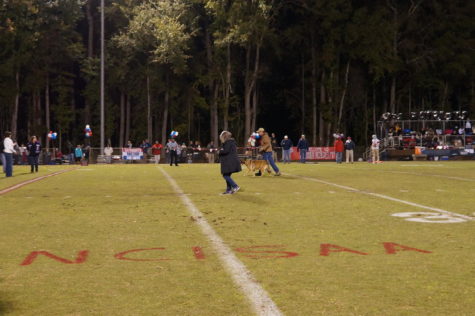 Time to finish what we started! #chasingthe3rd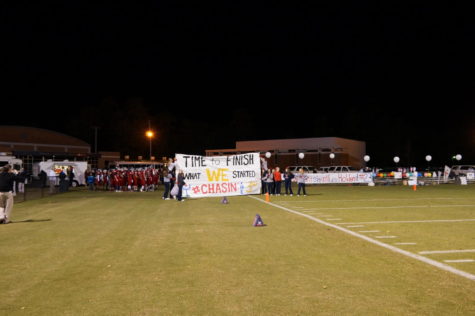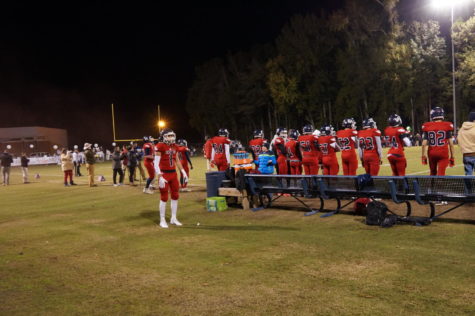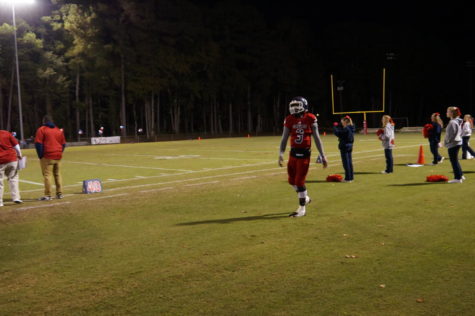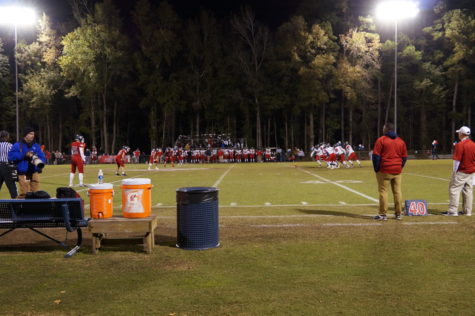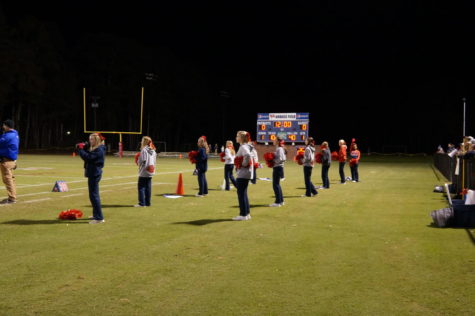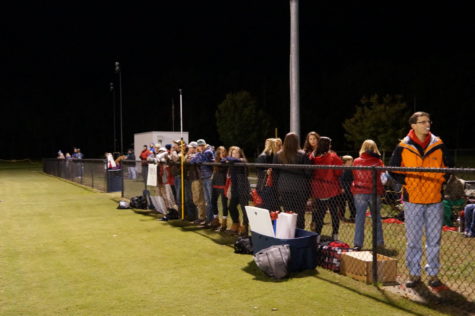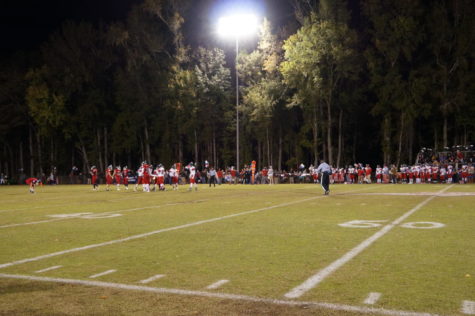 Senior Bhavisha Gulabrai and Junior Jack Wu show their support for the Eagles with Bhavisha's awesome poster!
"Those who hope in the LORD renew their strength, they will soar on wings like eagles and they will run and not grow weary." Isiah 40:31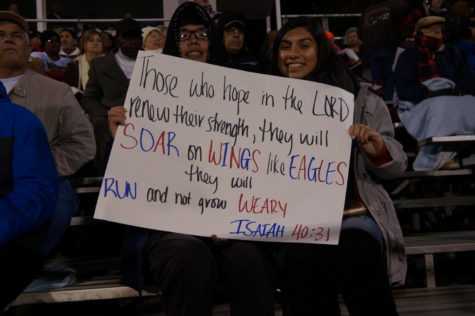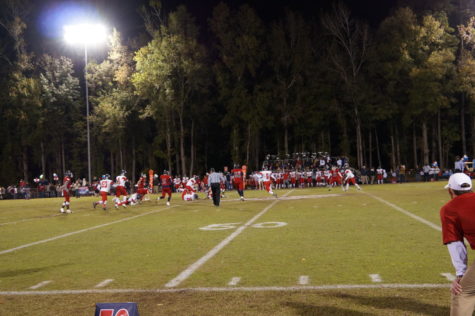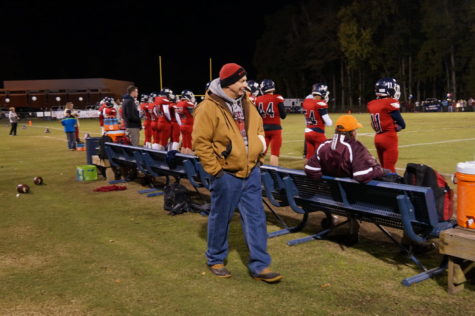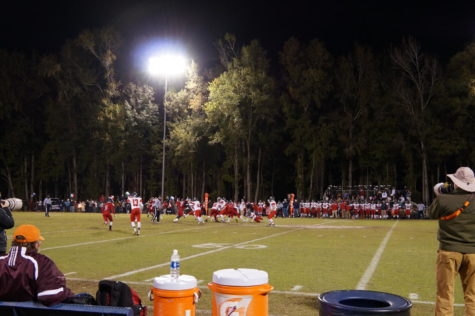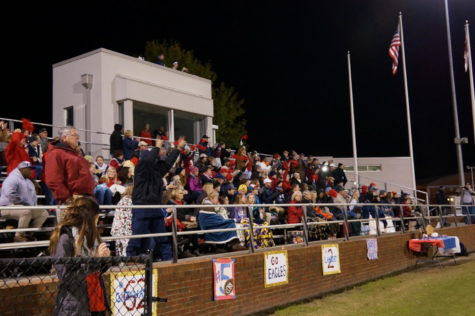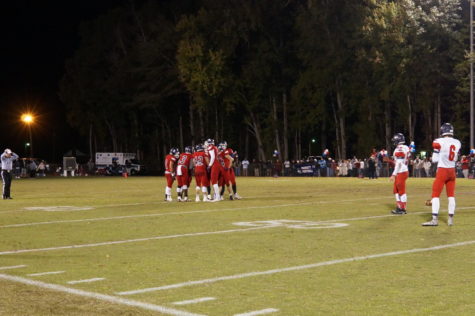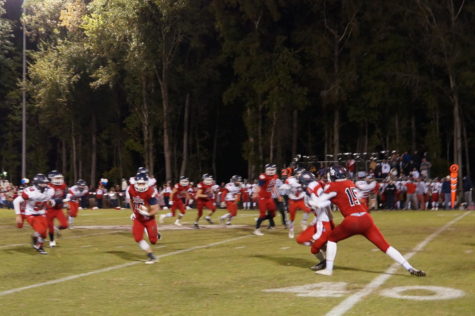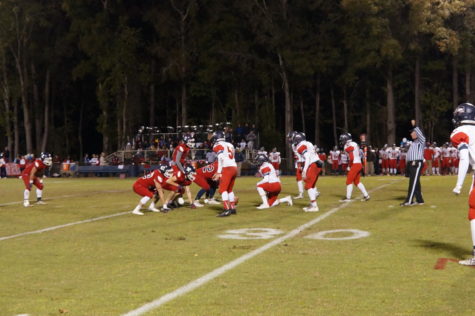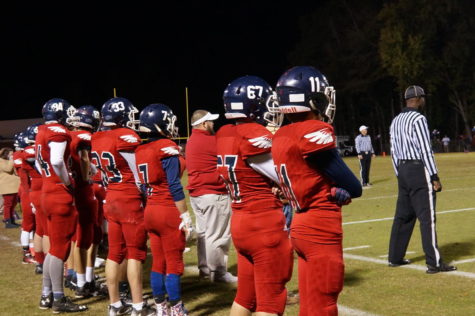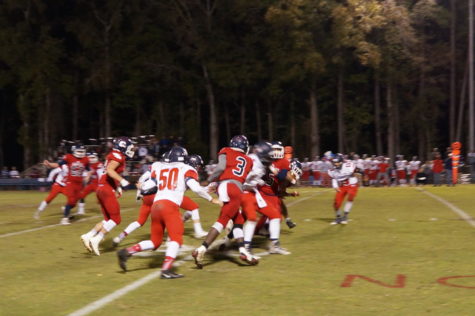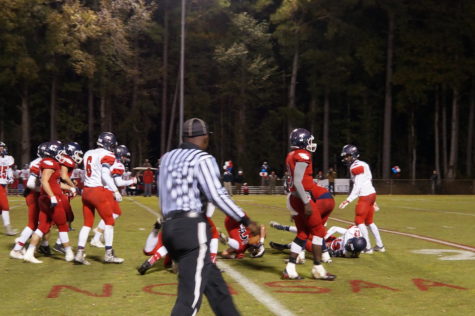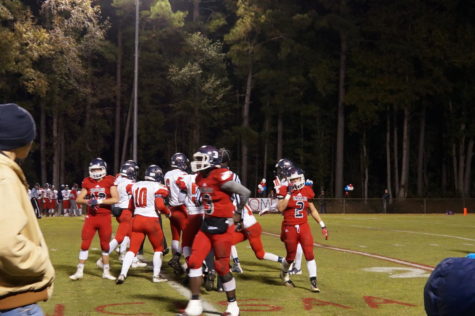 Senior cheerleader Anna Penwell!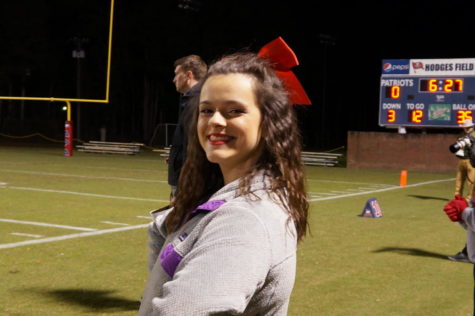 Senior cheerleader Malone Bondy!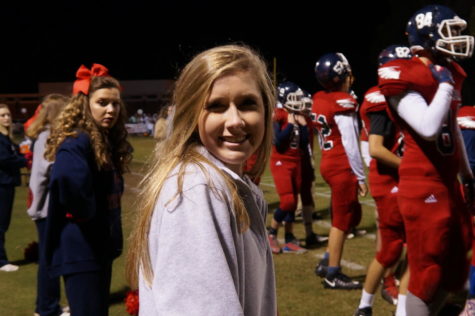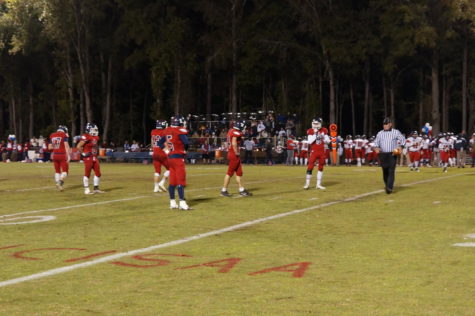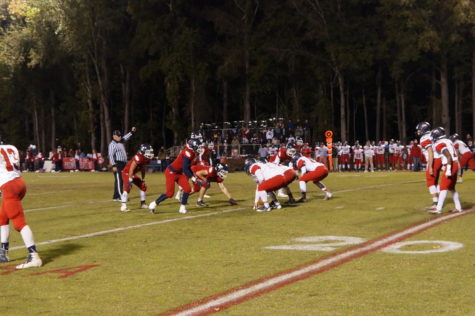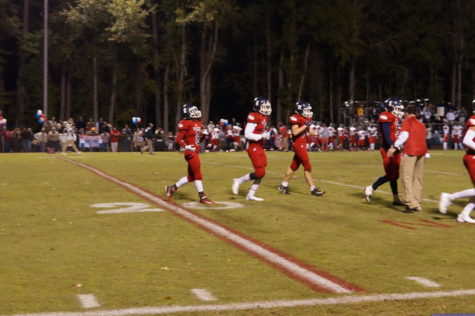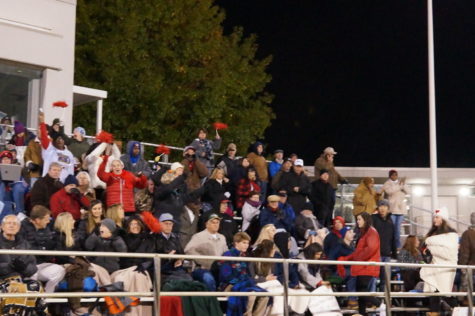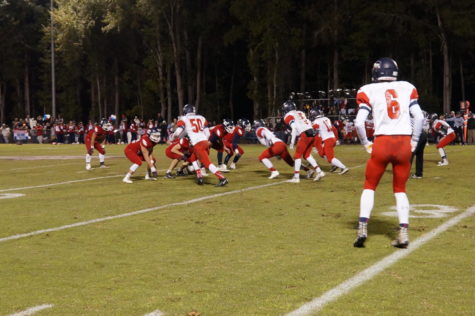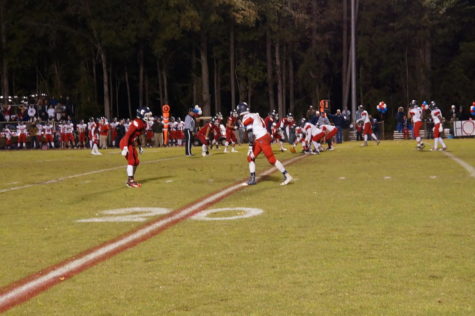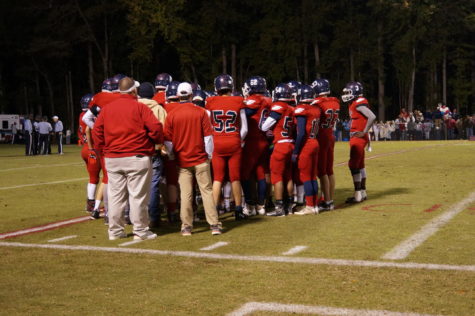 LET'S GET HYPE!!!!!! What would we do without our awesome cheerleaders!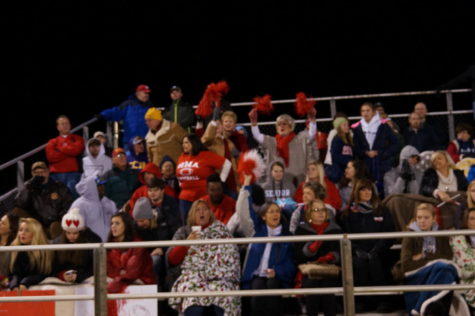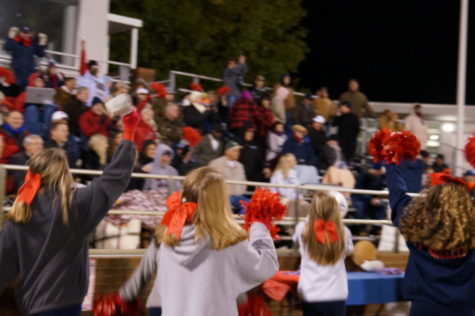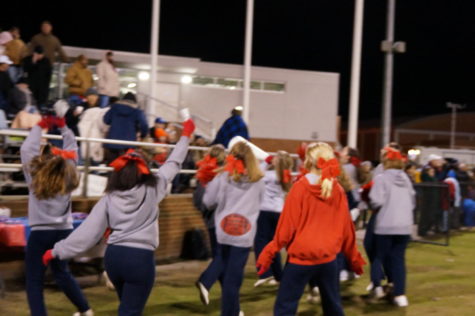 Riley Proctor (4th), the best water boy RMA has ever seen!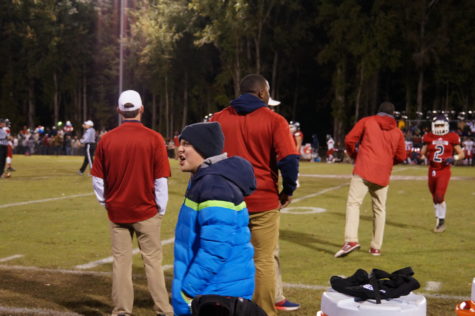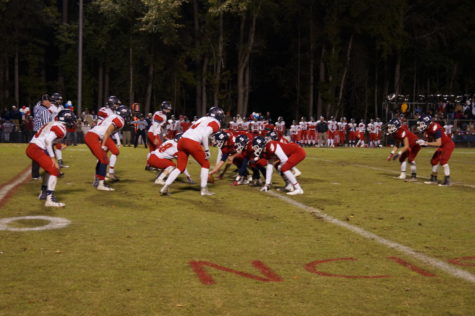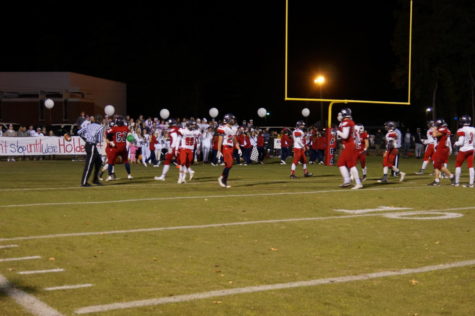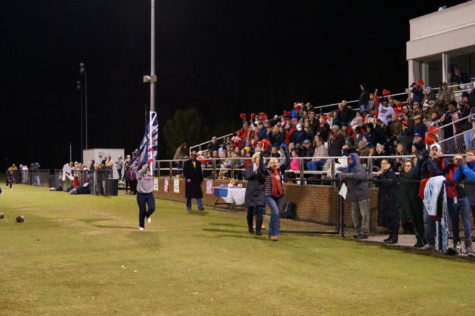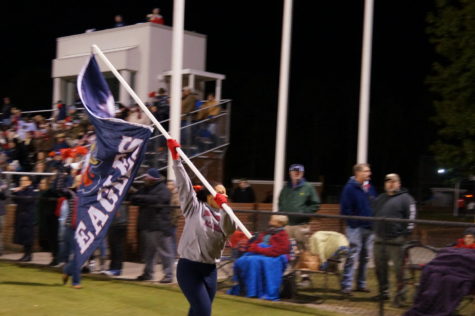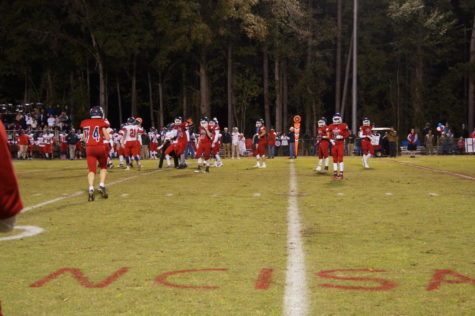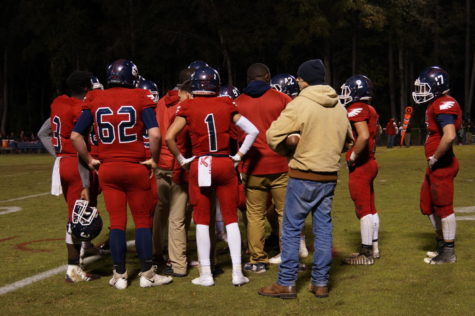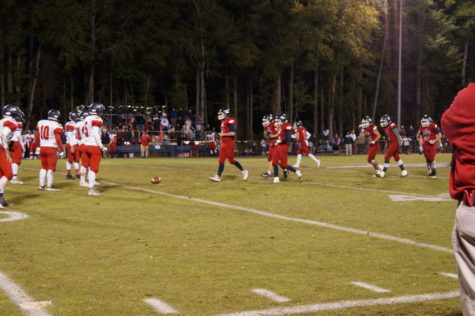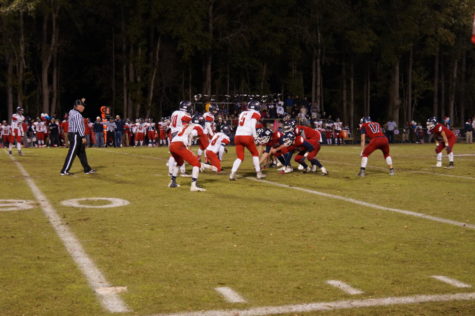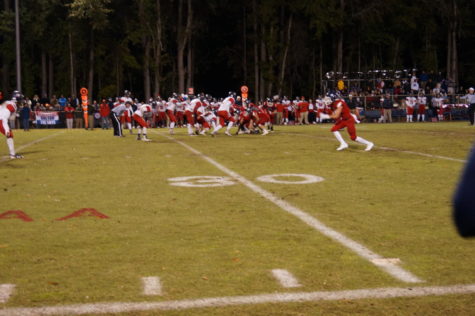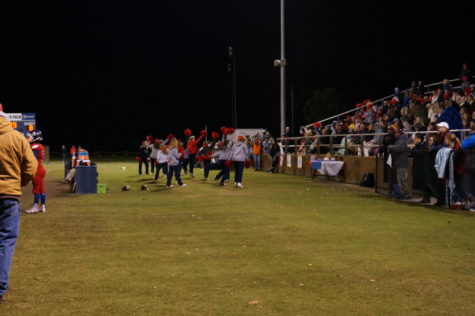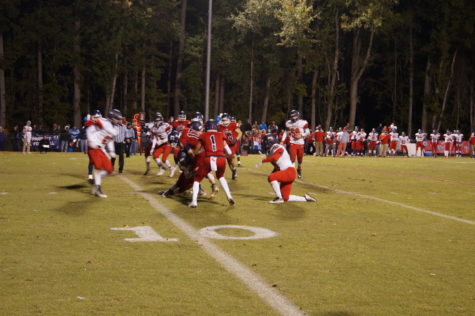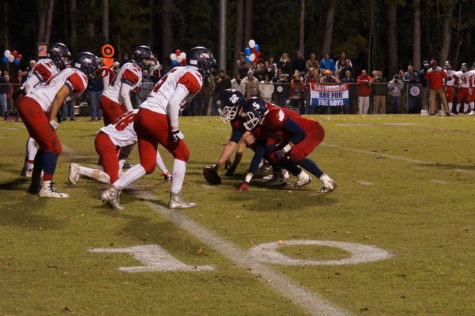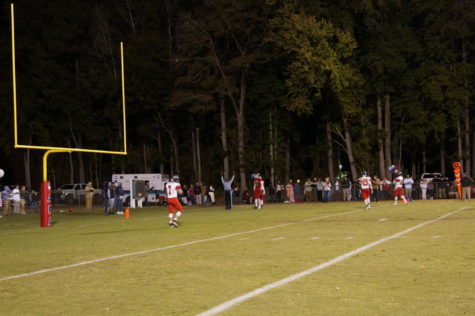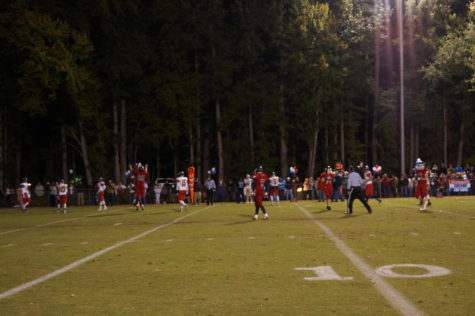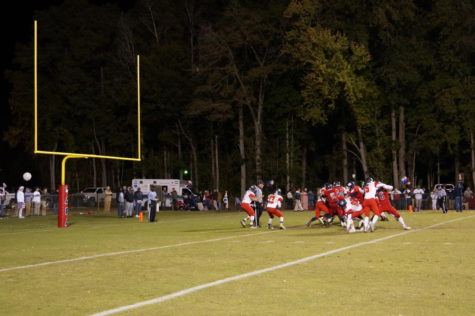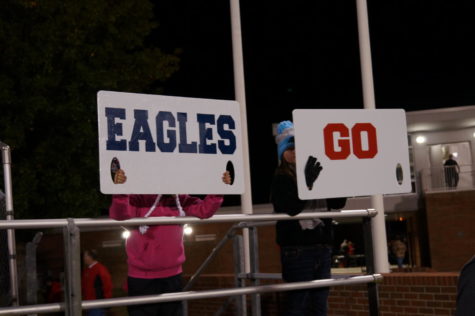 Juniors Austin Brown, Marinia Meffen, Ann Sumner Thorp, and Kayla Miller brave the cold to cheer on our Eagles!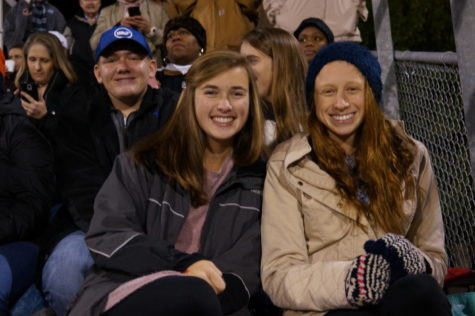 Seventh graders Sarah David, Paige Brown, and Caitlin Meffen aren't about to be left out either!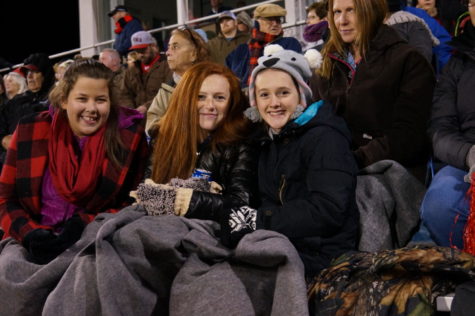 Thomas Newton (12th), Jillian Lavely (12th), Jack Wu (11th), and Bhavisha Gulabrai tell the cold, and Parrott, to bring it on!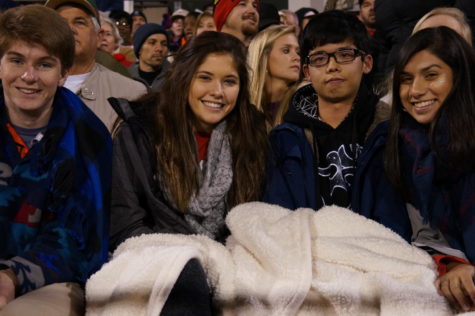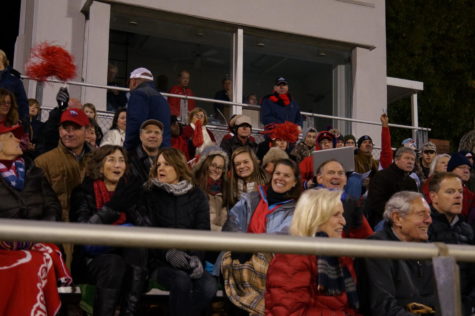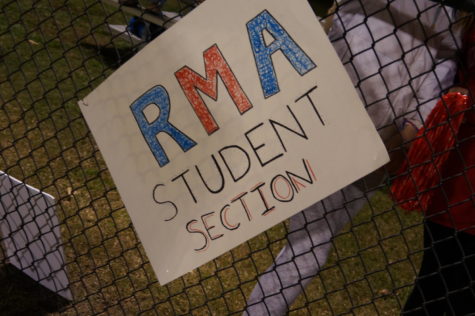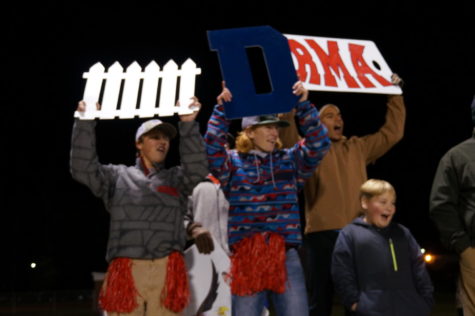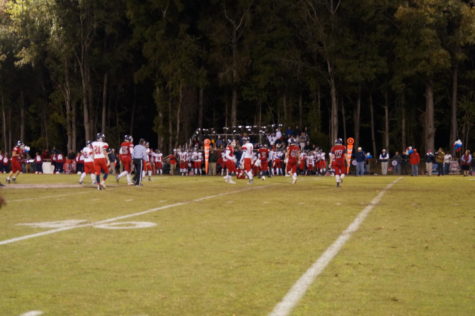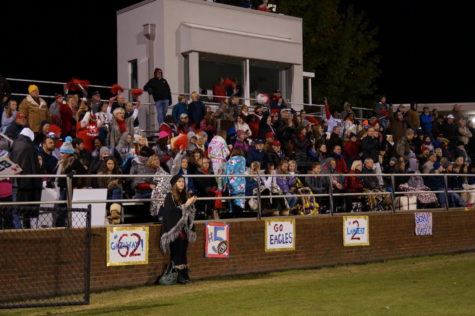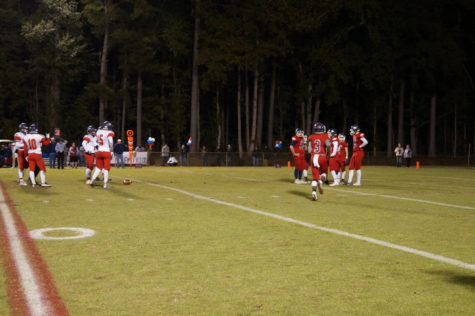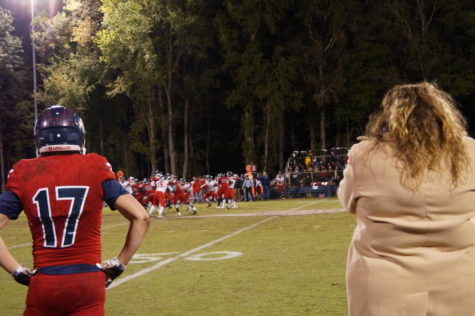 One of the best RMA cheering squads ever! Thank you to these sweet cheerleaders for all they do for our sports teams, school, and especially the football team! Special shout outs to Senior cheerleaders Anna Penwell, Lauren Seale, Ann Margaret Taylor, and Malone Bondy whose unwavering enthusiasm shined just as bright as those Friday night lights!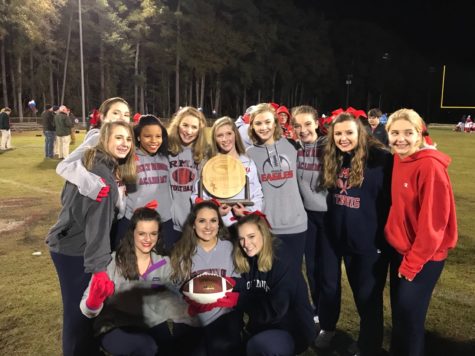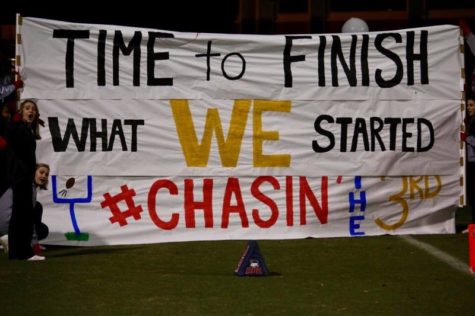 Bittersweet. Seniors (left to right) Caleb Lambert, Trey Smelcer, Joseph Petruzziello, Jarrett Snipes, Jordan "J" Crandell, Thomas Griffin, and Cameron Cross pose with their beloved Coach T.