Faculty Focus: Dr. Daphne O'Brien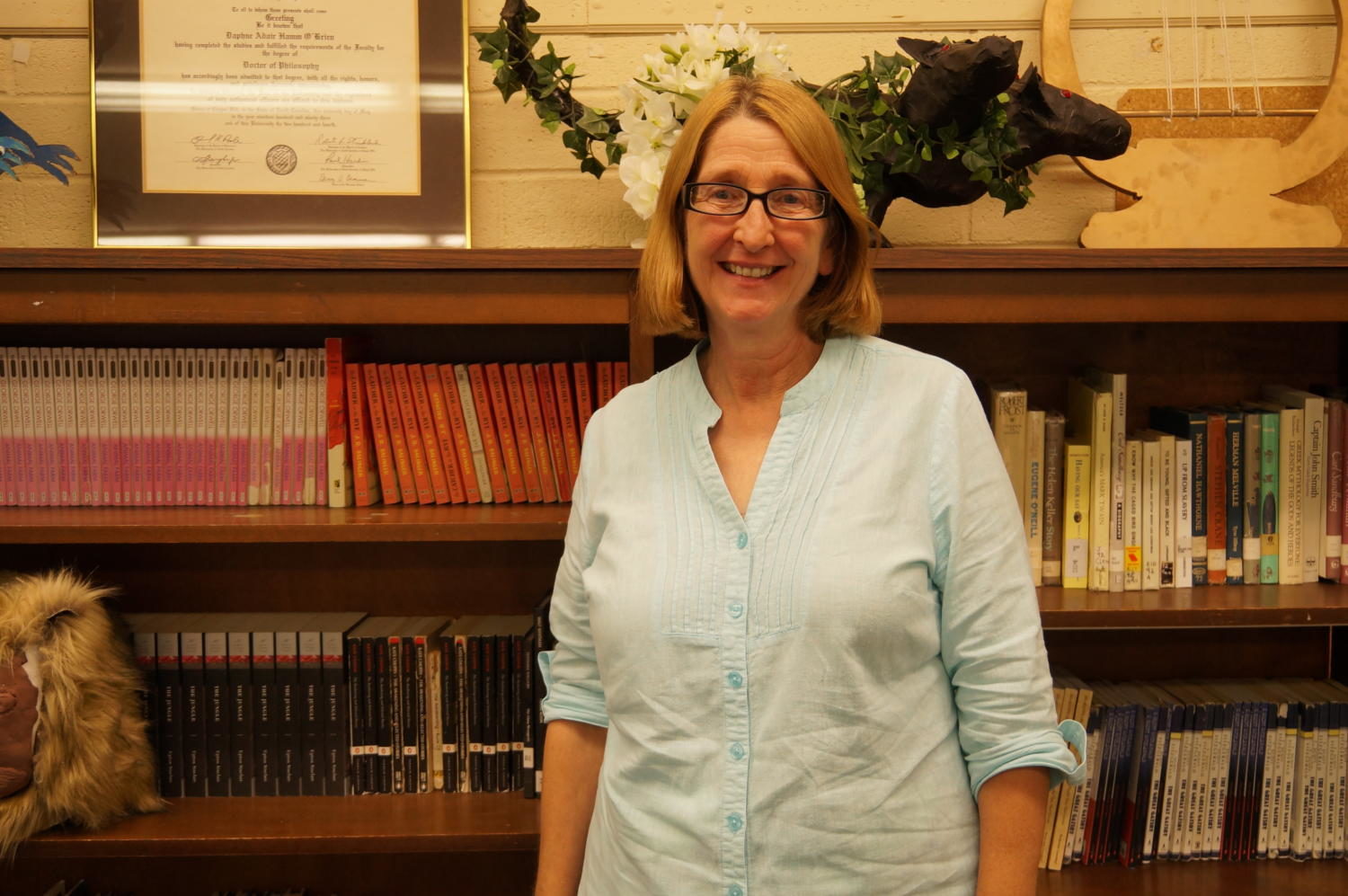 Virginia Wooten
September 8, 2017
Entering her tenth year of teaching at Rocky Mount Academy, familiar face Dr. Daphne O'Brien is an asset to the school to say the least! Specializing in American Literature, Dr. O'Brien provides a wealth of knowledge to young minds. Her interactive classroom discussions and intriguing argument topics makes every day of English class exciting. Every student she encounters definitely aquires a wealth of knowledge from her intelligent perspectives on novels, and she also advises students on SAT study topics. Dr. O'Brien's quirky catchphrases are well-known to all of her students, as she says, "use your head for something besides a hat rack" or "squirrel" when she wants us to think harder and smarter. Known for her editing skills, Dr. O'Brien is a great resource for faculty and students due to her experience with an editing company. Below is more facts and stories from Dr. O'Brien's interesting life!
How long have you been teaching at RMA?
I am beginning my tenth year. I arrived just in time to teach my son in the seventh grade. He was mortified.
What was your favorite class that you have ever taken?
My favorite was a class in my Ph.D. program at Chapel Hill. I minored in Literature of the American South, and one of my southern literature classes met at the home of my professor, Louis Rubin. He was quite old and didn't want to have to go to campus, so he didn't. The six of us met in his library–along with one cat and three dogs—drinking coffee and passionately discussing Southern stories and novels.
What was your favorite story you have edited?
Well, in one way it isn't a story, and in another way it is. I edited a collection of poems written by a woman as she struggled to confront and survive cancer. When she died, her friends wanted her poems to be published as a memorial. I collected and edited the poems for them and put the book through a small North Carolina press. When put together, the poems were a narrative of weakness and strength, denial and acceptance, and misery and peace. By the end of the project, I felt that I had known her myself.
What inspired you to pursue a doctorate?
I guess I just like to follow ideas as far as they will take me. I am energized and driven by thinking, discussing, and discovering.
Which fictional character do you identify with most?
I don't have a single one, but see aspects of myself in many literary characters—in Odysseus's need to have the last word, in Pip's final understanding that the people who love you must not be taken for granted, in Franklin's awareness of his flaws and shortcomings. Reading for me is an endless series of epiphanies and identifications. I think that is what keeps me constantly engaged in and surprised by the study of literature.
What is your favorite childhood memory?
I loved visiting my grandmother in the country in Halifax County. A favorite memory is playing "One-Two-Three, Red Light" and "Mother, May I?" on the front sidewalk with my cousins.
I understand that you live near Tarboro. What do you like most about the town?
I actually live in the country 16 miles north of Tarboro, but I did grow up in there. I love the area around the Town Common, with its beautiful trees and peaceful streets.
Do you like to dance?
I love to dance—any kind, any time, any place. In middle school, I went to Miss Bobbi Jean's School of Dance to learn the waltz, the bop, and the cha-cha. I was terrible, but that didn't stop me. My husband and I have taken swing lessons and really like dancing together.
Where is your favorite place you have traveled to?
An infrequent traveler, I am rather a homebody. I love the coast and have always enjoyed trips to Bald Head Island. Williamsburg, Virginia, is also a favorite place because I spent three months there on a research fellowship. There is nothing like the smell of wood smoke and gingerbread that fills the street on autumn evenings.
Who has made the biggest impact on your life?
My parents have had the biggest impact, exemplifying for me intellectual curiosity, flexibility, passion, patience, and unconditional love.