This issue's Senior Spotlight features big man on campus Marti Mcknight. Since joining the RMA family in fifth grade, Marti has made a positive impact on our school. Marti is a friend to all; he includes all his classmates and lightens the mood in class for students and teachers alike. He is known for making others laugh and bringing his best energy. According to Luke Holloman, "Marti is always there no matter the situation; he is dependable and trustworthy and is always willing to push you to be a better version of yourself."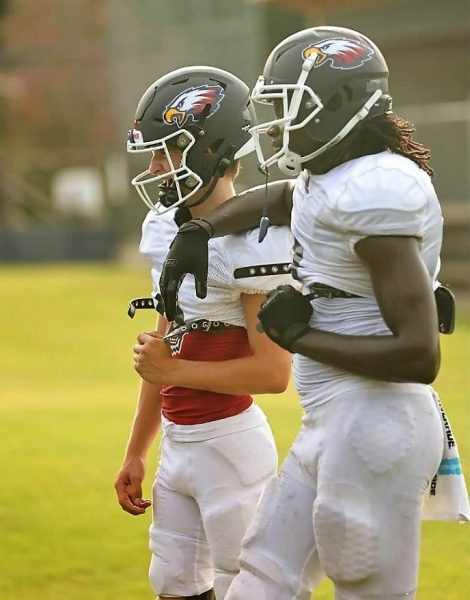 Lebron James is Marti's role model, and it shows because he plays a huge part in RMA athletics and excels as a member of multiple teams. Marti plays wide receiver, running back, and linebacker on the varsity football team (and has earned All-State honors!) and plays small and power forward on the varsity basketball team. He was also a valuable part of last year's baseball team, serving as their number-one supporter even though he was sidelined by an injury. Every baseball game this past season, Marti would dress out and sit in the dugout cheering on his teammates. Whether he is playing in a game or just watching, Marti's is sure to be the loudest voice of all as he hypes up the crowd and encourages our RMA athletes. He was definitely right when he described himself as a leader who's loud and athletic!
This year, Marti is taking English 12, Algebra 3 Trig, Economics, Ecology, Weightlifting, and Sports Medicine. He plans to continue his academic career by applying to East Carolina University and North Carolina Central University. He is still unsure about his major but is interested in construction management. Marti will always tell you, "Just be yourself," and since we all think Marti is pretty great, we're sure this advice will get him wherever he wants to go. 
Get to know Marti!
What is a talent of yours that we may not know about or something nobody knows about you?
I can rap.
What is your favorite movie or go-to song?
"Moving On" by Rod Wave
Describe your dream vacation OR if you could live anywhere in the world, where would it be?
Somewhere off on an island.
If you were trapped on a deserted island, what three things would you bring?
Food, my phone, and a football
If you could be any teacher for the day, who would it be and why?
Dr. Wells because he is super chill and he's huge.
What will you miss about RMA?
How close everyone is.