Disney Ride Review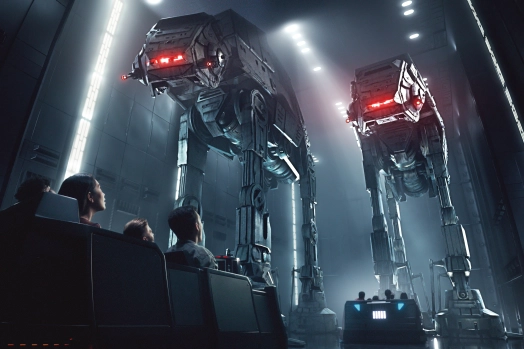 Over the MLK holiday, I was lucky enough to go on a trip to Disney World in Orlando, Florida, with my family. While we were there, one of our goals was to ride as many rides as possible over the course of our day in the park. Below, I will be reviewing my favorite ride(s) from each park so that you'll know what can't be missed the next time you head to Disney! 
Magic Kingdom: Magic Kingdom was the very first park we visited on our trip, and we rode almost every ride there. There are so many fun rides at this park that it is hard to choose a favorite, but I think I have to go with the iconic Space Mountain. This indoor coaster zips you through "space" and features many tight turns, as well as drops–none of which you can see coming due to the entire ride being in complete darkness. I love roller coasters, and what made this my favorite ride of the day would be how different it is from the other rides in the park, as the rest are, while still fun, not necessarily exciting. Honorable mentions from this park include The Seven Dwarfs' Mine Train and Splash Mountain, which is closing soon to be remodeled around The Princess and the Frog. 
Hollywood Studios: Rise of the Resistance, based around a "Star Wars" rebel base, was easily my favorite ride in Hollywood Studios. Something that makes this ride so special is that it is a ten-minute experience. You first board the ride on a rebel escape ship, which is captured by the First Order. Everyone is ushered out by a First Order official into an airlock filled with storm troopers. The last leg of the journey is your escape from the First Order ship. Honorable mentions from this park include the classic Rockin' Roller Coaster and Smuggler's Run. 
Animal Kingdom: The few rides featured in Animal Kingdom are quality, but my favorite from this park has to be Avatar: Flight of Passage. This immersive VR ride has you hold on to a motorcycle-esque seat which rocks back and forth in time with the Ikran you are supposedly riding. This ride can only be described as magical, with its beautiful scenery taken straight from the movie. Riders truly feel like they are there, as you can feel the wind on your face and the mist off the waves as you fly above them. An honorable mention from this park is Expedition Everest, which had a short enough line that we were able to ride it twice! 
Epcot: Our last day at Disney definitely ended on a high note, as it included my favorite ride of the whole trip: Guardians of the Galaxy: Cosmic Rewind. This ride is so new that visitors need a reservation to be able to ride. Cosmic Rewind is a completely indoor roller coaster and features lots of twists, turns, and drops. The thing that makes this ride unique, however, is that each individual car turns and spins independently from the track. The cars also have speakers embedded in their head rests which play one of six songs on the ride's playlist (We got "One Way or Another " by Blondie), and it really makes the whole experience. An honorable mention from this park is the timeless, relaxing Soarin' that zips you through different countries on a plane-mimicking seat.
If you are planning on going to Disney any time soon, I really hope you are able to check out some of these!