Damar Hamlin Update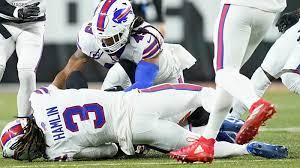 Recently, there's been lots of talk in the football world about Damar Hamlin and his life-threatening injury. 
During last week's Monday Night Football game (1/2), the Buffalo Bills' Damar Hamlin went into cardiac arrest when, in the first quarter of a seemingly normal game, Hamlin collapsed following a routine tackle. He was given CPR on the field to revive his heartbeat. Teammates and coaching staff surrounded Hamlin as he was given medical attention, shielding him from public view. He was down for ten minutes before being transported to Cincinnati Medical Center in critical condition. Fans anxiously waited for further updates that night before the game was indefinitely postponed. 
Doctors later revealed that Hamlin's injury was caused by the hit occuring between heartbeats, causing an arrhythmia, a problem with the rate or rhythm of your heartbeat. Hamlin's heart stopped twice, once on the field and once in the hospital. During his recovery process, Hamlin was initially receiving 100% oxygen due to lung damage but was down to 50% Tuesday night (1/3), showing signs of improvement though he remained in critical condition. On Friday (1/6), it was announced that Hamlin was taken off the ventilator overnight and was communicating with his team. As of Monday night (1/9), Hamlin was transferred from Cincinnati Medical Center to a hospital in Buffalo where his family can easily visit.
While this is a very unusual injury, it is not unheard of in sports and has sparked lots of conversation about the dangers athletes face daily and just how severe sports injuries can be. As fans and doctors continue to consider the ramifications of Hamlin's injuries on the sports world, two thing are for certain: First, that this game was, without question, one of the most chilling football games to watch, from home or the stadium itself. Second, it has been amazing to watch the fans, family, and other teams rally around and support the Bills and this exceptional athlete.