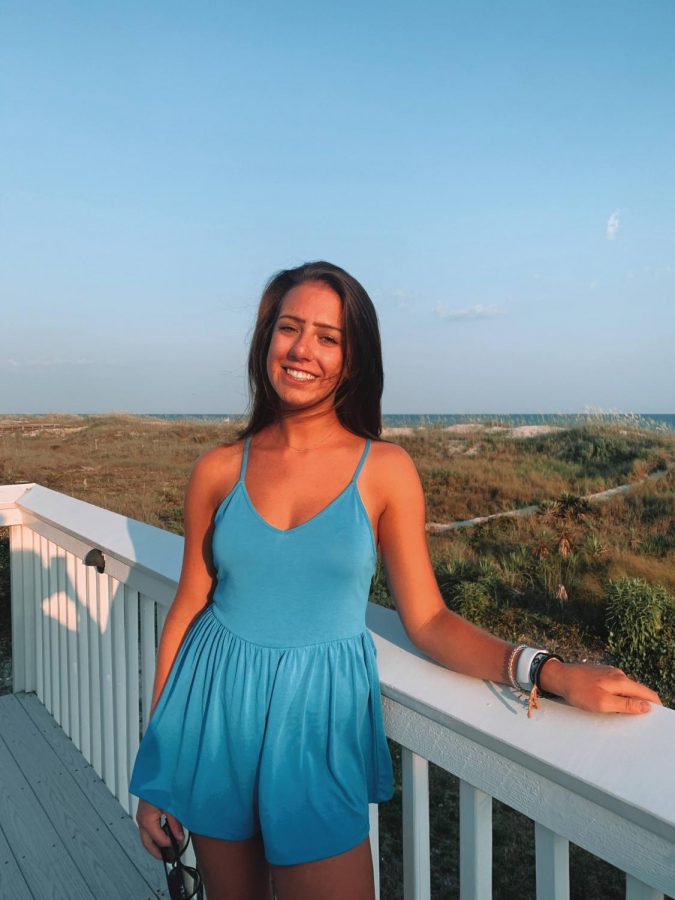 Position
: My position is Social Media Chair, which means I am in charge of running RMA's Instagram and Twitter. I will post about upcoming sporting events and themes for that night, as well as keep everyone updated with the academic events going on.
What are you most looking forward to this year?

I'm most looking forward for Media Office and the play!
What is your favorite part about Media Office?

Media Office finally gives me an excuse to use social media for keeping people updated with the athletic events, instead of my personal account.
How many years have you been at RMA?
I have been at RMA since Pre-K, so in total I've been here for 14 years.
Get to know Mary-Edith:


Who is your role model? My role model is great grandma, since she was such an incredible woman and an extremely family oriented person.




If you could live anywhere in the world, where would you live and why? I would probably live in a town outside of Austin, Texas. I love big cities, but I do not want to live there.




If you had to watch one movie for the rest of your life, what would it be? I think it would be Clueless or The Sandlot.




Where do you see yourself in 10 years? Living my best life.




Favorite class at RMA? My favorite class would probably be English with Dr. O'Brien or AP Psych.




What is your favorite quote? "Opportunities don't often come along. So, when they do, you have to grab them." -Audrey Hepburn.




What is something most people don't know about you? I'm allergic to grass RIP.




If you could grow up in any decade, which would it be? The 90s. It matches my aesthetic lol.




If you could have any job in the world, what would it be? A clinical psychologist in a counseling center.




If you were stranded on an island, what three things would you bring? Water, food, and some form of entertainment because I get bored super easily.


Mary-Edith Cox, Social Media Chair
Sep 15, 2020
Sep 08, 2020

New Students at RMA: High School

(Story)

May 07, 2020

Banana Bread Recipe

(Story)

Apr 30, 2020

Ways to Celebrate a Birthday During Quarantine

(Story)

Apr 08, 2020

Health and Fitness Tips During Quarantine

(Story)

Apr 01, 2020

Movies to Watch During Quarantine

(Story)

Mar 25, 2020

Senior Spotlight: Gabbi Stewart

(Story)

Mar 17, 2020

The Bachelor: Conclusion

(Story)

Mar 11, 2020

Senior Spotlight: Megan Seale

(Story)

Mar 02, 2020

David Ayres: Hockey Legend

(Story)

Mar 02, 2020

Bizzarre Bachelor Rules

(Story)

Feb 18, 2020
Feb 04, 2020

Senior Spotlight: Katie Oliver

(Story)

Jan 29, 2020

2020 Music Playlist

(Story)

Jan 22, 2020

How to Maintain New Year's Resolutions

(Story)

Jan 08, 2020

Fashion Trends (2019-2020)

(Story)

Dec 17, 2019

Top Things the Decade Will Be Remembered For

(Story)

Nov 19, 2019

What RMA is Thankful For!

(Story)

Nov 11, 2019

Senior Spotlight: Peyton Hutson

(Story)

Nov 05, 2019

Top Ten Halloween Movies

(Story)

Oct 29, 2019

RMA Homecoming 2019

(Story)

Oct 15, 2019

Senior Spotlight: Madison Costa

(Story)

Oct 09, 2019

Senior Spotlight: Ben Corey

(Story)

Sep 30, 2019

Fashion at the 2019 Emmys

(Story)

Sep 23, 2019

Dancing with the Stars Premiere

(Story)

Sep 16, 2019

Senior Spotlight: Claire Brittle

(Story)

Sep 09, 2019

Top 10 Movies to Watch During the Hurricane

(Story)

Sep 03, 2019

Kicking Off the School Year

(Story)