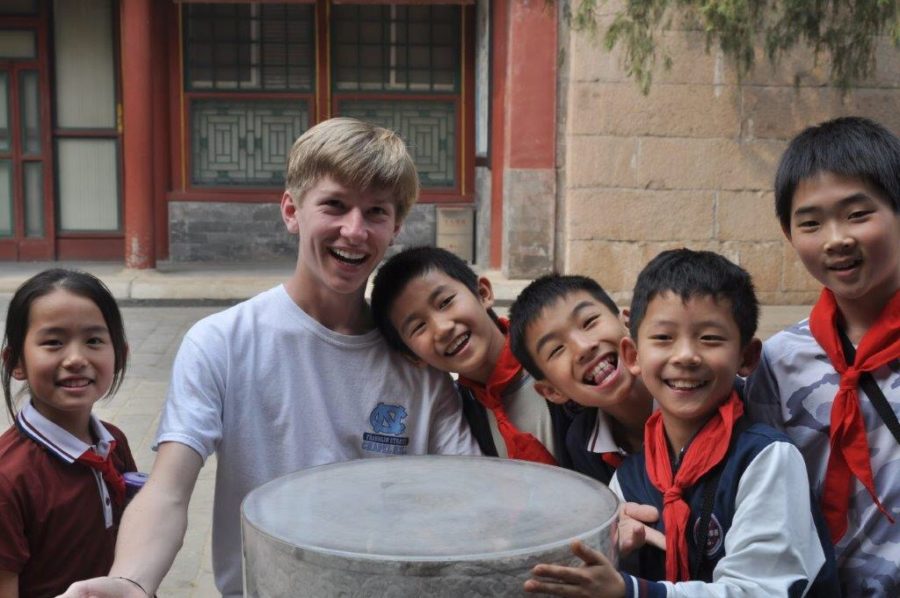 Position:
I am Copy Editor. I am in charge of assigning and posting articles each week.
What are you most looking forward to this year?
I am most looking forward to making new friends and having a great year.
What is your favorite part about Media Office?
My favorite part of Media is the people. They are all so welcoming and kind.
How many years have you been at RMA?
I've been going to RMA since kindergarten, but I did not go in third grade as I lived in Colorado. Altogether I have attended a total of 12 years.
Get to know Jack: 


Who is your role model? My Dad because he can talk to anybody.




If you could live anywhere in the world, where would you live and why? Wilmington, NC because I love the beach.




If you had to watch one movie for the rest of your life, what would it be? Shawshank Redemption.




Where do you see yourself in 10 years? Anywhere but a desk.




Favorite class at RMA? Geometry.




What is your favorite quote? Get busy living, or get busy dying.




What is something most people don't know about you? That I have a twin sister.




If you could grow up in any decade, which would it be? 00's.




If you could have any job in the world, what would it be? I have absolutely no clue.




If you were stranded on an island, what three things would you bring? A potters wheel, clay, and a sponge.


Jack Pittman, Copy Editor
Sep 15, 2020
Sep 08, 2020

Faculty Focus: Jennifer Epps

(Story)

May 07, 2020

Senior Spotlight: Eric Xue

(Story)

Apr 30, 2020
Apr 22, 2020

Senior Spotlight: Ben Tucker

(Story)

Apr 08, 2020

Online School Interview: Erin O'Brien

(Story)

Apr 01, 2020

Tiger King Character Review

(Story)

Mar 25, 2020

Senior Spotlight: Connor Sigmon

(Story)

Mar 11, 2020

Winter Sports Recap

(Story)

Mar 02, 2020

Senior Spotlight: Tom Qian

(Story)

Mar 02, 2020

Junior Sophomore Southern College Tour

(Story)

Feb 18, 2020

How Well You Do you Know Media Office's Print Editor, Emory Pittman?

(Story)

Feb 04, 2020

The Death of Kobe Bryant

(Story)

Jan 29, 2020
Jan 22, 2020

New Students at RMA

(Story)

Jan 15, 2020

Iranian General Dead in US Bombing

(Story)

Dec 17, 2019

Top Ten Christmas Movies

(Story)

Dec 11, 2019
Nov 11, 2019

Senior Spotlight: Ian Fryar

(Story)

Nov 06, 2019

Senior Spotlight: Colby Freeman

(Story)

Oct 22, 2019

A Marathon of a Weekend

(Story)

Oct 15, 2019

Fair Pay to Play Act

(Story)

Oct 09, 2019

Boosterthon Recap

(Story)

Sep 30, 2019

Which Media Office Member Should You Take to Homecoming?

(Story)

Sep 23, 2019

The Antonio Brown Saga

(Story)

Sep 16, 2019

The Opioid Epidemic

(Story)

Sep 09, 2019
Sep 03, 2019

RMA Student Summer Experiences

(Story)

May 06, 2019
Apr 30, 2019

Tiger Woods Wins The Masters

(Story)

Apr 15, 2019

NCAA Tournament Recap

(Story)

Apr 09, 2019
Mar 19, 2019
Mar 11, 2019

Which Media Office Member Should You Prompose To?

(Story)

Mar 04, 2019

Senior Spotlight: Woodall Rose

(Story)

Jan 14, 2019

College Football Playoffs

(Story)

Nov 13, 2018

Rocky Mount's Event Center

(Story)