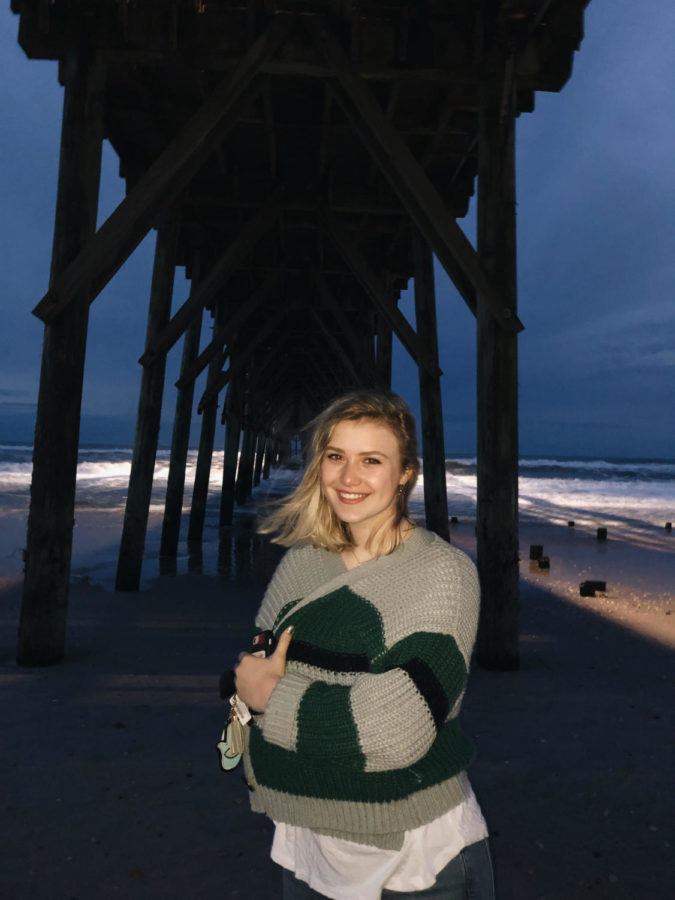 Position
: My position is Print Editor. My job is to edit the articles before they're posted on the website.
What are you most looking forward to this year?

I'm looking forward to the spring musical :)
What is your favorite part about Media Office?

I really love to write, and Media Office gives me an opportunity to do that outside of English class! I also love the people involved with it.
How many years have you been at RMA?
I have been at RMA since kindergarten, but in third grade, my family lived in Colorado. In total, it's been 12 years.
Get to know Emory:


Who is your role model? My cousin, Ann Dunn. I've always admired her ambition and I hope to be half as successful as she is.




If you could live anywhere in the world, where would you live and why? I would live in New York or Paris. I really want to live in a big city!




If you had to watch one movie for the rest of your life, what would it be? I would watch Mean Girls because I never get tired of it.




Where do you see yourself in 10 years? Out of college with a great job that makes me happy.




Favorite class at RMA? AP Government with Mr. Stone!




What is your favorite quote? "It's not all sunshine and rainbows, but a good amount of it actually is."




What is something most people don't know about you? Most people don't realize that I have a twin. Whenever someone new comes to RMA, they don't figure it out for a while and think that we're just good friends.




If you could grow up in any decade, which would it be? The 60s because I love the music and fashion from that time.




If you could have any job in the world, what would it be? Working somewhere in the beauty and fashion industry. Or being an actress.




If you were stranded on an island, what three things would you bring? I'd bring water, flint, and a friend who knows more about survival than I do.


Emory Pittman, Print Editor
Sep 15, 2020

Upper School Production: High School Musical

(Story)

Sep 08, 2020

Senior Spotlight: Elizabeth Winstead

(Story)

May 07, 2020

Online School Interview: Amy Knox

(Story)

Apr 30, 2020

Online School Interview: Denise Helms

(Story)

Apr 22, 2020

Online School Interview: Señora Forero

(Story)

Apr 08, 2020

Senior Spotlight: Chloe Thompson

(Story)

Apr 01, 2020

Senior Spotlight: Emma Stone

(Story)

Mar 25, 2020

Local Restaurants to Support During Quarantine

(Story)

Mar 11, 2020
Mar 02, 2020

Senior Spotlight: Vivian Rogers

(Story)

Mar 02, 2020

Academy Awards Winners' Looks

(Story)

Feb 18, 2020

5 Romance Movies to Watch on Netflix for Valentine's Day

(Story)

Feb 04, 2020

Quiz: How Well Do you Know Media Office's Copy Editor, Jack Pittman?

(Story)

Jan 29, 2020

Best Looks from the 2020 Grammys

(Story)

Jan 22, 2020

Senior Spotlight: Eliza Myers

(Story)

Jan 15, 2020

Best Netflix Original Shows You Haven't Already Seen

(Story)

Dec 17, 2019

Golden Globes Nominations

(Story)

Dec 11, 2019

Senior Spotlight: Mary Marshall Martin

(Story)

Nov 19, 2019

Middle School Musical: Elf Jr.

(Story)

Nov 11, 2019

National Cat Day: RMA Faculty's Cats!

(Story)

Nov 05, 2019

Senior Spotlight: Mason Franks

(Story)

Oct 29, 2019

Best Celebrity Halloween Costumes

(Story)

Oct 23, 2019

Senior Spotlight: Madison Davis

(Story)

Oct 15, 2019

Which Biscuit from the Cafeteria are you?

(Story)

Oct 09, 2019

Alumni Update: Amanda Blanton

(Story)

Sep 23, 2019

New York, London, and Milan Fashion Week

(Story)

Sep 16, 2019

Vaping-Related Illness Outbreak

(Story)

Sep 09, 2019

National Dog Day: RMA Faculty's Dogs!

(Story)

Sep 03, 2019

Chick-fil-A vs. Popeyes: The Ultimate Showdown

(Story)

May 06, 2019

Lower School Update: A Marketplace and A Wax Museum!

(Story)

Apr 30, 2019

Spring Arts Festival: A Night In Review

(Story)

Apr 15, 2019
Apr 10, 2019

Which Faculty Member Should You Take to Prom?

(Story)

Mar 11, 2019

The Addams Family Sneak Peek

(Story)

Dec 18, 2018

Senior Spotlight: Averi Parker

(Story)

Nov 13, 2018

Thousand Oaks Shooting

(Story)