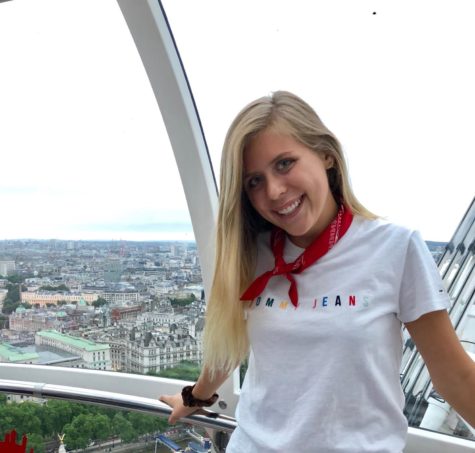 Position
: My position is Treasurer! I am in charge of collecting and counting all of the money that is involved in Media Office. Yay counting! And money!
What are you most looking forward to this year?
This year I am most looking forward to all the Senior Festivities! I've been waiting all of high school for them, so what is not to be excited about? I'm excited for everything from Senior Pictures, finally turning in my applications to schools, the NYC trip, to graduation at the end of May!
What is your favorite part about Media Office?
My favorite part about Media Office has to be how we get to connect with people, whether it is my classmates in Media Office, Pre-K students, new teachers, to my favorite faculty members. I love how I get the opportunity to write for my school about the variety of people I love!
How many years have you been at RMA?
This is going to be my thirteenth year at RMA! I wouldn't want to have spent my life at any other school. :)
Find out more about Virginia below: 


Who is your role model?


Probably my Grandma. She has the biggest heart out of anyone I know! My Mom and Dad too, they each have the best qualities of people. On a less serious note, Queen Elizabeth II. She is the ultimate goal.


If you could live anywhere in the world, where would you live and why? 


Well I think I would have 7 rental houses and rotate every few weeks to the different locations. I would have one in Tarboro (God's country), Charleston, New York City, Jackson Hole, London, Paris, and some remote town in Bali. I have to get the most out of the world while I'm still alive, right?


If you had to watch one movie for the rest of your life, what would it be? 


I ADORE
Ferris Bueller's Day Off
.


Where do you see yourself in 10 years? 


Hopefully really happy.


Favorite class at RMA? 


I'll always have a special place in my heart for Dr. K's 6th Grade Science Class. We learned everything from how the Earth formed, to how a throw a javelin like a caveman. So basically all the life skills you need!


What is your favorite quote? 


"Live as if you were to die tomorrow. Learn as if you were to live forever." -- Mahatma Gandhi


What is something most people don't know about you? 


I used to own a pet peacock named Raj!


If you could grow up in any decade, what would it be? 


Definitely the 80's, and that would probably be due to Mr. Bueller and his friends. And Stranger Things. I swear some of the best movies and shows are 80's based!


If you could have any job in the world, what would it be? 


Probably some kind of marketing position for National Geographic. I could be creative, interact with people, and explore the planet! That is everything I'm passionate about in one career. :)


If you were stranded on an island, what three things would you bring?


A router, an iPhone with a lot of storage, and some kind of power unit with a charging station for an iPhone X. I could call people to bring me food, pick me up, or bring friends over! Plus I could listen to music 24/7.
In Addition: 
I am President/Founder of the Photography Club and Publicity Chair/Founder of Spanish Honors Society. I've played soccer for all of high school. Some of my hobbies are reading, cooking, fitness, photography, and travel. I've grown up on a small farm in Tarboro and I've spent most of my childhood outside! I love my small town more than anything because of the history, people, and the sense of community I have there.
Virginia Wooten, Treasurer
May 06, 2019

Senior Spotlight: Jack Wu

(Story)

Apr 30, 2019

Prom in Review: Jr/Sr and Daddy/Daughter!

(Story)

Apr 15, 2019

2019 Anne Weaver Recipient: Sarah Catheryne Coltrane

(Story)

Mar 19, 2019

Senior Spotlight: Morgan Spivey

(Story)

Mar 04, 2019

The Memory Project

(Story)

Feb 11, 2019

Which Media Office Member Should Be Your Valentine?

(Story)

Feb 04, 2019

Your Plate and the Planet: How Your Food Impacts Climate Change

(Story)

Jan 29, 2019

Tarboro High Coach Gets National Recognition

(Story)

Jan 22, 2019

Alone in Antarctica? Not for These Two!

(Story)

Jan 14, 2019

2019 in the Words of RMA

(Story)

Dec 18, 2018

End of Year Fashion Trends

(Story)

Dec 11, 2018

Senior Spotlight: Charlie Miller

(Story)

Dec 03, 2018

Senior Spotlight: Marina Meffen

(Story)

Nov 13, 2018

Top 8 Signs You Might Not Pass Your Exams

(Story)

Nov 05, 2018

Senior Spotlight: Gabby Hickman

(Story)

Oct 29, 2018

Faculty Focus: Mary Beth Cameron

(Story)

Oct 22, 2018

Fall Sports Focus

(Story)

Oct 09, 2018

The Planet and the President: What you need to know

(Story)

Oct 01, 2018

Senior Spotlight: Barrett Eidson

(Story)

Sep 24, 2018

NYFW- The Spring '19 Collection Highlights

(Story)

Sep 17, 2018

Senior Spotlight: Austin Brown

(Story)

Sep 10, 2018

Supreme Court Hearings

(Story)

Sep 04, 2018

The Senior Class as Disney Characters

(Story)

Aug 27, 2018

Senior Spotlight: Sadie Blackshear

(Story)

May 04, 2018

Quiz: What Summer Hobby Should You Pick Up This Summer?

(Story)

Apr 30, 2018

Senior Spotlight: Bailey Beddingfield

(Story)

Apr 20, 2018

Saudi Arabia's First Fashion Week

(Story)

Apr 13, 2018

Spring Break with Students

(Story)

Mar 29, 2018
Mar 23, 2018

Spanish 3 and 4 Field Trip

(Story)

Mar 15, 2018

Quiz: Which NCAA Team Should You Pull For?

(Story)

Mar 09, 2018

Net Neutrality: What is it and Why Does it Matter?

(Story)

Mar 02, 2018
Feb 16, 2018

RMA Abroad: Middle School Trips!

(Story)

Feb 08, 2018

Top 10 Super Bowl Commercials

(Story)

Feb 02, 2018

Senior Spotlight: Luc Garabrant

(Story)

Jan 26, 2018

Faculty Focus: Mrs. Tempie

(Story)

Jan 19, 2018

Wrong Button? False Missile Threat in Hawaii

(Story)

Jan 05, 2018

Top 10 Happiest News of 2017

(Story)

Dec 15, 2017

Time Magazine: Person of the Year

(Story)

Dec 08, 2017

Senior Spotlight: Caleb Lambert

(Story)

Nov 16, 2017

Alumni Update: Grace Mayo

(Story)

Nov 03, 2017

Back to the Basics: Elementary School Update

(Story)

Oct 26, 2017

A Flight Back in Time: WWII Bomber Flies in Raleigh

(Story)

Oct 20, 2017

Which Media Office Member Should've Been Your Homecoming date?

(Story)

Oct 12, 2017

Spirit Week Recap

(Story)

Oct 06, 2017

Voyaging with Virginia: Horror Towns in America

(Story)

Sep 29, 2017

Banjo and Blues: Hundreds Gather to Celebrate Bluegrass

(Story)

Sep 22, 2017

2017 Upper School Club Highlight

(Story)

Sep 08, 2017

Faculty Focus: Dr. Daphne O'Brien

(Story)

Aug 31, 2017

Where should you go for Labor Day?

(Story)

Aug 25, 2017

Across the Country in 33 Days

(Story)

May 02, 2017

Future Media Office Social Media Chair Virginia Wooten's Piece on the First Woman to Travel the World

(Story)