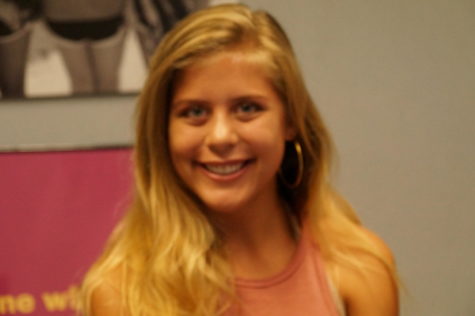 The first thing you notice about the Media Office's Social Media chair, Virginia Wooten, is her warm, bubbly personality that will put a smile on your face and turn a day going south to a trip to Disney World. Virginia's constant enthusiasm and vivacious personality lends itself to her position, allowing her to create quirky captions and vivid pictures. Extremely talented in the arts, especially photography, Virginia's creative mind and imaginative perspective add a dose of flair to the Media Office that it would otherwise miss. Membership in the Key and Care club has provided another outlet for Virginia to use her gifts of compassion and her friendly personality. With these aspects, mixed with her talent as a writer, Virginia's articles are sure to be a "woot." To learn more about Virginia, please read the following interview:


What grade did you start RMA?

I started in Kindergarten, so I know this place like the back of my hand! I'm planning on being a lifer.



Why did you decide to participate in the Media Office this year?

I really liked the use of creativity in this class, and it is a really fun and exciting way to be a part of the school. I was also drawn to writing articles every week. I love to write!



What is one fact about yourself that few people know about?

I love movies and cinematography, especially 80's movies!  Ferris Bueller's Day Off is a personal favorite of mine. Oh and Caddyshack!



What historical figure do you identify most with?

Eleanor Roosevelt- She reinvented the idea of being a First Lady by being an advocate for women's rights, human rights, and civil rights.



Virginia Wooten, Social Media Chair
May 04, 2018

Quiz: What Summer Hobby Should You Pick Up This Summer?

(Story)

Apr 30, 2018

Senior Spotlight: Bailey Beddingfield

(Story)

Apr 20, 2018

Saudi Arabia's First Fashion Week

(Story)

Apr 13, 2018

Spring Break with Students

(Story)

Mar 29, 2018
Mar 23, 2018

Spanish 3 and 4 Field Trip

(Story)

Mar 15, 2018

Quiz: Which NCAA Team Should You Pull For?

(Story)

Mar 09, 2018

Net Neutrality: What is it and Why Does it Matter?

(Story)

Mar 02, 2018
Feb 16, 2018

RMA Abroad: Middle School Trips!

(Story)

Feb 08, 2018

Top 10 Super Bowl Commercials

(Story)

Feb 02, 2018

Senior Spotlight: Luc Garabrant

(Story)

Jan 26, 2018

Faculty Focus: Mrs. Tempie

(Story)

Jan 19, 2018

Wrong Button? False Missile Threat in Hawaii

(Story)

Jan 05, 2018

Top 10 Happiest News of 2017

(Story)

Dec 15, 2017

Time Magazine: Person of the Year

(Story)

Dec 08, 2017

Senior Spotlight: Caleb Lambert

(Story)

Nov 16, 2017

Alumni Update: Grace Mayo

(Story)

Nov 03, 2017

Back to the Basics: Elementary School Update

(Story)

Oct 26, 2017

A Flight Back in Time: WWII Bomber Flies in Raleigh

(Story)

Oct 20, 2017

Which Media Office Member Should've Been Your Homecoming date?

(Story)

Oct 12, 2017

Spirit Week Recap

(Story)

Oct 06, 2017

Voyaging with Virginia: Horror Towns in America

(Story)

Sep 29, 2017

Banjo and Blues: Hundreds Gather to Celebrate Bluegrass

(Story)

Sep 22, 2017

2017 Upper School Club Highlight

(Story)

Sep 08, 2017

Faculty Focus: Dr. Daphne O'Brien

(Story)

Aug 31, 2017

Where should you go for Labor Day?

(Story)

Aug 25, 2017

Across the Country in 33 Days

(Story)

May 02, 2017

Future Media Office Social Media Chair Virginia Wooten's Piece on the First Woman to Travel the World

(Story)