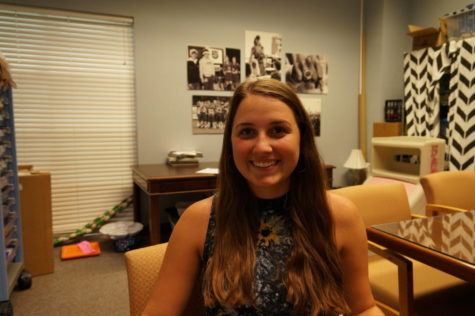 Bright, responsible, and caring are all traits describing the Media Office's photographer, Lauren Seale. As a Ann McPhearson Weaver scholarship recipient, Lauren's talents and abilities have truly shown through the past few years in high school. Making her debut as Jesus in the 2016 Spring Musical, Godspell, Lauren literally "killed it," stunning the audience into silence during multiple scenes. Not only is she a talented singer and actor, but her talents have also been seen on the tennis court and on the sidelines of football games, cheering her schoolmates on. In addition to all her extracurricular activities, Lauren challenges herself academically and earned the honor of being Head Marshall for the 2017-2018 school year. As a hard-worker and dedicated friend, Lauren has surely earned my "seale" of approval, and I am excited to see what she will do for this year! To learn more about Lauren, please read the following interview:
What grade did you start RMA?

I started at RMA in the 9th grade

What did you decide to participate in the Media Office this year?

The people on the media office 2 years ago had wanted me to apply, but I never really got around to it. So, this past year, I decided I would finally apply because I knew they would need people, and it seemed like a fun thing to be a part of!

What is one fact about yourself that few people know about?

Something that only a few people know about me is that I'm now going into my 11th year of piano lessons!

If you had to live in any other time period, which one would you pick?

I'd honestly probably want to live in the future. Granted, I'd be terrified because of the whole global warming and environmental side of issues the world is facing, but I just really want to see all of the advancements, whether it's medical or technological or anything else. I just think it would be cool to see what the world is going to end up becoming because we can always have some idea of what the past was like, but we have no idea what the future has in store.
Lauren Seale, Photographer
Mar 16, 2018

The Little Mermaid

(Story)

Mar 08, 2018

Senior Spotlight: Jordan "J" Crandell

(Story)

Mar 02, 2018

Senior Trip: The Broadway Musicals

(Story)

Feb 08, 2018

Superbowl Recap: Eagles Victorious

(Story)

Feb 02, 2018

Top Six Things That are Not Safe from Senioritis

(Story)

Jan 26, 2018

Inside the House of Horrors

(Story)

Jan 19, 2018

Senior Spotlight: Thomas Griffin

(Story)

Jan 05, 2018

Senior Spotlight: Bhavisha Gulabrai

(Story)

Dec 07, 2017

Prepping for the Holidays: What Presents Should You Buy?

(Story)

Dec 01, 2017

The Origins of Black Friday

(Story)

Nov 18, 2017

A State Championship Season! Rocky Mount Academy Football Recap

(Story)

Nov 09, 2017

Tears Shed for Texas

(Story)

Oct 27, 2017

Faculty Focus: Genie Andracchio

(Story)

Oct 20, 2017

Terror Runs Ablaze: The West Coast Wildfires

(Story)

Oct 12, 2017

Who's Your Date? Homecoming Proposals

(Story)

Oct 06, 2017

Top Ten Places for Long Lunch

(Story)

Sep 29, 2017

Talented Eagles: Our Favorite Hobbies

(Story)

Sep 22, 2017

Senior Spotlight: Trey Smelcer

(Story)

Sep 08, 2017

Line in the Sand: Tensions between North Korea and the US Rise

(Story)

Sep 01, 2017

Faculty Focus: Mrs. Ashley Barry

(Story)

May 02, 2017

Future Media Office Photographer Lauren Seale Discusses RMA's Newest Club: Rocky Mount Anatomy

(Story)