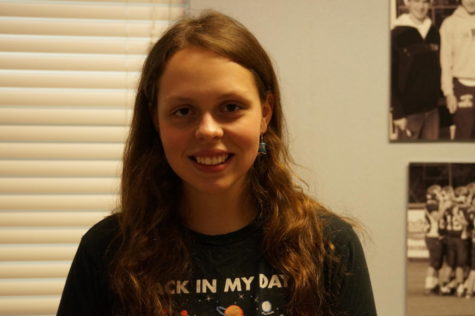 I,
Holly Brantley,
promise to uphold the responsibilities and honor of the Media Office by acting as Editor-in-Chief for the
2017-2018
school year. I promise to not only lead with integrity, but allow others to grow in their positions and to help encourage them. As well as all items previously stated, I promise to report honestly about the views taken from my fellow peers and from faculty and parents and will be watchful that this truthfulness is expanded throughout the entire Media Office. As this year's Editor-in-Chief, I promise to do my best to lead, encourage, and maintain an exemplary level of character as I have been placed in this position.
What grade did I start RMA?

I started in sixth grade.

Why did I decide to participate in the Media Office this year?

I've always loved the concept of newspapers and online stories (when I was younger, I actually used to write my own "newspapers"

for family members!). When I saw that there were openings for this year, I jumped at the chance! I think it's a great opportunity for the students to learn more about writing and further their writing skills all while highlighting exciting and important events going on around school.

What is an interesting fact about myself that few people know?

One interesting fact about me is that I used to write book reviews for a book store in Raleigh. On one review I wrote about a book, an author actually commented on my post and thanked me for reviewing!

If you could identify with one book, what would it be (question courtesy of Virginia Wooten)?

The book I identify most with is

The Book Thief

by Markus Zursak. In the

Book Thief,

the main character Liesel, must overcome difficult obstacles living in Europe during the height of the second World War. During this hard time, Liesel finds solace in books and writing and by doing this, finds more out about herself in the process. I identify with this because I think reading and writing have really helped me discover more about myself and in rough patches of my life provided me with great comfort.
Holly Brantley, Editor-in-Chief
Mar 23, 2018

The RMA Senior Class as…Harry Potter!

(Story)

Mar 15, 2018

Senior Spotlight: Taylor Connie

(Story)

Feb 16, 2018

Faculty Focus: Mrs. Sarah Winters

(Story)

Feb 08, 2018

Quiz: Which Media Office Member Should Be Your Valentine?

(Story)

Feb 05, 2018

Alumni Update: Dr. Adrian Wood, "Tales of an Educated Debutante"

(Story)

Jan 26, 2018

Senior Spotlight: Madison Glover

(Story)

Jan 19, 2018

Dear Holly: Advice Column

(Story)

Jan 05, 2018

Top Movies and Books of 2017

(Story)

Dec 13, 2017

Senior Spotlight: Casey Jones

(Story)

Dec 08, 2017

The Reviews are in! Faculty Focus: Mrs. Whitehurst

(Story)

Dec 01, 2017

Illuminati Confirmed? Popular Conspiracy Theories Explained

(Story)

Nov 16, 2017

"Some Play" : MS Play, Charlotte's Web

(Story)

Nov 10, 2017

Dear Holly: Advice Column

(Story)

Nov 02, 2017

Senior Spotlight: Elias Moore

(Story)

Oct 26, 2017

ACTUAL Senior Quotes

(Story)

Oct 20, 2017

Senior Spotlight: Anna Penwell

(Story)

Oct 12, 2017

Faculty Focus: Mr. Sparks: the Man, the Myth, the Legend

(Story)

Oct 05, 2017

A Clash of Freedom: Eagles vs. Patriots

(Story)

Sep 29, 2017

Senior Spotlight: Lauren Seale

(Story)

Sep 22, 2017

Wisdom from Grandparents: It's the Bees Knees!

(Story)

Sep 08, 2017

Monthly Middle School Update

(Story)

Aug 31, 2017

Meet the New Media Office!

(Story)

Aug 25, 2017

Faculty Focus: Mr. Stancavish: The Most Interesting Man at RMA

(Story)

May 10, 2017

Future Media Office Editor-in-Chief Holly Brantley Highlights Battle of the Books: Where Paper Cuts are War Scars

(Story)