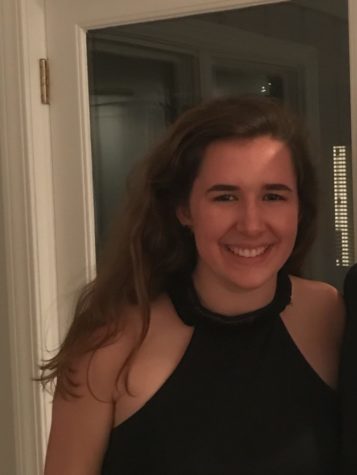 Position:
This year, I am the social media chair for the Media Office. I run the school's Twitter and Instagram, and I love when people send in accomplishments that they'd like for me to post.
How many years have you been at RMA? What are you most looking forward to this year? What is your favorite part about Media Office?
As I enter my thirteenth and final year here, I can honestly say that what I am most looking forward to is spending time with my friends and appreciating my last year of high school sports and teachers! As far as Media Office goes, I can't wait to read all of the new article and spicing up the social media!
Find out more about Haven below: 


Who is your role model? My role model is my mother because she has done some incredible things over the years while raising three kids.




If you could live anywhere in the world, where would you live and why? I would live somewhere with a beach!




If you had to watch one movie for the rest of your life, what would it be? Mamma Mia! Or Shawshank Redemption. They are my two favorite movies, but they are not similar in the slightest.




Where do you see yourself in 10 years? Most likely not in Rocky Mount




Favorite class at RMA? My favorite class at RMA was anything that I took with Mrs. Viverette.




What is your favorite quote? "In the middle of every difficulty, lies opportunity." – Albert Einstein




What is something most people don't know about you? I can skateboard.




If you could grow up in any decade, what would it be? The decade that I'm in. I probably wouldn't de well anywhere else.




If you could have any job in the world, what would it be? I would love to be a photographer for National Geographic.




If you were stranded on an island, what three things would you bring? I would bring a lot of water, a lot of sunscreen, and a boat.


Additional Roles: 
tennis team, president of Care Club, Benvenue Country Club staff member, and enjoys taking care of her puppy
Haven Ross, Social Media Chair
May 06, 2019

Senior Spotlight: Nathan Varnell

(Story)

Apr 15, 2019

Senior Spotlight: Ann Sumner Thorp

(Story)

Apr 10, 2019

What the Senior Class Will Miss…

(Story)

Mar 19, 2019

The Soundtrack of our (High School) Lives

(Story)

Mar 11, 2019

Senior Spotlight: Isabel Smith

(Story)

Mar 04, 2019

2019 Oscars Recap

(Story)

Feb 19, 2019

Don't Cry Over "Spoiled" Milk

(Story)

Feb 11, 2019

Eagles Swoop and Soar: The Conference Tournament

(Story)

Jan 29, 2019

Top Ten Ways to Get Community Service Hours

(Story)

Jan 22, 2019

Senior Spotlight: Josh Rich

(Story)

Jan 14, 2019

Theranos: The Rise, The Fall, and The Bad Blood

(Story)

Dec 18, 2018

Media Office Picks: The Grammy's and the Golden Globes

(Story)

Dec 11, 2018

Most Beautiful College Campuses

(Story)

Dec 03, 2018

Senior Spotlight: Paul Larimer

(Story)

Nov 13, 2018

Senior Spotlight: Jacob Gutshall

(Story)

Nov 05, 2018

No Time For Losers: Varsity Girls' Tennis Brings Home the 'Ship

(Story)

Oct 29, 2018

What Should You be for Halloween?

(Story)

Oct 22, 2018

Senior Spotlight: Chandler Gazaway

(Story)

Oct 09, 2018

High School Teacher Superlatives

(Story)

Oct 01, 2018

Err on The Side of Caution: VSCO

(Story)

Sep 24, 2018

Senior Spotlight: Peyton David

(Story)

Sep 17, 2018

Which Media Office member should be your Homecoming date?

(Story)

Sep 10, 2018

Senior Spotlight: Mercer Boyette

(Story)

Sep 04, 2018

On the Life of John McCain

(Story)

Aug 27, 2018

Faculty Focus: Mr. Parker Turner

(Story)

Apr 26, 2018

Quiz: What Should You do This Summer?

(Story)

Apr 20, 2018

Senior Spotlight: Corbett Cobb

(Story)

Apr 16, 2018

Top 10 Most Awaited Sports Events

(Story)

Mar 23, 2018

Top Ten Signs of the End of the School Year

(Story)

Mar 16, 2018

Faculty Focus: Mr. Coy Herbert

(Story)

Mar 09, 2018

Grease is the Word!

(Story)

Mar 02, 2018

Which Olympic Athlete Are You?

(Story)

Feb 16, 2018

RMA Abroad: High School Field Trips!

(Story)

Feb 09, 2018

Senior Spotlight: Guy Deyton

(Story)

Feb 02, 2018

Secret Talents of RMA

(Story)

Jan 26, 2018

What is a Government Shutdown?

(Story)

Jan 19, 2018

Faculty Focus: Mrs. Martha Lancaster

(Story)

Jan 11, 2018

Making Twenty-Eighteen into Twenty-GREATteen: New Year's Resolution

(Story)

Dec 15, 2017

Movie Time with Haven: A List of Must-See Holiday Movies

(Story)

Dec 07, 2017

Quiz: What Should Be Your Favorite Christmas Song?

(Story)

Dec 01, 2017

Senior Spotlight: Jillian Lavely

(Story)

Nov 10, 2017

Faculty Focus: Lisa Stone

(Story)

Nov 03, 2017

Remembered Through Joy: Tyler's Peak Dedication

(Story)

Oct 26, 2017

Top 10 Weekend Activities in Rocky Mount

(Story)

Oct 20, 2017

Working Hard or Hardly Working? Teachers Before Teaching

(Story)

Oct 13, 2017

Senior Spotlight: Joseph Petruzziello

(Story)

Oct 05, 2017

Tragedy in Las Vegas

(Story)

Sep 29, 2017

Meet Our Boosterthon Buddies!

(Story)

Sep 22, 2017

Movie Time with Haven: Ten Movies to Watch Before Graduating High School

(Story)

Sep 15, 2017

Where Were You on 9/11?

(Story)

Sep 08, 2017

Quiz: What high school elective should you take?

(Story)

Sep 01, 2017

Senior Spotlight: Jacob Watkins

(Story)

Aug 25, 2017

RMA Fall Sport's Kick-Off

(Story)

May 08, 2017

Future Secretary Haven Ross Recaps the 2017 Spring Arts Festival

(Story)