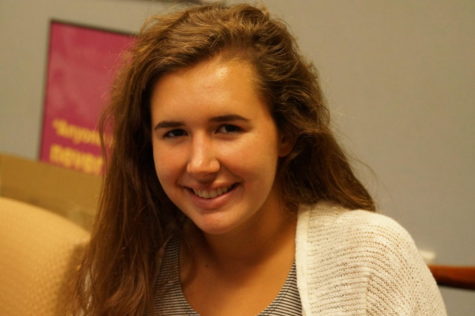 Known for her infectious smile and cheerful personality, Haven Ross is an irreplaceable part of the RMA Media Office. Not only is she  a valuable asset to the Media Office, but Haven also adds her skills to the varsity tennis team, having played since she was just five years old. Haven's expertise not only lies in extracurriculars, but also in challenging herself daily with a schedule rigorous with AP and honors classes. Whether it is on or off of the court, Haven's funny, outgoing personality is sure to make a positive impact on every person she comes in contact with. There is no doubt that Haven will excel at her position as secretary and that her articles will always be a "racket." To learn more about Haven, please read the following interview:


What grade did you start RMA?

I have been going to RMA since kindergarten.



Why did you decide to participate in the Media Office this year?

I joined Media Office because I have a love for writing and for RMA. There is no better way to combine these interests than writing for the school paper!



What is one fact about yourself that few people know about?

I think only close friends know that I love doing 1,000 piece puzzles. I can do them for hours! I also know how to moonwalk!



What do you think your spirit animal is? My spirit animal would have to be a red panda. I saw one at the San Diego Zoo, and I just knew that was my spirit animal.


Haven Ross, Secretary
Apr 26, 2018

Quiz: What Should You do This Summer?

(Story)

Apr 20, 2018

Senior Spotlight: Corbett Cobb

(Story)

Apr 16, 2018

Top 10 Most Awaited Sports Events

(Story)

Mar 23, 2018

Top Ten Signs of the End of the School Year

(Story)

Mar 16, 2018

Faculty Focus: Mr. Coy Herbert

(Story)

Mar 09, 2018

Grease is the Word!

(Story)

Mar 02, 2018

Which Olympic Athlete Are You?

(Story)

Feb 16, 2018

RMA Abroad: High School Field Trips!

(Story)

Feb 09, 2018

Senior Spotlight: Guy Deyton

(Story)

Feb 02, 2018

Secret Talents of RMA

(Story)

Jan 26, 2018

What is a Government Shutdown?

(Story)

Jan 19, 2018

Faculty Focus: Mrs. Martha Lancaster

(Story)

Jan 11, 2018

Making Twenty-Eighteen into Twenty-GREATteen: New Year's Resolution

(Story)

Dec 15, 2017

Movie Time with Haven: A List of Must-See Holiday Movies

(Story)

Dec 07, 2017

Quiz: What Should Be Your Favorite Christmas Song?

(Story)

Dec 01, 2017

Senior Spotlight: Jillian Lavely

(Story)

Nov 10, 2017

Faculty Focus: Lisa Stone

(Story)

Nov 03, 2017

Remembered Through Joy: Tyler's Peak Dedication

(Story)

Oct 26, 2017

Top 10 Weekend Activities in Rocky Mount

(Story)

Oct 20, 2017

Working Hard or Hardly Working? Teachers Before Teaching

(Story)

Oct 13, 2017

Senior Spotlight: Joseph Petruzziello

(Story)

Oct 05, 2017

Tragedy in Las Vegas

(Story)

Sep 29, 2017

Meet Our Boosterthon Buddies!

(Story)

Sep 22, 2017

Movie Time with Haven: Ten Movies to Watch Before Graduating High School

(Story)

Sep 08, 2017

Quiz: What high school elective should you take?

(Story)

Sep 01, 2017

Senior Spotlight: Jacob Watkins

(Story)

Aug 25, 2017

RMA Fall Sport's Kick-Off

(Story)

May 08, 2017

Future Secretary Haven Ross Recaps the 2017 Spring Arts Festival

(Story)