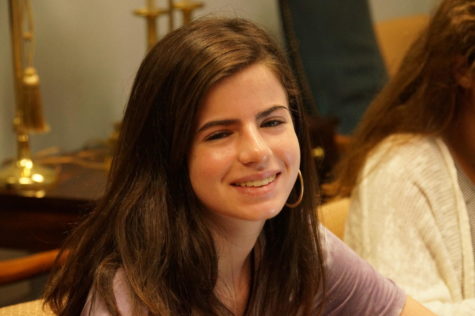 Known for her dry sense of humor and relaxed personality, Georgia Morris is an excellent addition to the RMA Media office. Though only the second week of school, Georgia has already shone in her role as co-editor, coming up with multiple story ideas and helping other members find the best pun to put in their stories. As the President of Key club, Georgia has demonstrated her leadership skills and compassionate personality in organizing the club this year and getting it off to a great start. Georgia also finds time to dedicate herself to her studies, taking multiple AP and honors courses. As the full swing of school takes force, I look forward to seeing what stories Georgia will have "brewing" and know that they will surely "espresso" and reflect the feelings of the students, faculty, and parents of this school. To learn more about Georgia, please read the following interview:


What grade did you start RMA?

I came to RMA my freshman year.



Why did you decide to participate in the Media Office this year?

I decided to participate in Media Office this year because I think it is a super cool spin on the traditional school newspaper, and it allows students to become more involved in school events and stay in touch with everything that's going on.



What is one fact about yourself that few people know about?

One fact about myself that few people know is that after I started going to Dunkin with classmates all the time at the end of last school year to study, I developed a crippling caffeine addiction. My first day of school this year was tainted by an awful headache that lasted all day because I thought I didn't need any coffee that morning.



What would your six year old self say if she could see you now?

I think that if my 6-year-old self saw me now, she'd probably be pretty confused about how she managed to time travel (also, she probably would be slightly disappointed that I spend so much time procrastinating).



Georgia Morris, Co- Editor
May 15, 2018
May 03, 2018
Apr 27, 2018

RMA Prom 2018: A Night That Will Leave You mASKing for More

(Story)

Apr 20, 2018

Syria: What Happened Friday 4/13/18?

(Story)

Apr 13, 2018

Humboldt Broncos Bus Crash

(Story)

Mar 29, 2018

A SeCrEt SuRfAcEd: AnOtHeR BoYeTtE BoY?

(Story)

Mar 23, 2018

Faculty Focus: Miss Cameron Covolo

(Story)

Mar 16, 2018

Wakanda Forever: Black Panther Movie Review

(Story)

Mar 09, 2018

What is Media Office? Apply Today!

(Story)

Mar 02, 2018

RMA's Newest Addition

(Story)

Feb 16, 2018

Top 10 Gifts You Should Have Bought For Valentine's Day

(Story)

Feb 08, 2018

MATHCOUNTS Competition Series

(Story)

Feb 02, 2018

Highlights from the Grammys

(Story)

Jan 26, 2018

PSA: Don't Eat Tide Pods

(Story)

Jan 19, 2018

Quiz: How Should You Spend Your Snow Day?

(Story)

Jan 05, 2018
Dec 14, 2017

Loving Local Business: Morning Addiction Coffeehouse

(Story)

Dec 08, 2017

Highlighting Nathan and James Varnell: Duke of Edinburgh's International Award

(Story)

Dec 01, 2017

Top 10 Things Teens Are Too Used To

(Story)

Nov 17, 2017

Senior Spotlight: Marcus Lerro

(Story)

Nov 09, 2017

Senior Spotlight: Renate Ma

(Story)

Nov 02, 2017

Faculty Focus: Consuelo Forero

(Story)

Oct 20, 2017

Scouting for New Members: The American Boy Scouts Will Now Allow Girls to Join

(Story)

Oct 12, 2017

Unexplained Health Attacks: What's Going on in Cuba?

(Story)

Oct 05, 2017

Quiz: What RMA Spirit Day Are You?

(Story)

Sep 29, 2017

A Win for Women: Women in Saudi Arabia are Finally Able to Drive

(Story)

Sep 22, 2017

Eagles We Soar: Seniors up for Scholarships

(Story)

Sep 15, 2017

Recap of 2017: Meme Edition

(Story)

Sep 08, 2017

Senior Spotlight: Ann Margaret Taylor

(Story)

Sep 01, 2017

Hurricane Harvey's Horror

(Story)

Aug 24, 2017

Ten RMA Student Summer Experiences

(Story)

May 08, 2017

Future Media Office Co- Editor Georgia Morris Explores Benefits to an Afterschool Job

(Story)