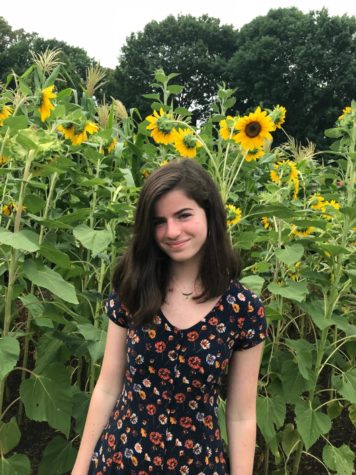 Position: 
As co-editor, I'm responsible for editing articles before they are published.
 What are you most looking forward to this year? 
I'm most looking forward to getting college applications behind me and knowing where I'm going to spend the next few years of my life! The suspense is killing me. Also, I'm looking forward to topping some of my most interesting articles from last year.
What is your favorite part about Media Office?
 Honestly, my favorite part of media office is how close we are! Getting to spend a class period a day with the lovely members of Media Office and our wonderful advisors makes it a whole lot easier to handle the stress of school.
How many years have you been at RMA?
 This is my fourth year at RMA!
Find out more about Georgia below: 


Who is your role model? My role model is my older sister, Liz. Part of the reason is because we're already almost the same person, but she is 7 years older than me and has always made good decisions that I have looked up to. She's always there to help me when I need it.




If you could live anywhere in the world, where would you live and why? If I could live anywhere in the world, I would live in Seattle because I love the city and unlike most people, I love the rain!




If you had to watch one movie for the rest of your life, what would it be? If I had to watch one movie for the rest of my life, I would watch Harry Potter and the Chamber of Secrets. I don't know why, but that's my favorite one from the series, and I don't think I would get tired of it.




Where do you see yourself in 10 years? In debt with student loans. But probably happy.




Favorite class at RMA? My favorite class at RMA has 100% been Media Office.




What is your favorite quote? "Who would I be without anyone else?" (the 2018 Governor's School West session quote)




What is something most people don't know about you? I am one of five girls.




If you could grow up in any decade, what would it be? I like this one, so I'll stick with it.




If you could have any job in the world, what would it be? If I could have any job in the world it would be being the person at Starbucks who just puts whipped cream on the tops of drinks. One day, I was sitting at the Starbucks in Crabtree with a friend, and I saw that there was one person who was only dedicated to spraying whipped cream on drinks. I think I could do that very well. But, I don't wat to do anything else in Starbucks.




If you were stranded on an island, what three things would you bring? I would bring a plane, someone who knows how to fly a plane, and a peanut butter sandwich.


Georgia Morris, Co- Editor
Apr 30, 2019

Funny Senior Superlatives

(Story)

Apr 09, 2019

Senior Spotlight: Isaiah Thomas

(Story)

Mar 19, 2019

Homicide of Nash County Woman

(Story)

Mar 11, 2019

Teen Fights Against Anti-Vax Misinformation

(Story)

Feb 19, 2019

Senior Spotlight: Haven Ross

(Story)

Feb 11, 2019

College Safety Tips

(Story)

Feb 04, 2019

Three Gifts to Get Media Office Member for Valentine's Day

(Story)

Jan 29, 2019

Senior Spotlight: Chuck Roberson

(Story)

Jan 22, 2019

Billion Oyster Project

(Story)

Jan 14, 2019

Climate Change UNESCO World Heritage List

(Story)

Dec 18, 2018

Childhood Memories We've All Experienced

(Story)

Dec 11, 2018

Senior Spotlight: Kayla Miller

(Story)

Dec 03, 2018

First D1 Athlete with Autism

(Story)

Nov 13, 2018

Senior Spotlight: Tanner Jernigan

(Story)

Nov 05, 2018

Pittsburgh Hate Crime

(Story)

Oct 29, 2018

Senior Spotlight: Ansen Gong

(Story)

Oct 22, 2018

50 Years of Spirit

(Story)

Oct 09, 2018

Notable Celebrity Deaths

(Story)

Oct 01, 2018

Senior Spotlight: Ethan Davis

(Story)

Sep 24, 2018

NC Local Music Scene

(Story)

Sep 17, 2018

Hurricane Florence

(Story)

Sep 10, 2018

RMA Summer Adventures

(Story)

Sep 04, 2018

Senior Spotlight: Thomas Boyette

(Story)

Aug 27, 2018

A True Local Rivalry

(Story)

May 15, 2018
May 03, 2018
Apr 27, 2018

RMA Prom 2018: A Night That Will Leave You mASKing for More

(Story)

Apr 20, 2018

Syria: What Happened Friday 4/13/18?

(Story)

Apr 13, 2018

Humboldt Broncos Bus Crash

(Story)

Mar 29, 2018

A SeCrEt SuRfAcEd: AnOtHeR BoYeTtE BoY?

(Story)

Mar 23, 2018

Faculty Focus: Miss Cameron Covolo

(Story)

Mar 16, 2018

Wakanda Forever: Black Panther Movie Review

(Story)

Mar 09, 2018

What is Media Office? Apply Today!

(Story)

Mar 02, 2018

RMA's Newest Addition

(Story)

Feb 16, 2018

Top 10 Gifts You Should Have Bought For Valentine's Day

(Story)

Feb 08, 2018

MATHCOUNTS Competition Series

(Story)

Feb 02, 2018

Highlights from the Grammys

(Story)

Jan 26, 2018

PSA: Don't Eat Tide Pods

(Story)

Jan 19, 2018

Quiz: How Should You Spend Your Snow Day?

(Story)

Jan 05, 2018
Dec 14, 2017

Loving Local Business: Morning Addiction Coffeehouse

(Story)

Dec 08, 2017

Highlighting Nathan and James Varnell: Duke of Edinburgh's International Award

(Story)

Dec 01, 2017

Top 10 Things Teens Are Too Used To

(Story)

Nov 17, 2017

Senior Spotlight: Marcus Lerro

(Story)

Nov 09, 2017

Senior Spotlight: Renate Ma

(Story)

Nov 02, 2017

Faculty Focus: Consuelo Forero

(Story)

Oct 20, 2017

Scouting for New Members: The American Boy Scouts Will Now Allow Girls to Join

(Story)

Oct 12, 2017

Unexplained Health Attacks: What's Going on in Cuba?

(Story)

Oct 05, 2017

Quiz: What RMA Spirit Day Are You?

(Story)

Sep 29, 2017

A Win for Women: Women in Saudi Arabia are Finally Able to Drive

(Story)

Sep 22, 2017

Eagles We Soar: Seniors up for Scholarships

(Story)

Sep 15, 2017

Recap of 2017: Meme Edition

(Story)

Sep 08, 2017

Senior Spotlight: Ann Margaret Taylor

(Story)

Sep 01, 2017

Hurricane Harvey's Horror

(Story)

Aug 24, 2017

Ten RMA Student Summer Experiences

(Story)

May 08, 2017

Future Media Office Co- Editor Georgia Morris Explores Benefits to an Afterschool Job

(Story)