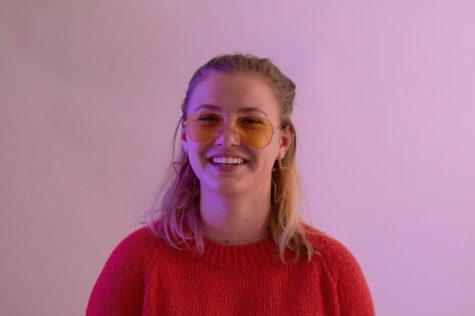 Position
: I'm one of two interns this year. I'm basically just learning the ropes of Media Office and writing at least one article each trimester.
What are you most looking forward to this year?

I'm looking forward to my drama class with Mrs. Whitehurst and writing for Media Office, of course.
What is your favorite part about Media Office?

I really love the people! I just started, but I already feel so welcomed.
How many years have you been at RMA?
I have been at RMA since kindergarten, but in third grade, my family lived in Colorado. In total, it's been nine years.
Get to know Emory:


Who is your role model? My mom!!!!!




If you could live anywhere in the world, where would you live and why? I would live in New York because I love the atmosphere there, and I definitely want to live in a big city.




If you had to watch one movie for the rest of your life, what would it be? I would watch Ferris Bueller's Day Off because I never get tired of it.




Where do you see yourself in 10 years? Out of college with a great job.




Favorite class at RMA? Spanish with Senora Forero!




What is your favorite quote? "It's not all sunshine and rainbows, but a good amount of it actually is."




What is something most people don't know about you? Most people don't realize that I have a twin. Whenever someone new comes to RMA, they don't figure it out for a while and think that we're just good friends.




If you could grow up in any decade, what would it be? The 70's because I love the music.




If you could have any job in the world, what would it be? Writing for a fashion/beauty magazine.




If you were stranded on an island, what three things would you bring? I'd bring water, a raft, and a knife.


Emory Pittman, Intern
May 06, 2019

Lower School Update: A Marketplace and A Wax Museum!

(Story)

Apr 30, 2019

Spring Arts Festival: A Night In Review

(Story)

Apr 15, 2019
Apr 10, 2019

Which Faculty Member Should You Take to Prom?

(Story)

Mar 11, 2019

The Addams Family Sneak Peek

(Story)

Dec 18, 2018

Senior Spotlight: Averi Parker

(Story)

Nov 13, 2018

Thousand Oaks Shooting

(Story)