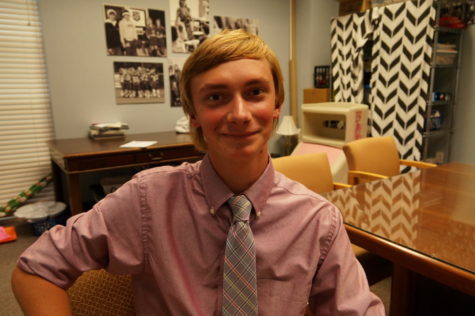 Ever offering a helpful tip and showing an unmistakable sense of humor, Elias Moore is a "treasure" that the Media Office is grateful to have. Sharing his talents at school on the varsity boys tennis and soccer teams, playing the bass for the school band for the various plays and Spring Arts Festival, and taking challenging academic courses this year, Elias finds time to participate in the Nash county 4-H program. Whether you need a smile or your car fixed, Elias is always quick to lend a helping hand and a kind smile. As the year kicks off, Elias' contributions as treasurer are sure to help get the Media Office off to a great start! To learn more about Elias, please read the following interview:
What grade did you start RMA?

I started attending RMA in 1st grade after attending two other schools.

Why did you decide to participate in the Media Office this year?

I wanted to participate in the media office this year because I thought it was a great opportunity. I liked the idea of being able to write stories and edit the school website with articles and events I find interesting.

What is one fact about yourself that few people know about?

One thing most people don't know about me is that I am the president of a 4-H electric club that I helped get started. I like working on electronics and stuff like that, so with this club I was able to teach others about my hobby.

If you had to pick three foods to eat for the rest of your life, which three would you chose and why?

Well this is tough. I guess if I had to pick three foods the first would be corned beef (definitely better than steak, don't argue). Second would be any type of pizza because you just can't go wrong with pizza. And third would be Mac and Cheese ordered exclusively from TBC West located at the Rocky Mount Mills.
Elias Moore, Treasurer
Mar 23, 2018

Senior Spotlight: Davis Collins

(Story)

Mar 16, 2018

Top 5 Spring Break Destinations in the US

(Story)

Mar 08, 2018
Mar 02, 2018

A Week To Remember in NYC

(Story)

Feb 16, 2018

Senior Spotlight: Cameron Cross

(Story)

Feb 02, 2018

The Makerspace with Elias: Building Your Own Personal Computer

(Story)

Jan 26, 2018

College Advancements

(Story)

Jan 19, 2018

The Makerspace with Elias: Tesla Coil

(Story)

Jan 11, 2018

RMA Through the Year(book)s 1985-1995

(Story)

Dec 15, 2017

RMA Through the Year(book)s 1972-1983

(Story)

Dec 07, 2017

Battles Fought and Won: The Legacy of Turner W. Battle

(Story)

Dec 01, 2017

Unusual Christmas Traditions

(Story)

Nov 09, 2017

The Makerspace with Elias: Portable Charge

(Story)

Nov 03, 2017

Quiz: What did YOU do for Halloween?

(Story)

Oct 27, 2017

Senior Spotlight : Thomas Newton

(Story)

Oct 20, 2017

A Trip Up North: Washington Part 2

(Story)

Oct 13, 2017

Washington Change of Arms Ceremony

(Story)

Oct 05, 2017

The Color Run in Pictures

(Story)

Sep 29, 2017

Top 10 Lesser Known Places to Visit

(Story)

Sep 22, 2017

The 300: Red Wolf Populations in North Carolina

(Story)

Sep 08, 2017

RMA Sports Roundup

(Story)

Sep 01, 2017
May 02, 2017

Future Media Office Treasurer Elias Moore Highlights The People Behind the Stories

(Story)