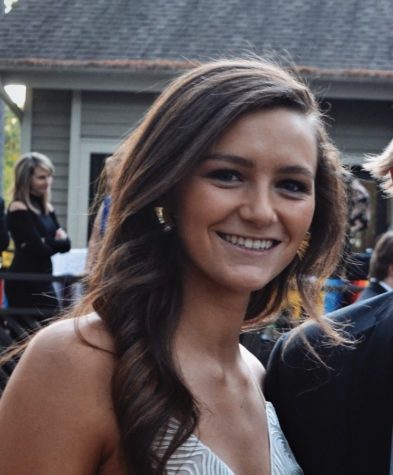 Position:
I am the Media Office Photographer, and I am looking forward to capturing the best memories that will be made this year at RMA.
What are you most looking forward to this year?
I am most looking forward to finally being a senior this year!
What is your favorite part about Media Office?
My favorite part about Media Office is being able to spend time with the members of Media Office.
How many years have you been at RMA?
I have been at RMA since first grade, so this is my 12
th
year.
Find out more about Caroline below: 


Who is your role model? Taylor Swift




If you could live anywhere in the world, where would you live and why? I would live in Charleston, South Carolina because it's so beautiful and laid back. I don't think I could ever afford it though.




If you had to watch one movie for the rest of your life, what would it be? Jaws




Where do you see yourself in 10 years? I see myself with a well-paying job living in a nice city.




Favorite class at RMA? AP Art




What is your favorite quote? "Every day may not be good… but there's something good in every day." – Alice Morse Earle




What is something most people don't know about you? I met a millionaire this summer in the Bahamas.




If you could grow up in any decade, what would it be? The 80's baby




If you could have any job in the world, what would it be? I would love to be a surgeon, but I usually faint when I see blood.




If you were stranded on an island, what three things would you bring? Bathing suit, ice-cream, and snorkel gear


Caroline Gay, Photographer
May 06, 2019

Senior Spotlight: Ashley Wright

(Story)

Apr 30, 2019

Senior Spotlight: Dalton Tharrington

(Story)

Apr 15, 2019
Apr 09, 2019

Senior Spotlight: Will Stewart

(Story)

Mar 19, 2019

RMA's Biggest Pet Peeves

(Story)

Mar 11, 2019

Faculty Focus: Debbie Viverette

(Story)

Mar 04, 2019
Feb 19, 2019

Beloved "Bernie" Capps

(Story)

Feb 11, 2019

Movies That are Coming Out in 2019

(Story)

Feb 04, 2019

Dear Everyone, With Love From the Seniors

(Story)

Jan 29, 2019

The Senior Class as Celebrities

(Story)

Jan 22, 2019

Leading By Example: Healthy Rivalries

(Story)

Jan 14, 2019

Senior Spotlight: Thorne Pruden

(Story)

Dec 18, 2018

Which Christmas Character are You?

(Story)

Dec 11, 2018

All I Want for Christmas is Food

(Story)

Dec 03, 2018

Miss Nancy: Gone but Not Forgotten

(Story)

Nov 13, 2018

Out-of-the-Norm Colleges Seniors are Applying To…

(Story)

Nov 05, 2018

Top Ten Halloween Costumes: for the pups

(Story)

Oct 29, 2018

A Letter From the Senior Class to Underclassmen

(Story)

Oct 22, 2018

50th Anniversary: Homecoming Recap

(Story)

Oct 09, 2018

Senior Spotlight: Christopher Gardner

(Story)

Oct 01, 2018

The Latest & Greatest Jewelry

(Story)

Sep 24, 2018

Senior Spotlight: Lillie Daughtridge

(Story)

Sep 17, 2018

US Open: Serena Williams

(Story)

Sep 10, 2018

Senior Spotlight: Jacob Braddy

(Story)

Sep 04, 2018

What Labor Day Vacation is Perfect for You?

(Story)

Aug 27, 2018

New Additions to RMA's High School

(Story)