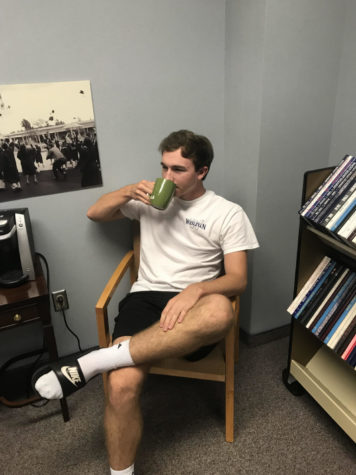 Position
:
My position is secretary. My job is to communicate with the rest of the school and connect the media office to the rest of the school and vice versa.
What are you most looking forward to this year?

Definitely the Senior trip to New York.
What is your favorite part about Media Office?

The freedom and creativity.
How many years have you been at RMA?
4 years.
Get to know Ben:


Who is your role model?

My parents.





If you could live anywhere in the world, where would you live and why?

Somewhere nice in Asia like Japan or South Korea because of the food.





If you had to watch one movie for the rest of your life, what would it be? The Dark Knight.




Where do you see yourself in 10 years?

10 years older with a full-time job.





Favorite class at RMA? World Religions with Dr. Wells.




What is your favorite quote? "

Hard work is worthless for those who don't believe in themselves."





What is something most people don't know about you?

If they don't know, it's probably for a good reason.





If you could grow up in any decade, which would it be? I'll stick with the present.




If you could have any job in the world, what would it be?

NBA or College Basketball Coach.





If you were stranded on an island, what three things would you bring?

A fishing rod, matches and a pocket knife.



Ben Tucker, Secretary
May 07, 2020
Apr 22, 2020

Senior Spotlight: Gracyn Thompson

(Story)

Apr 01, 2020

Tom Brady: Moving On

(Story)

Mar 25, 2020

Alumni Update: M. Cooper Harriss

(Story)

Mar 17, 2020

Bill Gates Steps Away from Microsoft

(Story)

Mar 11, 2020

Tennessee Tornadoes

(Story)

Mar 02, 2020

Senior Trip to New York

(Story)

Mar 02, 2020
Feb 18, 2020

Senior Spotlight: Ishan Patel

(Story)

Feb 04, 2020

When Should you Start Preparing for College?

(Story)

Jan 29, 2020
Jan 22, 2020
Jan 15, 2020
Jan 08, 2020

Alumni Update: Will Kornegay

(Story)

Dec 11, 2019
Nov 11, 2019

Honoring Our Veterans

(Story)

Nov 05, 2019
Oct 29, 2019

Un-fair-gettable Times

(Story)

Oct 22, 2019

Hong Kong Protests

(Story)

Oct 15, 2019
Oct 09, 2019

Faculty Focus: Jacob Parker

(Story)

Sep 30, 2019

Senior Spotlight: Daniel Cooper

(Story)

Sep 23, 2019

The iPhone 11 Hits the Market

(Story)

Sep 16, 2019

Outer Banks Aftermath

(Story)

Sep 09, 2019
Sep 03, 2019

RMA Faculty Summer Experiences

(Story)