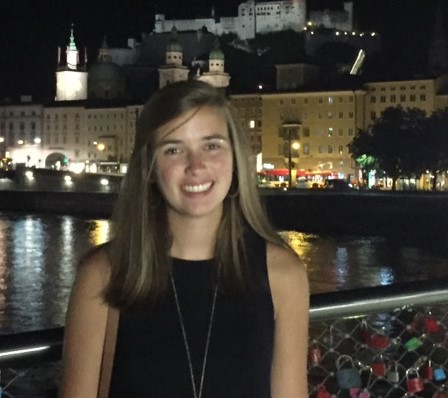 Position
: As Editor-in-Chief, I lead our Media Office by working closely with each member, editing and posting articles, and heading up media projects for the school.
What are you most looking forward to this year?
I'm looking forward to enjoying senior year with my friends and family by embracing every moment at home and school.
What is your favorite part about Media Office?
Definitely the people I get to be with every day. I am so thankful for the opportunity to work with them, and I know this will be a great year!
How many years have you been at RMA?
 This is my 12
th
year.
Get to know Ann Sumner:


Who is your role model? My role model is my grandmother, SJ. I have never met anyone who cares for others like she does. She is the kindest person I know, and I would love to be just like her.




If you could live anywhere in the world, where would you live and why? I would live in England because I love its historical nature, enjoy the rain, speak the language, and could easily travel to different countries across Europe.




If you had to watch one movie for the rest of your life, what would it be? I would watch National Treasure. (If you haven't seen it, I highly recommend watching it in the near future.)




Where do you see yourself in 10 years? I see myself working as a pediatric nurse and enjoying life to the fullest.




Favorite class at RMA? Definitely Media Office!!




What is your favorite quote? "You can't change the direction of the wind, but you can adjust your sails."




What is something most people don't know about you? I can spin a basketball on my finger.




If you could grow up in any decade, what would it be? Probably the 80's


9. 
If you could have any job in the world, what would it be? 
A Ben and Jerry's Flavor Guru        because I would get to design different ice-cream flavors.


If you were stranded on an island, what three things would you bring? A sailboat, a Kindle with unlimited books, and my water bottle


Ann Sumner Thorp, Editor-in-Chief
May 06, 2019

Senior Spotlight: Virginia Wooten

(Story)

Apr 30, 2019

Alumni Update: Alex Gould

(Story)

Apr 15, 2019

Senior Spotlight: Stephen Tucker

(Story)

Apr 10, 2019

Boeing Loses Its Wings

(Story)

Mar 11, 2019

Top Ten Things to Look Forward to This Spring

(Story)

Mar 04, 2019

Senior Spotlight: Juhi Salunke

(Story)

Feb 19, 2019

Why We Sing: Chorus Concert

(Story)

Feb 11, 2019
Feb 04, 2019

Top Works of Literature We Read for School

(Story)

Jan 22, 2019

National and World Diplomacy: Alliances on a Global Scale

(Story)

Jan 14, 2019

76th Golden Globes

(Story)

Dec 18, 2018

Senior Spotlight: Georgia Morris

(Story)

Dec 11, 2018

George Bush: Little Known Facts

(Story)

Dec 03, 2018

One Week, Two Field Trips

(Story)

Nov 13, 2018

On the Bright Side…

(Story)

Nov 05, 2018

Which Teacher should you invite for Thanksgiving?

(Story)

Oct 29, 2018

Senior Spotlight: Spencer Gardner

(Story)

Oct 22, 2018

Senior Spotlight: Caroline Gay

(Story)

Oct 09, 2018

Senior Spotlight: Taylor Eilers

(Story)

Oct 01, 2018

Faculty Focus: Ms. Keel

(Story)

Sep 24, 2018

Coming Together as a Community after Hurricane Florence

(Story)

Sep 17, 2018

Senior Spotlight: Tiffany Chandler

(Story)

Sep 10, 2018

Top Ten Studying Tips

(Story)

Sep 04, 2018

Senior Spotlight: Jack Boucher

(Story)

Aug 27, 2018

Senior Spotlight: Macie Barnes

(Story)

May 04, 2018

Top Ten Things to Look Forward to This Summer:

(Story)

Apr 27, 2018

Faculty Focus: Ms. Ennis Wooten

(Story)

Apr 20, 2018

Quiz: Which Faculty Member Should Have Been Your Prom Date?

(Story)

Apr 16, 2018

RMA Travels to China!

(Story)

Mar 29, 2018

WhAt ReAlLy ReSiDeS iN ThE MeDiA OfFiCe

(Story)

Mar 23, 2018

What's on Your Mind?

(Story)

Mar 15, 2018

Springing Foward and Falling Back: The History of Daylight Saving Time

(Story)

Mar 09, 2018

Making History One Symphony at a Time

(Story)

Mar 02, 2018

A Hero In Our Midst: Roy Weaver

(Story)

Feb 16, 2018

Youth and Government Conference 2018

(Story)

Feb 05, 2018

Celebrating Our Roots, Growing Our Future

(Story)

Jan 26, 2018

Quiz: What Job Should You Have When You are Older?

(Story)

Jan 19, 2018

Modern Day Heroes

(Story)

Jan 05, 2018

The History of Famous New Year's Traditions

(Story)

Dec 15, 2017

A Week of Holiday Celebration

(Story)

Dec 08, 2017

Top Ten Holiday Traditions: A History

(Story)

Dec 01, 2017

Faculty Focus: Mr. Tucker

(Story)

Nov 10, 2017
Nov 03, 2017

Monthly Middle School Update

(Story)

Oct 26, 2017

Quiz: Which Faculty Member Should You Take Trick-or-Treating with You?

(Story)

Oct 20, 2017

The History of RMA: Past, Present, and Future

(Story)

Oct 12, 2017
Oct 06, 2017

Senior Spotlight: Alexis Reams

(Story)

Sep 29, 2017

Quiz: What is Your Biggest Goal for This Week?

(Story)

Sep 21, 2017

Faculty Focus: Our Fearless Leader, Ms. Covolo

(Story)

Sep 08, 2017

Back to the Basics: Elementary School Update

(Story)

Aug 31, 2017

Lunch Bunch: Got Books?

(Story)

Aug 25, 2017

An "Out of this World" First Day of School!

(Story)

May 02, 2017

Future Media Office Co-Editor Ann Sumner Thorp Promotes The Benefits of Summer Camp

(Story)