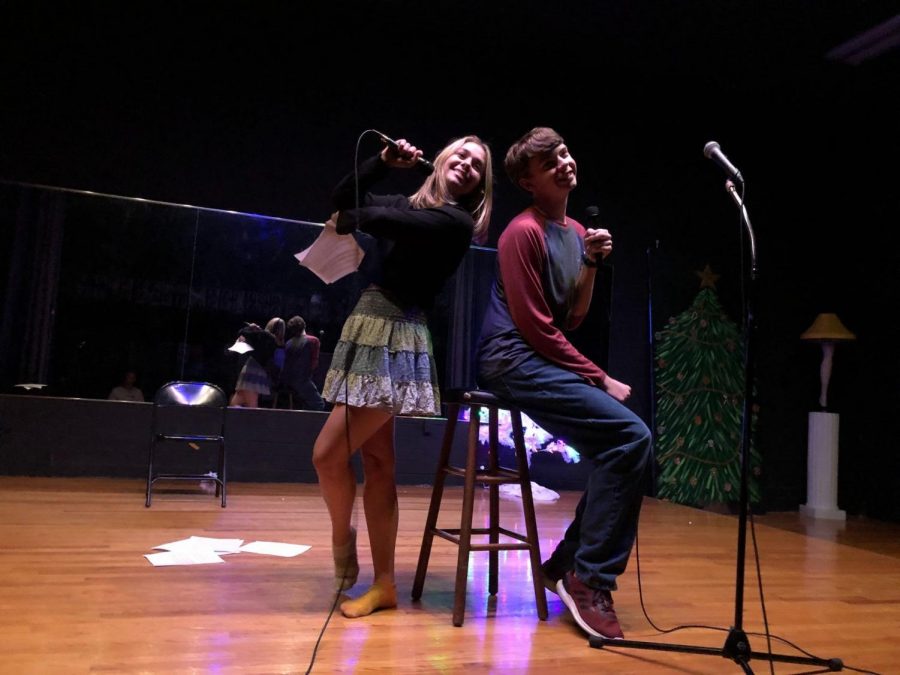 Every month, the Coffeehouse Open Mic Night takes place in Mrs. Whitehurst's room. There was one held last Wednesday, and it was filled with many incredible performances. From musical theatre to original pieces, it was a fun filled experience for everyone involved. 
To kick off the night, Hannah Achilles and Ezra Moore performed their original piece, Oh Well! which includes a song written by Ezra (also named "Oh Well") and a new spin on "Only Us" from Dear Evan Hanson. This piece is centered around two friends who go on a picnic together when they run across a well. They each secretly fall for the well and intend to go back to it alone on a later date, but they accidentally run into each other when they are returning to visit it. As their friendship crumbles, they fight for the affection of the well through songs. This two person show is not completely finished, but I am personally excited to see how it concludes. As co-author Ezra Moore states, "Yes, I know this is super weird, and it started as just a joke…but I think it's hilarious. And it makes much more sense if you know 'Only Us' really well." 
Oh Well is just one example of the many talented performances that take place at Open Mic Night, and as Jason Walden says, "Open Mic Night is just a fun way for friends to get together, have a good time, and express themselves." Hannah Achilles says she loves it because "Open Mic Night has been the most fun part of school during [her] senior year, it's always so fun to get together with friends and plan things out before and then get to put them on stage." It is a very open space to perform anything you'd like, so if you want to sing a song or do any type of performance, please feel free to join at the next one! Even if you come just to watch, you are ensured a fun time with fantastic (may I mention free), entertainment!